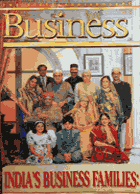 The Strategic Response
The unprecedented forces of change unleashed by liberalisation in the last seven years are compelling the family business group to break with the past to make strategic choices that will determine its future. A paradigm shift.
---
The Historian's Verdict
The formidable threats looming over the survival of the traditional family business empire cannot be wished away, but it may not be time to sing a dirge for it yet, argues Gita Piramal. An argument.
The Inside Outside View
Perceptions of the fate of the family business house, mapped by the BT-Gallup MBA Poll of six different constituencies of corporate India, paint a grim future for this genre of enterprise. A reality check.
The New Roles
Even as its companies change, the business family must be prepared to discard its traditional tools of managerial control, however difficult the transition may be, for its new role of governance. A prognosis.
The Survival Model
Since not all of India's 50 biggest business families will stay at the top forever, a BT Evaluation Model presents the parameters with which to measure their true competitiveness potential. A framework.