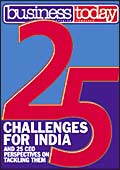 OVERVIEW
25 Challenges
For India
We've identified five themes for the
overall growth story-and 25 challenges
within them-that need to be addressed,
pronto. We must find answers to the
questions involved. They cover a broad
spectrum of issues-from the economic
to the aspirational-and include challenges relating to delivery, to our
quality of life and, indeed, to the very basic issues of
development themselves.