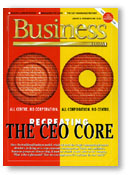 The New Core of the Corporation
Is that a value adding or a value destroying head office that you've established at the centre of your group? BT presents the CEO's guide to his new office.



---
Editorial
Nine Steps to Salvation in 1999
---
ECONOMY AND POLICY
Deconstructing Budget 99
Is the Finance Minister unveiling his Budget already?
---
CORPORATE FRONT
Will the Tata Group Bag ACC?
Only if group CEO Ratan Tata can strike a mutually-acceptable deal with the financial institutions to buy their holdings at a price he can afford.
Can IBP Distil a New Future for Itself?
Only if its marketing network finds the backing of standalone refineries to supply it with products.
Who'll Drink to Herbertsons?
As the battle for control between K. Chhabria and V. Mallya shifts to the Company Law Board, a long conflict lies in store.
Can Peerless Finance a Sustainable Future?
With collections falling, NPAs climbing, and efficiency at a low ebb, only a drastic remedy will deliver results.
Will R&D Prescribe Success for Sun Pharma?
While its M&A drive was focused on acquiring research intensive companies, drug discovery will prove a risky venture.
Can ABN-AMRO Bolster its India Account?
Only if the Dutch bank is able to offer a stream of innovative products to keep its non-interest flowing.
CavinKare Works up a Herbal Lather
While the company has captured a niche in the personal products market, expansion will need a change of strategy.
---
Case Study: The Case of the Cost Accounting System



RELATED DATA
Reading List
---
Investigation: From Akai to Aiwa: The Baron's Last Stand
He has switched on to AIWA. And he may well be switched off by Akai in the process. But even if he loses the brand that enabled him to turn India's consumer electronics market upside down, Kabir Mulchandani doesn't intend to give up the mantle of being the ultimate price warrior.
---
Finance: The CFO's Guide to Managing in the Euroera
The world's youngest currency may be its most powerful. From risk-management to globalisation, CFOs will have to quickly learn to adapt to the new world of euro-finance.
---
PERSONAL FINANCE
---