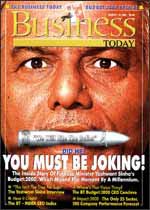 Missing The Millennium Moment
Will Budget: 2000 end up being an insignificant footnote in the roadmap to reform? Finance Minister Yashwant Sinha's third budget has more than just belied the high level of expectations. There is a historic opportunity that it has squandered.

Yashwantalk
After chasing him to Bihar, and back, BT finally caught up with the Finance Minister on a windy Sunday evening. A candid and relaxed Sinha defended his budget, highlighting that politics--more than economics--played the defining role.

Budebate
There's nothing like a crackling debate to get the REAL issues out in the open. Soon after Budget: 2000, BT moderated 5 one-on-one debates on growth, expenditure, infrastructure, the stockmarkets, and infotech. So, which side are you on: For? Or Against? Flex your intellectual muscles.

Pollinks
An exclusive BT-MDRA pre-and post-Budget poll reveals CEO India's thoughts on Budget: 2000. What a lost opportunity, says our survey of managers from the corner-room. Click here to get all the findings.

Unpluggedebate
Barely 48 hours after the first Budget of the Millennium, BT got together 15 fine minds to dissect the document. Then the government presented its defence. Click here to catch the unedited discussions. And listen to some excerpts too.

Sectorun
From automobiles to trading, it's all here. Surf with BT as it takes you through the Budget impacts for 25 key sectors that, in one way or the other, affect our lives and businesses.