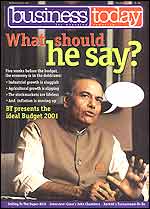 What Should He Say?
On February 28, when Finance Minister Yashwant Sinha presents his budget, here's what must do to talk up the economy: Step up public spending. Bring more services into the tax net. Rationalise excise and customs duties. Privatise a few PSUs. Wind up some government deptts. Will he?
Corporates
Maruti Finds Itself In A Cul-De-Sac
Despite a bevy of new models, MUL will make its first loss ever this year. Can it pull back next year?
Reckitt Benckiser's Quest for The Holy Grail
Under CEO Pranab Barua, the once-stodgy FMCG company has become an aggressive player. Now, it needs some best-selling mass products.
The Southern Cellular Shake Out
While most people have been focusing on what's happening in the West and the North, a quiet consolidation is underway in South India's cellular services market.
Pioneer's Progress
The newspaper with tonnes of history on its side turns a profit in its first year of independent existence. But can it keep it going?
The New Grasim
Kumar Mangalam Birla's efforts to restructure Grasim seem to be paying off. Here's why the stockmarket is cautiously bullish on the scrip.
Interview
"We Will Develop Newer Markets"
A quick q&a with Omar Abdullah, the Minister of State for Commerce.
Policy Watch
No Panic Buttons. Yet
Why the economic tremors in the US could actually mean little for India.
Oops... Wrong Electricity Bill
The draft electricity policy could help address the mess in the power-sector, but why is it still a draft?
Features
Selling To The Rich
Building on an NCAER study on the rich (and where they are), BT profiles the country's most well-heeled customers.
The Software Components Boom
Actually, it isn't a boom yet, but one in the making. And several Indian companies are already exploring the frontiers of the business.
Chamber(s)peak
Cisco's CEO talks about his company's India plans; its seemingly unending appetite for acquisitions; how he manages what BusinessWeek calls the organisation of the future; and the next big frontier.
Personal Finance
Psst... Wanna A Buy A Call Option?
After futures what? The two major bourses--BSE and NSE--are about to launch one of the most potent and flexible ways of hedging risks in any futures market: options trading. A guide to what the options are and how to make money trading in them.
Why Buy A Policy
Six questions you wanted to ask about buying policies but never dared to ask.
Case Game
The Case Of Cultural Differences
How can Allen-Bradbury tackle post-merger integration and reap the benefits of synergies so obvious pre-merger? A. Wadhwa of Ambit, consultant O. Kaul, and L.D.'Costa of Piramal Enterprises discuss. Send us your solution which scrutinises the problems in companies like yours. We'll showcase the best solutions on-line.



Readings List
Trends
Your link to the world of policy development, corporate happenings, industry news, and market trends
BT dot.com
Cover Story
Indian sex sites could well be the most successful B2B businesses online.
Local Language Internet
Why vern-internet makes economic—and marketing—sense in India.
What's Hot
Intel exits Rediff; VSNL cuts access rates; all about getting internet advertising to work; an interview with Freemarkets' David Becker; and more happening stuff.
Wired Wisdom
BCG's take on the year that was in the online space.
Careers Today
Help, Tarun!!! Building Me-Inc.: Sabbaticals, Executive Tracking