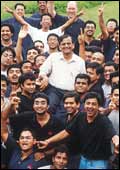 The Best
B-Schools In India
IIM-B Goes Global
Run more like a corporation than a B-school, this year's No.1 school has set its sights on going global. By another five years, it wants to be reckoned among the best in Asia-Pacific.


Methodology
There's plenty new about this year's methodology. For one,
the Business Today-Cosmode survey gets more market-focussed. While a B-school's internal capabilities do matter,
the real test is how much recruiters are willing to pay for
its students.
The 100 Best B-Schools In India
The pecking order of business-schools in India is revealed. Here's what to expect: An FAQ on the rankings, the top 10 schools sliced and diced on several parameters, and the complete ranking.
List Of 100 Best B-schools In India
Behind ISB's Hype
For a B-school just born, Indian School of Business hogs
more than its fair share of fame. But that also reflects what students and recruiters expect from India's only 'international'
business-school Just how is Indian School of Business
going to deliver?
The Real McCoy
The slowdown in the United States and the violence in
Gujarat may have affected Indian Institute of Management Ahmedabad's (IIMA) placement this year. But the school—
which did not participate in this year's survey—continues
to cast its spell on CEO wannabes and hi-profile recruiters.