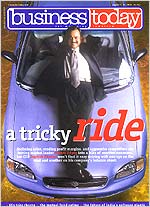 Slippery Roads
Maruti CEO Jagdish Khattar has to steer his firm through a period marked by declining margins and intense competition. Will his new turnaround plans of marketing the 800 in smaller cities, launching new models, and entering business like auto-finance work?
Corporates

IFCI's Iffy Future
Will CEO's P.V. Narasimham's new crisis-management formula save the ailing company?
The Transnational Exodus
Policy-driven snafus force infrastructure transnationals to leave.
VSNL's Long (Distance) Haul
Amid boiling competition, and a GoI threat of an early end to its monopoly over international telephony, the company unveils its growth plans.
BSES Telecom's Electr(on)ic Dreams
The subsidiary of electricity utility hopes to leverage its parentage and some ambitious investment plans to become a broadband powerhouse.
The Indal-Hindalco Amalgam
To take Hindalco's acquisition of Indal to its logical denouement, K.M. Birla investment plans to become a broadband powerhouse.
Why Thomas Cook Finds TCI a Tasty Morsel
Eroding margins and competition from global travel majors forces TCI to bail out, and very much the same reasons force Thomas Cook to acquire it.
Thermax's Testing Times
The broad quits en masse to restore the company's stock to its former glory.
Announcing Lowe Lintas
Lowe gives Lintas access to its creative fold. And, yes, a new name too.
Print In Punjab
Changing climes make the state the new El Dorado for newspapers.
Interview
WPB Bytes
An e-mail interview with WPP's Martin Sorrell
Policy Watch
Covering Long Distances
As long-distance telephony finally gets its dial tone, players look forward to clarity on revenue sharing and operational issues.
Keying In The Right Program?
States are drawing up impressive information technology policies. Will these glossy brochures lead to anything?
Features
In The Driver's Seat
With several dot.coms going belly up, venture capitalists are playing a far more active role in the running of the companies they fund. The silly season, it would appear, is finally over.
Will India Remain An IT Major?
The answer depends largely on the ability of Indian organisations to free themselves from the project trap they've gotten into, and move into areas such as infotech services and consulting.
The Mutual Funds Scorecard
The first of the BT-Mutualfundindia.com ratings look at how mutual funds have performed in a market that's blown hot and cold on ICE (stocks).
Ranga Unbound
A candid power minister Rangarajan Kumaramangalam opens up on what ails the power sector in the country and whether the States are ready for power sector reforms.
Personal Finance
Forget Big Game, Try Cats & Dogs
Cats and dogs. That's market-speak for bottom-trawling scrips: they've hit 52-week lows and are headed northwards. It's not big game, but it's for you.
Cost-Savvy Switchovers
Saddled with a high-cost housing loan? No problem. There are enough financiers today who'll trade in yours for a cheaper loan.
Case Game
The Case Of Performance Evaluation
How should a fair and accurate appraisal system be institutionalised at Total Industries--BT's fictional firm? William M. Mercer's Mervyn Raphael, S.P. Jain Institute of Management Studies' A.K. Sengupta, and Lupin Lab's Satish Khanna discuss. A BT Case Study. Send us your solution which scrutinises the problems in companies like yours. We'll showcase the best solutions on-line.



RELATED DATA
Readings List

Your link to the world of policy development, corporate happenings, industry news, and market trends




RELATED DATA
Jobs Listing