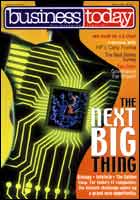 The Golden Cusp
As a worldwide race to sift through genes, proteins, and create cellular libraries cranks up, a clutch of start-ups heads for a new frontier of opportunity on the cusp of biology and infotech, called bioinformatics. Nobody knows when most of these companies will hit pay dirt. But that isn't stopping 30-something scientists or IT entreprenuers from taking the leap. Who are they, what do they do, and why do they think bioinformatics is the next big thing? All revealed for the first time.

Features
"H-P Is On A Never Ending Journey Of Change"
On her first visit to India, Hewlett-Packard's czarina, Carleton S. 'Carly' Fiorina, spoke to BT about how she plans to get the inventive juices flowing once again at the 62-year-old company.

The Goodness Of Governance
At Tata Steel, corporate governance isn't about rules. Rather, it is about building a corporation—and people—that can profit from values.

The Next Wave
Yes, the tech slowdown will hurt toplines and bottomlines. But it could also help software majors in India build risk-free business models and rational business processes. A look at how some of the companies are leveraging the new learning curve.

Darkness At Noon
Chattisgarh Chief Minister Ajit Jogi's intransigent stand on Balco is affecting people whose lives revolve around the aluminium company.

Trends
Lead: Whither The Economy?
Power: Way Out Of The Dark
Interview: "Nobody Transfers Money Like We Do"
Net Generation: The New New Economy
Interview: "We Arm Businesses With Tools To Scale Globally"
Corporate Results: It's A Slowdown, Alright
M&A: A Match Made In Despair
Off-Beat: The Master's Voice

The BT-KPMG
Best Banks Survey
The Malaise In Public Sector Banking
Risk Management In Banks
The KPMG View
The Survey in Pictures
The Bimal Jalan Interview

The Best Banks Rankings
Rank 2001: 1-27
Rank 2001: 28-54
Rank 2001: 55-80
Single Branch Banks
(Note: These are PDF files. You need to have Adobe Acrobat Reader to view them. If you don't have one, download it now.)
Personal Finance
No Kid's Play
Managing money is serious business, which is why it makes sense to teach your kids young. As many parents would vouch, it works.
BT dot.com
Rediff Ver. 2.0
CEO Ajit Balakrishnan has turned the portal's biz strategy on its head. But Rediff may no longer be a dotcom.
What's Hot
Kolkata ISP Caltiger gets into streaming video, and the beleaguered Enron may exit broadband in India.
Case Game
The Case Of Import Competition
Can Lakhan Mills beat the removal of QRs on textile imports? Jiban Mukhopadhyay of Tata, Hemant Shah of Hindoostan Mills and Anees Noorani of Metropolitan Trading discuss. Send us your solution which scrutinises the problems in companies like yours. We'll showcase the best solutions on-line.



Readings List
Managing
Couple-conundrum
You and your wife work in the same company. Odd? Yes. A problem? No.
Healthcare
Ask Dr. Max
A healthcare advisory from specialists at Max Healthcare.
Careers Today
Careers Today
Help, Tarun!!!