BACK OF THE BOOK
A Rosé With Our Rotis

Or a Chenin Blanc with Crab peri peri? Mating Indian foods with wine-both Indian and imported-finds increasing favour with chefs, oenophiles and domestic gourmets. And the prospect of a mass market for Indian wine.

By Praveen S. Thampi & Abir Pal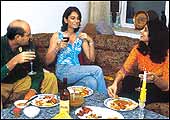 Midway through our conversation in a bright yellow-wood panelled room in The Oberoi's, Delhi, Ariff Jamal, the bubbly export director of Albert Bichot, a famed Burgundy wine-maker, turns his laptop monitor towards a visitor. Up pops the sepia-toned, scanned image of a type-written letter dated August 6, 1952, from the Maharaja of Sikkim, ordering a consignment of Bichot wines.
Jamal was trying to counter an abstract question: ''Do we have a culture of wine in India?''
Well, almost half-a-century later, it's not just the maharajas who have faded, but also the prefix 'French' in the word wine. The 500,000-odd cases-a-year domestic market for the red, white, and rose brews tipped to be growing at an annual rate of 25-30 per cent, today boasts of around 15 desi brands too. From a modest Vin Ballet (Rs 204) to a Grover's La Reserve (Rs 410), these wines make up almost 75 per cent of the existing Indian market. And through a pure and innovative way-by marrying them with traditional Indian cuisine-chefs and wine-makers are trying to bring in the maharajah's delight to the dining room of the great Indian middle class. Says Joy Bhattacharya, Executive Chef, The Oberoi's, Mumbai: ''These are old fashioned notions-wines not jelling with Indian food-and thankfully, have gone for a toss. Today, people are more adventurous and love to explore new tastes.''
Take Bangalore-based Grover Vineyards which has been actively organising food festivals like Dastarkhwan, a high-profile evening recently at Mumbai's Oberoi, where chef Jiggs Kalra churned out an elaborate menu of vegetarian and non-vegetarian Indian delicacies, each matched with the most suitable wine. The concept is something Mumbai-based former investment banker Asit Chandmal (See Asit Chandmal's Top Ten) has watched work beautifully in swank London speciality restaurants like Zaika, Cinnamon, and Tamarind. Drools the oenophile: ''A spicy Gewurz Traminer, a Pirot Grigio, a Moselle Reisling ... all go very well with most fragrant oriental cuisine.''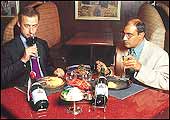 Alberic Bichot (left) & Ariff Jamal of Albert Bichot
Realising they can't for the Indian market to mature, Bichot is launching Wine-maker's Dinners as an initiation
Reciprocating the chefs are makers like Vikrant Chougle whose Chateau Indage has launched brands like Soma, Anarkali and Chhabri, all specially conceived and bottled to be perfect accompaniments to spicy Indian cuisine. That'll be tough for the puritans to sip, but the taboo is no more there. Says Bharat Deshmukh of Grover Vineyards: ''Wine sales will only pick up when people realise that its goes very well with their daily fare.''
For an industry banned from advertising its products (yes, unfortunately wine is still treated at par with liquor), pairing food with wine is one of the few ways it can grow. But marrying traditionally spicy Indian grub with wines-desi or pardesi-is a little more complicated than blindly pairing 'reds' with red meat and 'whites' with fish or white meat. A good wine needs to not only compliment, but also enhance the natural flavours of a dish. And this is something which takes years to cultivate, requiring a detailed knowledge of not just wine but food as well.
That's where the efforts are onto recruit more to the winewagon by giving more choices of food, and cultivate that wanting palette. Says Karen Anand of Pune-based Karen's Gourmets Kitchen, (she is a seasoned chef and a self-confessed wine-aficionado) with a doubtful air: ''In the West, wine is identified by the idea of course meals, which we don't have here.'' But Anand feels it's unfair even to try changing the food culture. ''I think we should educate consumers about the brew. Then, things will evolve on their own,'' she suggests.
''Or, may be, initially, project it as the drink at women's parties,'' Anand muses hinting at the easiest door to the home market. While she sticks to her observation that the domestic wine market doesn't need any kind of artificial pairing with Indian food, Karen is quick to point out that all wines go well with North Indian dry food, less-spicy stuff like Awadhi dishes including biryani, and Malabar fried fish. But she rules out three major Indian food bases-mustard oil, coconut, and curd-from the wine table.
Karen's wine theory is shared by Bichot's Jamal who's organising Wine-maker Dinners in India to initiate the corporate elite to the winewagon. Of course with an predictable add on: the food served would be exclusively Indian.
The Palette-wallet
As of now, the industry is just brewing in India, a fact exemplified by the players themselves whose market estimates vary like the maturing dates of their grapes. Unless they want to sour the future, they need to make a more concerted effort. The initial euphoria has seen many local players ignoring the finer aspects and playing just on lower prices. May be a powerful quality-monitoring authority like The Appellations d'Origines Contrôlées (AOC) of Provence in France could bring some checks in place.
''Given the quality of wines being produced in India today it'll be difficult to attract a larger audience,'' says Sanjay Menon of San Sula International Brands which has been importing and distributing wines and beverages for the last 26 years. Bichot's Jamal adds: ''These fly-by-night players might end up destroying the future palettes.'' Romantic about his Indian roots, Jamal waxes eloquent about how he wishes for one single perfect Indian wine rather than the umpteen players fighting for the bottom end of the chain. ''After all, what do we do not have here? The climate is just marvellous, and labour? On the bottle you can even write the name of the labourer who hand picked the particular grapes ...''
Neverthless, the fact remains that these local players are bolstering a market where playing volumes was almost impossible till a few years back. And it's the same nascence--that means a market which won't be saturated for at least 50 years from now-that makes the Indian market unique.
Imported or Indian Rahul Akerkar doesn't care as long as you drink it. Here in his fifth floor office at Suleman Chambers, Mumbai, a stone's throw from his acclaimed ''eclectic Euro-Asian''-that's his own terminology-restaurant Indigo, scores of cook books line the entire wall behind him. Sipping a steaming mug of coffee, Akerkar who's been demystifying wine and educating customers, has a word of advise for hesitant first timers, ''It's the same as it is with food-balance texture, harmony-don't worry...just have fun playing around...!''
TREADMILL
Make Or Break your abs in The kitchen
How many meals should you be eating a day? Three? Four? Make that five. Gluttony, you may accuse me of but the fact is that you ought to go for five small ones instead of two humungous repasts as most people tend to do. If you're serious about your workouts, you've got to be equally serious, not only about what you eat, but also how many times you dip into the trough.
Here's how it works. If you are adhering to a fairly regular exercise regime (by that I mean a minimum of four 30-minute workout sessions a week), then you need to give your body adequate time to metabolise what you ingest. So, break up what you eat into five small meals. That way, you make the most of all the nutrients that are in the food you eat.
In case you're dreaming five pepperoni pizzas with extra cheese, please banish the thought. You've got to eat healthy. Unless you do that, no matter how much you exercise, you're not going to get into shape. As most weight-trainers say, you have to burn a little more calories than what you take in every day. That's how while your muscles grow because of the exercise, your fat is burned too.
Take the six-pack abs that you've lusted after. Did you know that everyone has them-even if they wear waist 42 jeans? Yes, it's true. Abdominal muscles are universal. Except that in most cases you can't see them because of the generous layers of adipose. You could do crunches till the cows came home but if you're not going to watch what you eat, just forget about developing those washboard ripples and learn to live with flab.
One of my gym-mates is a fanatic when it comes to workouts. He hits the gym at 6 a.m. and, in addition to a heavy-duty weight training schedule, packs in a 15-minute cardio-vascular session and a gamut of exercises to get glorious abs-plain vanilla crunches, hanging crunches, leg-raises... you name it, he does it. The only dampener is that our friend has porcine vital statistics. In other words, his chest, waist and hips measure the same. The reason? After his workouts, he goes back home where his loving wife serves him parathas dripping butter. He has six. Then, for lunch at work, it's puris-fried in ghee. For dinner... and so it goes.
Moral of the story: Abs are made in the kitchen, my friend, and not in the gym.
-MUSCLES MANI
---