PEOPLE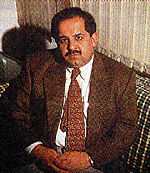 Guess who was Just Round The Corner? Not Sanjay Narang, the man behind it (and Pizzeria, Not Just Jazz By The Bay, and Three Flights Up), who must be one of the most successful restaurateurs in the country. But Uday Punj (right), 36, Director, Bistro Hospitality--the parent company of the up-market Thank God It's Friday chain--who looked a wee bit envious. "This is a great place," he says, longingly eyeing the long queues at the salad buffet, and admiring the viridian green-and-yellow pottery. Almost as if he was checking something out. He probably was; TGIF, Uday admitted later, will open in Mumbai in August, 1999. "We're looking at a middle-of-the-monsoon launch," he says. Obviously. How else will Mumbai learn to say Thank God It's Friday?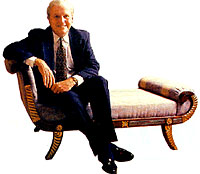 That we've always wanted to ask the man who should know: do they teach you golf or tennis at Harvard Business School? When Mark H. McCormack, the 58-year-old charismatic founder-CEO of the sports marketing company, IMG, visited the country for the first time in February, 1999, he charmed CEOs with his homespun management wisdom. What is not so well-known is that his interest in golf--the man actually played in the US Open once--was the reason that prompted the Yale law grad to give up a promising career at the Bar, and take up the little-known vocation of sports representation in the early Sixties. However, his wife, Betsy Nagleson, was a regular on the Women's Grand Slam tennis-circuit. Well? Confesses Mark, who now spends more time on the courts at the cost of the links: "Betsy hopes I go back to playing golf and give up tennis." Fore(ver)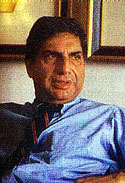 If the prime minister of India were to take a bus to meet the prime minister of Pakistan, what else would it have painted on the back but--tata? Although it is not so well-known, when Prime Minister A.B. Vajpayee set off on his bus-ride on February 20, 1999, from Amritsar to Wardah, he was riding on a new-generation bus unveiled only last month by TELCO. Apart from its state-of-the-art design, this series is the first to be powered by the environment-friendly Tata Cummins engines, made at a spanking-new plant in Jamshedpur. And this bus was personally gifted by Ratan Tata, the 61-year-old CEO of the Tata Group, to service the Delhi Ä Lahore sector. Historic, therefore, for India, Pakistan--and TELCO too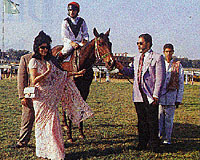 Up. Be it bottoms or horses, that appears to be the 45-year-old UB Group CEO Vijay Mallya's two-letter lucky word for the 2000s. For obvious reasons. What isn't, however, is the fact that it seems to be working, both at work and away too. At, for example, the McDowell Indian Derby last fortnight, the now-bearded, now-shorn Vijay, who first scored handsomely by bagging the sponsorship rights to India's most prestigious race, won it--with a horse he named Saddle Up. Ridden by Pesi Shroff--whose 7th Derby win it was--the handsome colt gleamed in the sun as he sped to cover the 2,400-metre race in just 2 minutes and 34.21 seconds. If that wasn't enough, Vijay then went on to tote home Rs 30.40 lakh, which is what he earned from a quiet side-bet on his horse. And what did Saddle Up get? An extra sugar cube from her Sugar Daddy. No wonder Vijay's stock, despite KRC, is up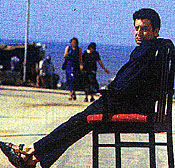 We would want to play the queen in corporatising the king. The most glam grandmom of them all--after the joy of the birth of her grandson, Aryaan--Parmeshwar Godrej , 54, is busy planning her biggest-ever venture. Apart from admitting, with that famous twinkle in her eye, that she'd love to spend an evening with Anthony Hopkins for "an intellectual chat" and Richard Gere for a bit of "romance," she's spending a lot of her time with none other than Shekhar `E' Kapur. Apparently, the duo will soon float a mega-production company that will finance films and entertainment projects. "We wanted to start shekhar.k/p.godrej starlight over 2 years ago," she says. "Our aim is to bring corporate professionalism to the film industry." Of course, there's a double whammy in working with Shekhar: apart from his directorial talents--Parmeshwar says she rates him at par with Spielberg--he is also a qualified chartered accountant, remember? No prizes for guessing what their kick-off project will be: a star-studded screening of Elizabeth, and the donation of the proceeds to charity. Lead, starlight, lead.