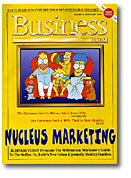 Nucleus Marketing
Meet the Nuffies. He's a husband/father who's letting go of his authoritarian and sharing power with his family. She's a wife/mother who's living for her own pleasure and not just to serve the demanding members of her family. They are the daughter/son/companions whose voices in the family's consumption decisions are getting louder. How should you sell to them? A modern marketer's manual.
---
Budget 99
Budgeting For a Deficit of Growth
Poor Mr Sinha. With the economy settling down to a 5 per cent hindutva rate of growth, India's finance minister can prevent a fiscal cricis only by backing, through Budget 99, what the BJP doesn't really believe in: liberalisation.
---
CORPORATE FRONT
Why are the FIs Turning Militant?
Actually, with rising shareholder pressure, swelling Non-performance assets, and the threat of downgrades, the financial institutions do not have much of a choice.
Will Akai Turn Videocon Into The New Baron?
Although the fit between the price-champs is perfect, regaining leadership will be tough for Videocon.
Will TACO Prove To Be Bigger Than TELCO?
If it hits its Rs 17,000 crore sales target by 2006, TACO will be one of India's 10 biggest corporates.
Can Grundig Solidaire Its Future Again?
This loss-making CTV minnow can't count on either of its parents for technology - or money.
Why did the HDFC Bank Chase Chase?
So that the would-be retainer banker could use Chase's savvy in corporate banking to sustain its new thrust.
Is the Morgan Stanley Growth Fund Growing?
Well, the mutual fund is, by restructuring its portfolio, reporting profits. But it still trades below par.
---
Case Study: The Case of Vendor Improvement
RELATED DATA
Reading List
---
Investigation: Money, Politics & the Plot
The inside story of how BJP politicians fought over helping a videshi BAT to acquire swadeshi ITC. An exclusive tale of a covert bid which was a big-money power play that proved to be abortive.
---
Marketing: The New Price Warriors
India's small car manufacturers have abandoned the other Ps of the marketing mix to concentrate on price. But a BT study shows this provides no-long term winners.
RELATED DATA
Reading List
The Economy: The Power of Imagination
He has a dream. Do you? Even as we resign ourselves to Budget 99, C.K. Prahalad, the strategy guru, unveils a competitive agenda for our future. Radical only because of our reality, he tears apart our mindblocks, and envisions how we can create a magnificent future for India Inc...A BT exclusive.
RELATED DATA
Reading List
Glocality: Davos Days
For the CEO who missed the ultimate showcase of the world's finest intellectual capital, BT presents a virtual visit to the 1999 Annual Summit of the World Economic Forum at Davos.
Ideas
RELATED DATA
Reading List
---
PERSONAL FINANCE
---