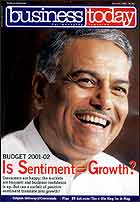 Budget 2001-02
Is Sentiment = Growth?
Consumers are happy; the markets are buoyant; and business confidence is up. But can a surfeit of positive sentiment translate into growth?

Interview
A tete-a-tete with Finance Minister Yashwant Sinha.

The Unfinished Agenda
Economist T.N. Srinivasan's take on the budget.

The Ripple Effect
How the markets will respond in the long-term to the budget.

Toll's Well
The budget has been kind to corporates and individuals.

The Big Six
The future of the six sectors impacted most by the budget: foods & beverages, petrochem, banking & finance, automotive, agriculture, and small-scale industries.

Mamata's Budget
This year's Railway Budget seems to eschew realism in favour of populism.

Corporates
Sony Music's Songlines
A growing presence in Hindi soundtracks, new low-end brand, and a best-selling international collection have contributed to Sony Music's growth.

Fertiliser Dreams
The Murugappa Group is still bullish on the sector as its acquisitive tendencies show.

The Race For VSNL
A clutch of companies, domestic and transnational, express interest in the long-distance runner.

Low-end Tickers
With Swatch articulating its plans for the sub-Rs 1,000 segment of the watch market, the action picks up.

Otto B's B2B Strategy
The mail-order company reinvents itself as a fulfilment specialist for dotcoms..

Sterlite & Balco
Politics may still scuttle a deal that makes great business sense.

Where There's WiLL...
... there's a way, demonstrate cellular service providers as they make pragmatic plans for life ahead if the courts decide against them.

The MUL Divestment: The Pluses
The GoI's divestment-route may be convoluted but there is a significant upside to it.

Mohan Meakin's Cereal Aspirations
Emboldened by the (limited) success of it cereals, the liquor major eyes processed foods.

This Anthem's Coming Back Into Vogue
After a few disastrous years, Anthem/TBWA is making a comeback.

Brick Snaps Up Click
TVS Finance acquires profitable B2B site Auctionindia as part of a composite strategy.

Personal Finance
Now The Cat Is Out Of The Bag
All You Need To Know About Free Holidays

The Best Handsets... The Best Packages
The Smart Way To Go Wireless.

Features
Tide's In
Armed with India's largest private internet network, CEO R. Ramaraj believes Sify can make a go of it. But the facts are scary: a sluggish topline, looming competition in its staple corporate connectivity business, plus investors who want to see profits by year end.

Making Sense Of Organised Medicine
Most healthcare business models have failed because they've not approached the business from the neighbour-hood-clinic end. Now, two new entrants are planning to do just that.

Case Game
The Case Of The Insurance Merger
Speed or size? What will yield a sharper edge in the non-life insurance industry tomorrow? Arthur Andersen's Ashwin Parekh, IIM Bangalore's R. Vaidyanathan, and General Insurers (Public Sector) Association's (GIPSA) T. Lakshmanan discuss. Send us your solution which scrutinises the problems in companies like yours. We'll showcase the best solutions on-line.



Readings List
Trends
Your link to the world of policy development, corporate happenings, industry news, and market trends
BT dot.com
Cover Story
Payment gateways are a critical link in e-commerce. BT dot.com looks at the dynamics of the business in India.
What's Hot
Know direct internet access systems; an interview with Anupam Gupta of debtonnetindia.com; the emergence of weblabs; and more happening stuff.
Careers Today
Help, Tarun!!! Building Me-Inc.: Sabbaticals, Executive Tracking