PEOPLE
Digital Drama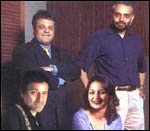 Call it out-of-the-can thinking! A most unlikely foursome-(clockwise, from top left) adman Suhel Seth, industrialist Hari Bhartia, scion of the real estate heavyweight DLF Group Pia Singh, and hotshot director Shekhar Kapur-have teamed up to make movies, of the digital kind. The common link between them, no prizes for guessing, is a passion for films. Called Digital Talkies, the fledgling company will create content focused on digital videos and set up a broadband-enabled web-site as an exhibition platform for digital movies, interactive talkshows, and quizzes. Plus, there'll be a globally-accessible content library and archive. It would also actively promote new talent. The founding-quartet would have different roles though. Bhartia, who is also co-chairman of Vam Organics, will provide financial insight. Seth, CEO of ad firm Equus, will rev up marketing and distribution, with Kapur-it's his first involvement with the new-age media-providing creative direction. And Singh will be the hands-on CEO. Says Singh, 29, who is also a Wharton graduate: ''With convergence being the order of the day, our company will provide the much-needed virtual movie theatre.'' Adds Bhartia, 43, who is also an amateur film maker: ''Since making a digital film is far less expensive than a celluloid version, we will have room to experiment. We'll also sell the content.'' Will the public be enthused? ''How can they not? We will provide customised films where you can change the stories,'' quips Seth, 37. Like getting Rhett Butler to return in Gone With The Wind?
A Second Innings


In her heydays, she was known to jump up on to the canteen table to address her workers! And drive from Pune to Mumbai in two hours flat. But ever since her retirement as chairperson of Alfa Laval, the redoubtable Lila Poonawalla, is into more sedate activities. She has just launched her own web-site, www.lila poonawalla.com, which provides an interesting insight into her life with a 'guest book' for people to write in. Says Poonawalla, who at 57 still remains the Chairperson of Tetra Pak (India): ''I was writing a web column, where people asked me a lot of questions about myself as well as on management and industry. So, I thought of launching my own web-site.'' She is also busy with the Lila Poonawalla Foundation, which gives scholarships to 25 girls from Pune annually. And of course, there is her famed 500-strong matchbox collection (Poonawalla, incidentally, is a member of the International Matchbox Collectors Club) to take care of and an autobiography to be penned shortly. Retirement? What retirement?
Eight-year Itch


The quiz master is now flying into Net space! Derek O'Brien, or simply Derek to most quiz-loving Calcuttans, is hitting big time with his Global Knowledge Portals, a morphed version of his eight-year-old company, Big Ideas. The new company, which has been part-funded by the Singapore-based and NRI-led Kaybee Group to the tune of $1.5 million, will float a portal that would promote knowledge, albeit in an entertaining format-something that Big Ideas was known for. ''It will be the biggest portal of its kind, aimed at both NRIs and resident Indians,'' the 38-year-old quiz star, who in his spare time, is known to indulge in twin passions of bridge and horse racing, has been quoted as saying. What can we say except best of luck?
Business of Leisure


That do you do with lots of land in the heart of Mumbai that you can't sell? Why, set up a leisure centre with all the trimmings. and laugh all the way to the bank! The Kasliwal brothers of S. Kumars fame have just gone ahead and done that by converting 4 lakh square feet of space in Worli into a state-of-the-art shopping-cum-leisure centre at an initial investment of Rs 150 crore. Named Landmark Citi, the centre would feature S. Maart, the group's landmark retail store, a go-karting track that is already operational, soon-to-come simulation theatres, roller-coaster rides, a disco, and an ice-skating rink. Another glamorous front-end business for the hitherto textile-led group? Says Vikas Kasliwal, 44, Chairman and a go-karting enthusiast: ''Our research shows that leisure and retail are going to be the biggest businesses of the future and this is the first step.'' Competition like Crossroads be damned...