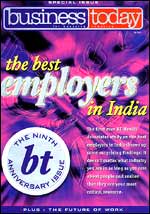 Market Mayhem
Forget fundamentals, there are forces beyond the common manís ken at work behind the volatile behaviour of the stockmarket. For one, there are speculative forces. Then, there are macro- economic ones, like the oil crisis. And then, there is the behaviour of international bourses.

Corporates
What Ails Eicher?
It professionalised way ahead of its peers and uses the latest management techniques, but is trapped in several low-growth businesses.

3Com's Dial-Up Strategy
The global networking major is hoping its focus on the access end of the network will net it significant business in India.

How ISPL Scorned The Market
Gilletteís main Indian subsidiaryís act of merging two other subsidiaries with itself does benefit someone: Gillette.

Perfetti's Perfect Play
A mix of clever positioning and innovative products helps the Italian candy maker do well in India.

Not A Happy Aria
BPL may be the king in the television market, but BPL-Sanyo Tech comes cropper in the audio one.

A Tangled Telecom Skein
Global realignments have made a mockery of old-e regulations in the telecom sector.

Another JV Goes Bust
The DCM-Remy alliance is on the rocks, and for all the usual reasons.

Inside Honda India
The company has quietly finalised its strategies for the two-wheeler market. A BT exclusive.

60 Minutes
Meeting Michael Bonsignore
Heís low-profile, but he heads the $20-billion Honeywell, which, just incidentally, has big plans for India.

Policy Watch
365 days@work
A performance monitor of the BJPís economic leadership, and a poll on what CEOs think of it. Forgive the cliche, but there are miles to go.

Features
DD's Comeback Strategy
Itís been battered by the satellite channels, and eroded from within by poor leadership. Now, under interim CEO R.R. Shah, Doordarshan is scripting a turnaround (note: itís still at the storyboard stage).

Unsafe Careers
A focus on performance, a disregard for experience, and other new-e trends spell the death of the safe job.

Group Tata And The Internet
The countryís largest business group is using the Net to improve operational efficiencies in existing businesses, and, at the same time, exploring several new Net-related businesses.

Personal Finance
Claims That Take Your Life
Spiralling cost of treatment has made medical insurance a must. But to snatch its full benefits, it's important to read the fine print.

10 Thing You Always Wanted To Know About Debit Card
A debit card primer.

Case Game
The Case Of Strategic Acquisition
Threatened by obsolescence and stagnant profits, Total's batteries division mulls an acquisition. Jardine Fleming's U.R. Bhat, Andersen Consulting's Mukul Gupta, and electricmela.com's S. Jain debate for and against the move. Send us your solution which scrutinises the problems in companies like yours. We'll showcase the best solutions on-line.

Trends
Your link to the world of policy development, corporate happenings, industry news, and market trends
BT dot.com
Cover Story
In the beginning were the NRI sites... Now, there are just more of them. Making a living off them isnít easy.
Wired Steel
How as old economy a business as steel is using the internet as a market space.
Wired Wisdom
Presenting the best guide to learning to do business on the internet: The Star Wars quartet.
What's Hot
HCL launches its ISP subsidiary, the web design business hots up, a snappy Q&A with Piyush Gupta, MSNís India launch, and more happening things.