T R E N D S
2005: A Banking Odyssey

Circa 2005: Financial services malls with electronic customer interfaces like ATMs, call centres, and the Net will change the way we bank and invest. Actually, discount the Net, says Brian Carvalho.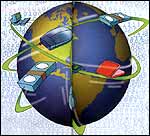 It is January 1, 2005. I am ensconced in my studio apartment in this sleepy little village in South Goa (the tourists haven't yet reached here, thank heavens!). It's 11 am, and I am still trying to shrug off last night's excesses. There is work to be done. I pick up one of the pink papers. The year 2004, says the lead story, saw some of the biggest mergers and acquisitions (M&As) ever in Indian corporate history. Billion dollar deals aren't inconceivable these days, notes the correspondent, who goes on to talk about the mega-mergers in the banking sector, and how ICICI, HDFC, the State Bank of India, and foreign majors like Citi are carving up the industry amongst themselves. Most of the other M&As are happening in the cement sector and, of course, in the internet space where dotcoms continue to go cheap. In case you didn't know, it's Merrill Lynch and Morgan Stanley that are clinching the big deals.
Interesting story, but it's the second lead that makes me sit up. ''BSE To Go Public Next Month,'' it says. At last. I jog my memory back five years. Anand Rathi, a former President of the Bombay Stock Exchange (BSE), had announced that the exchange would be listed on, well, the exchange. Manoj Vaish, Deputy Executive Director at that time, had provided me with details of the blueprint, and the logic governing the decision. The BSE took the first step when it passed a resolution at the 2000, Annual General Meeting, enabling it to become a corporate. By 2001, that process was complete, and Vaish had told me that it would be another three-odd years before the BSE got listed: ''We don't need the money today, but soon we will have to make big investments on technology.''
The BSE sure needs the money now. Already it's pumped big money into networking; today, it is connected to close to 1,000 cities; that's why I am able to trade on that exchange, sitting some 650 km away from it. (Please note that I have nothing against the National stock exchange, which is growing as rapidly against the BSE.) Many of the 24 regional exchanges in the country have been virtually merged into the BSE-more precisely, they've become subsidiaries of the BSE. So, should I invest in the BSE once it goes public? To be sure, the exchange is doing pretty well. Its market capitalisation has witnessed a spurt of late, thanks to disinvestment of public sector undertakings finally taking off! Its turnover too has been growing smartly, by 50 per cent (compounded) every year, and stands at close to Rs 20,000 crore today.
Of course, the BSE owes much of its success to the burgeoning investor community. And boy, have they grown or what! Five years ago, just 5 per cent of the Indian population held shares. That figure has since doubled. In 1999, just 1.8 per cent of Indians had made fresh investments.
The Bank Around The Corner
That reminds me, I better check out my finances, and my portfolio. I could do with some hard cash (last night burnt a hole in my wallet). Should I walk down to my neighbourhood ATM, or should I call the bank? Till a few years ago, banking as we knew it relied largely on just one product delivery mechanism: the branch. Then came the ATM, then the call centre, and then the Web. They've been around for many years now, but it's only now that the ATM and the call centre have become synonymous with retail banking. Some may find it surprising that internet banking hasn't taken off. I, for one, still haven't been able to muster up the courage to do a banking transaction online. I prefer the call centre route. And it's not that I dial up only when I need cash. I do so to find out when my certificates of deposits will expire, when I want to transfer some money to my Mumbai account (yes, I still go there sometimes). And the bank takes care of all my bills.
With branches having little relevance these days, expansions have become easier. It's also enabled a number of foreign banks to set up shop in the country, as they don't have to worry about setting up branches. And it's finally making business sense too. I remember, way back in 2000, Sanjiv Anand, Regional Director of Renaissance Consulting (a Cedar Group company) telling me that ATMs weren't making money because they had to do 800 transactions a day to break even. Clearly, they're doing much more than 800 today. I can't say the same for the credit card companies, however. Till recently, every card company was losing money. That's because they were spending Rs 1,500 to acquire a customer. But that's not the only reason. Credit card companies have learnt the hard way that the Indian customer is a peculiar animal. Let me explain. Card firms have two revenue streams: a fixed annual charge, and interest charges. The annual charge isn't much, so companies rely on interest charges to bring home the bacon. But that money will only accrue if Indians start revolving their credit-something very few of us are willing to do. I don't. Like many Indians, I don't own a credit card. I prefer the debit variety.
The Financial Services Mall
Just one more point about my bank. It's not just a bank any more. I don't just park my money there and earn interest on it. I've got my debit card from the bank, the loans I took to buy this house and my car are courtesy my bank. And the mutual fund investments and the insurance cover I've taken-life and health-have also been done through my bank. Meanwhile, my bank, along with 49 other banks, shares a common clearing system. Now this makes the task of transacting online much easier. But will I? I think not. And by the looks of it I appear to have plenty of company. The hype about online broking has long died, and with it many of the portals that had made online broking their USP. Today, for the few online brokers around, the online-offline model works best, with the transaction happening offline. Some of these portals have 'reinvented' themselves, to offer value-added analysis. Would I pay for that? Perhaps, but I can't speak for the entire retail investing community.
Actually, I don't need to look too far for research that's customised to meet my needs. That's because I have registered with this personal finance portal which is more of an aggregator of products and services. Honestly, I don't use much of this-I have my bank, remember-but the reason I registered with this website is for its highly-customised tax advice and research reports it puts out on companies. I may not buy shares online, but I'll use the internet to help me make, and save, money. That reminds me: the upcoming BSE public offer. Indeed, the BSE has come a long way since its not-for-profit days. Today, it has opened up two very lucrative revenue streams (five years ago, all its revenues came from listing and trading fees, as well as cash margins collected from brokers). Some 30 per cent of the BSE's income comes from the sale of value-added information and knowledge. Distribution of financial products via the BSE network-mutual funds, insurance products, fixed deposits, and bonds-account for another 20-odd per cent.
You must be wondering why my life isn't revolving around the internet. Sure, it plays a part, but weren't experts predicting that the internet would take over? Well, it hasn't yet, and in my space an ATM or a phone banker is more relevant-as it still is for the Indian masses, who have yet to own a pc or an internet connection. And then there are those like me who just don't feel safe doing a transaction online. Sure, there are these city-slickers in Mumbai buying shares online, and banking on the internet, and more power to them. But they'll be a minority for many more years to come.
The End-Piece
It's January 2. I am still groggy, and a bit disoriented. Where am I? I am in Goa all right, but the year is still 2001, and I am at the fag end of my holiday. Sigh, it was a good dream...all those ATMs, relocating to Goa-too good to be true. The only network I am connected to here is the loaded one at the tavern at the end of the road-and all I get to know from it is the (sorry) state of Goa politics, and what should be done to set things right. In a few hours, I will have to climb on that bus to the city, visit the bank, withdraw some money, then trudge to the travel agent, and book my return ticket to Mumbai. Whoever said ''dreams are the wings of the soul,'' and other like stuff was obviously made of sterner stuff.