T R E N D S
This Bubble Won't Burst

In a world where the virtual overlaps the real, the exec will move around with the corner room in his wristwatch, says Vinod Mahanta.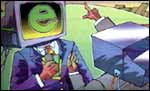 Sometime in 2005: the coffee machine in Jaycee's intelligent house whirrs into action to keep the channel 9 executive's morning 'cuppa' piping hot at 7 am, coinciding with the time when his IP-enabled printer delivers his customised newspaper. The 7 am news on television has been recorded for him and he watches the headlines after reading the newspaper. A few stocks in his portfolio have appreciated 10 per cent during trading on nasdaq. He orders a sell, punching a few buttons on his cellphone. Then, after a quick shower, he slips into his all-weather semi-formals made of that wonder material that never creases and yet adjusts itself automatically to the ambient temperature, keeping him warm in winter and cool in summer. At the breakfast table, as Jaycee digs into his zero-fat milk and bran, he speedchecks his mail on the bluetooth-enabled notebook that's currently connected to the high-speed landline.
Breakfast over, Jaycee grabs his notebook and his communicator and rushes to his car. As he touches the door handle, it recognises his fingerprint and the engine purrs to life. Enroute to the office, Jaycee gets an update of the route he usually takes on a voice-activated stereo. His secretary knows exactly where he is, thanks to the built-in GPS. As he enters office, all the devices he is carrying-communicator, laptop, cellphone-configure themselves automatically to the wireless LAN of the office. Ho hum, thinks Jaycee. Yet another day of slogging.
SCI-fi? Well, it certainly seems like that. Considering that today although Jaycee can connect his PDA or notebook to the cell phone via a cable or infra-red port, downloading his e-mail becomes a Herculean task given the slow connectivity and frequently disrupted connections. Redial. Sometimes Jaycee wants to calculate how many hours a day he spends doing just that: redialling.
But Jaycee's life is about to change. And so is that of thousands of upwardly mobile executives like him.
In a few years-maybe just 1 or 2-on-the-go Indian managers like Jaycee could be connected all the time. Along with 'always on' (incidentally, that's a swell name for a cologne too in the 24X7 world!), bluetooth technology will enable a constellation of e-devices to 'talk' to each other wirelessly.
Me And My Bubble
Wired Office
No-man's Land
"Thirty-second floor," says the disembodied voice that suggests a hint of a cold. As the elevator stops, I step out and walk to the shiny steel wall and place my left palm on the matt black patch. The sensors recognise my palm imprint and out pops a keypad and a small green screen. I tap in my password. A pause. Then the green led sign flashes: "Access Granted." The steel plate soundlessly glides up and I walk in. This is my office. Yes, there aren't too many people here. In fact, there's hardly anyone around. Most of us work while travelling round the globe. Meetings are held through video-conferencing. Wherever you are, you can access the company's servers, the intranet and, of course, the internet. So why go to office at all? But today's a special day. One of our colleagues has just been elevated to the board and we're having a small party. Of course, the younger colleagues are unhappy. Champagne corks can be popped and toasts raised in a video-conference, they point out, but we old-fashioned guys still think it's in poor taste.
When the e-executive moves between work and home, his bubble-the network around him-will automatically reconfigure itself. Thanks to bluetooth, the communicator will instantly sense the devices around it. At home, it's the audio/video players or the television, mp3 music servers or internet appliances. And even the e-enabled microwave oven or the fridge. At work, it would sense the secure corporate servers, PDAs or software that can schedule meetings. Internet Protocol (IP) enabled phones would automatically switch from being a mobile to the local office system. The notebook too would connect automatically to a wireless LAN that offers everything from video-conferencing to multi-player gaming. High-speed wireless broadband will allow executives to send video messages from telephones. ''In five years,'' says Amit Sharma, Motorola India's chief, ''the executive will be supported by a combination of wireless and wireline broadband smart networks.'' The gleam in his eye is unmistakable.
That's for the starters. In the next level of technological progression, executives like Jaycee will have pans. Not to be confused with the other pan (permanent account number!), these personal area networks will do away with the paraphernalia that connects one device to another. Exit wires, plugs, batteries, and adaptors. Enter (thanks to the magic of bluetooth, every device will have a common platform) a chip and an antenna that offer data rates of around 1 mbps-that's 10 times faster than today's speeds. Says Ranjivjit Singh, Director (consumer products), Ericsson: ''There will be a lot of silent communication that will improve the quality of life.''
Of course, most of today's mobile networks, which are circuit-switched and designed for voice rather than data traffic, will have to be replaced with packet-switched networks to transmit data on an 'always on' basis. Does it mean existing devices will have to be junked? ''Of course, not,'' says Ericsson's Singh, ''with the evolution path now clear, telecom companies will come up with least cost ways to upgrade software or hardware.''
Look Mama, No Hands
At home, Jaycee could use his notebook. While commuting, he might have a communicator in his pocket. In office, he may log on to his pc. But all these devices will have multiple functionalities. Already there are cellphones that can seamlessly switch from GSM 900 to other frequency bands, offering enhanced international roaming. These phones use infrared technology with an in-built pc card, which enables instant connection to the entire hardware ensemble, including laptops, palm tops, and e-enabled devices. Plus, they can be used to send and receive faxes and short messages, connect to the internet as well as to LANs. Soon they'll have high-resolution colour displays, high-speed mobile e-mail and multimedia capabilities like full colour video clips. Manufacturers like Palm Computing are unveiling the next generation of operating systems which could transform simple organisers into multi-purpose hand-held computers.
Savvy corporates are extending their reach through the power of WAP technology, which creates a universal open standard for delivering internet- based data to wireless devices. WAP enables virtually any service-oriented company to give in-the-field executives access to key information when and where they need it. ''Wherever you go, your office goes with you,'' points out Motorola's Sharma. Soon field executives will use their WAP-connected mobile phones to log the details of each completed assignment and use it to retrieve their next job assignment. Technologies like WAP also create a seamless migration pathway to advanced network solutions such as GPRs, wideband CDMA, and other third-generation (3G) technologies.
Chips On Their Shoulders
In the not-so-distant future, the e-executive's attire may change. Already clothing manufacturers like Levi Strauss are testing the market for wearable 'computers' or communication devices, which are essentially garments with chips embedded in them. Watch-makers may take the lead in making it happen. Says Timex Watches' CEO Kapil Kapoor: ''The advantage of a watch is that you are carrying it around with you anyway. So it makes much more sense to have all your e-mail, stock quotes, telephone calls sent directly to your watch. Most other it-enabled tools need to be 'carried' around like an appendage.'' According to a study done at the Massachusetts Institute of Technology (MIT), most consumer electronic gadgets-from the compact disc players and fax machines to pagers and audio journals-will ultimately be wearable.
Just in case you thought that's a great idea, think again. How would you like your boss to always keep tabs on you? Worse, how would you like to carry your office with you all the time? Even while you're sleeping? Welcome to the wired world, which promises to be not only quite weird but scary too.