T R E N D S
Manufacturing: Network Efficiencies

Buzzword for tomorrow: collaborative manufacturing. Tomorrow's winning product will be designed, developed, and manufactured across networked units, says R. Sridharan.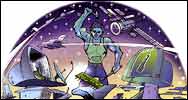 If boardrooms are where corporate strategies are conceived, then it's the shopfloor where they are hammered, chiselled, and assembled to shape. Not long ago, manufacturing was considered to be the single-most important activity that a company performed. So much so that auto makers like Ford and General Motors chose to self-make all the components that went into their vehicles. The underlying belief was simple: if you don't make it, you can't control the price, the quality, or the supply of those components.
But trying to do everything yourself, manufacturers have now realised, is not just expensive, but also inefficient. In fact, growing consolidation in vendor base and increasing parity in terms of technology are forcing companies to question their manufacturing strategies. The issue is not so much of how and where to make, as whether to make or outsource. And it is not just manufacture-intensive industries that are debating the issue. For instance, Sara Lee-which sells confectionery and household goods like Kiwi shoe polish and Brylcreem-announced two years ago that it would divest all its manufacturing operations. Instead, it would focus solely on marketing and brand-building.
In the near future, most big car makers-Ford, General Motors, Daimler-Chrysler, and Toyota-and even pharmaceutical companies will increasingly want to take the Sara Lee route. The drivers of change are, of course, consumers. Besieged by competition and diversity of global consumer preferences, companies are discovering that there's more value-addition in product development, brand management and marketing than in manufacturing. From mass production, the shift will be to mass customisation.
Manufacturing
E-Manufacturing: Not Science Fiction
The World Wide Web (www)-enabled factory will be the marketer's dream and the production manager's nightmare. Tomorrow, customers won't surf a company's site just for information or even order placement. They will actually be custom-building online their next car, computer, music system, or even home furniture. In fact, in a truly networked environment, the customer will be able to bid for the best bargains from the manufacturer's vendors, part-cutting into the company's profit margins.

To be able to manufacture to thousands of different orders and still meet the quality and delivery deadlines, the production man will have to create a wired factory. ERP would be a bare minimum, but it must be layered on top of the web so that remote customer orders automatically translate into part-purchase orders (also trigger a job order) at the concerned vendor's. To do so, the wired factory will probably rely on internet devices that come with pre-loaded and management-approved links to websites, including those of suppliers, dealers, and associates. Remotely-hosted software programs will keep track of operations within and outside the factory, reducing cost, increasing compatibility, and reducing time-to-market.
So, does all that mean the end of manufacturing? Hardly. If anything, manufacturing as a function will become even more critical. Global competition, demanding consumers, changing value equations, fragmented and niche markets will put further pressure on shop-floor efficiency and flexibility. That, in turn, would usher in an era of collaborative manufacturing: an era where ''spot markets'' for product manufacturing will emerge. Therefore, instead of relying on its vendor network, an OEM could source a component from the most competitive supplier. So, if your bearings supplier ditches you, and you have 2,000 cars that need to be shipped out in two days, no problem. Call the bearings manufacturer in Mumbai who'll have the requisite numbers sent to your factory ASAP.
But for all that to happen, the factory of today will have to virtually reinvent itself.
Lean And Agile
The modern economy owes much to the system of mass production first popularised by Henry Ford. To this day, machines are built to a very specific brief: to, say, cut or stamp continuously. But the machines of future will be designed to perform differently. The sheer variety of products, a smaller but a more dispersed customer base, shorter delivery lead times, and just-in-time supply would mean that instead of churning out the same product in three shifts, the machine would need to make five or six different products a day. For example, a body press shop would need to make small cars (of different colours each) in the morning, sedans (with customised interiors) in the afternoon, and may be sports vehicles in the evening-all without compromising on the quality and economy. Similarly, a paint shop would need systems that allow mass customisation.
The machines would also need a higher degree of intelligence so that human failure (the biggest reason for poor quality) can be minimised. In the factory of the future, almost all work will be done by artificial intelligence (robotic systems) and the only human being present will be the supervisor.
Yet, that kind of a scenario in India (except in hi-tech industries) may not happen at all. Since skilled labour is cheap and aplenty, companies would want to avoid low-end automation like using a robotic arm to load a component onto the machine. Instead, automation would be used in high-precision jobs.
Tiered, But Integrated
The most important raw material that flows through an organisation's value chain is not goods, but information. Information about market demand, supplies, production schedules, bottlenecks, delivery, and cost. Leveraging that information ensures production of parts that meet the customer specifications in terms of model, quantity, and delivery schedules. Typically, such a seamless integration of information flow does not happen in real life because the number of participants in the supply-chain are several and each one of them uses different it systems.
To survive, the wired factory of tomorrow will need complete connectivity (See e-Manufacturing: Not Science Fiction). The Original Equipment Manufacturer's (OEM) shift from production to mere assembly will push cost and quality pressures further upstream. Instead of supplying discrete parts, the vendors would need send in fully built up modules, say, the entire chassis, wheel and brake assembly. To be able to meet the OEM's quality, cost, and delivery targets, the vendors will need to work closely and cross-share capabilities. Quality systems will have to become more robust and product development capabilities will need to be enhanced. In fact, in more ways than one, the shopfloor of tomorrow will have to mirror the imperative of the corner-room.