BT DOTCOM: COVER STORY
Between A Rock And A Hard Space
Content was king-once. But companies that sprung up to supply reams of content during the glory days, are finding alternative markets in old-world corporates silently adapting to the ways of the web.
By Vinod Mahanta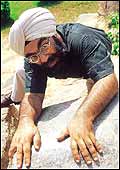 "I show my customers the colour of money first and do whatever I have to do to make money"
Simarpreet Singh, Managing Director, Compare Infobasic
Vishal Dhar's lean, rakish and good-looking face displays signs of preoccupation. Dhar, 33, is the CEO of Friday Corporation, a company that was used to hearing only two words: original and unique. In the days of VC-cash and the dotcom boom, Dhar's customers wanted to stand out. So Dhar's supply of 'original' and 'unique' content was much sought after by websites, even though he tried to sell syndicated content as a cheaper and more sensible alternative.
But being sensible wasn't a strong point of the sunshine days. The rationale was this: exclusive content would differentiate sites, draw more visitors, mean more page views, and finally, lead to a higher valuation. That reasoning has now gone the way of the dodo.
Content is no longer king, barely a commoner. The dotcom companies that clamoured for content are dead or dying. And the two words Dhar hears now-just over a year after he launched Friday Corporation in May 2000-are 'lesser' and 'cheaper'.
Once it seemed that the wisest of the lot were the people who supplied the picks and shovels during the dotcom gold rush. But in an age of fool's gold, the picks and shovels needed are fewer. Any old thing will do. And so dotcommers now want basic content, which supports their core business. Unique content has limited demand.
''Clients now are very specific in what they want and judge how relevant the content is for the revenues.'' Dhar, like other content providers, watched in chagrin as customer sites ran out of money and reneged on signed deals. ''The so-called big players are the worst in making payments,'' rues Deepa Gehlot of Decagon Media, a small Mumbai-based content provider that had a tough time with indiainfo.com. Price is a big downer. Recently Webdunia, which supplies content in a host of Indian languages, had to renegotiate its price with sify.com because a rival offered services at rockbottom prices.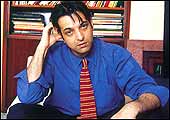 "Clients are very specific in what they want and judge how the content is relevant for revenues."
Vishal Dhar, CEO, Friday Corporation
Is There Life Beyond Content?
Actually, there is. Most of the serious content players are looking at corporates as the next big opportunity. Big companies are only now realising how effective the web and its tools can be in company wide communication, reducing paper and downsizing hierarchies.
Friday Corporation, which at one point of time had 44 dotcom clients, is now providing content for corporate intranets, like the one the Tata Group has developed for its 87 companies. Friday Corporation also manages content for sites like Microsoft's Indiaone.
It has also managed to retain the bigger clients who are still buying content, like mantraonline, 123india, indya.com, and msn, among others, but the high-growth area clearly will be corporate/ enterprise segment.
''As more and more companies realise the potential of a web presence, they want their sites to be more than brochures,'' says Vivek Sethi, 36, Director, Netaphase Consulting. Netaphase has Eicher Goodearth as its client, and also small companies like Chevron Resorts and Kiran X-Ray Accessories, for whom it provides Spanish content for a site aimed at European buyers. In the vernacular space, Webdunia is increasingly providing content for Hindi versions of corporate portals like Amul, Apollolife, and Kothari Pioneer.
HOW DOES A SKIPPING STONE SURVIVE?
Business model? what business model?'' Simarpreet Singh's eyes twinkle, his mouth creases in amusement. ''I do whatever I have to do to make money,'' declares Singh, 36, the jocund managing director of Compare Infobasic, a dotcom pioneer, whose production line of content workers once mirrored the promise of the space. On the third floor of a semi-built cinema complex, in a badminton-complex-sized hall, the line grinds on.

Today, Singh has learned what it's like to be a flat stone skipping across the water. He keeps bouncing his content business from idea to idea knowing the great sink is always a skip away. Singh grabs a paper and with a swish of pencil, tries to explain his myriad survival strategies. It's confusing. But what isn't, is his balance sheet. Infobasic had a turnover of Rs 2.56 crore (including Rs 1.6 crore from the sale of a site, indiavisit.com) in 2000-01, up from scratch in his launch year, 1997. Last year he had 46 content creators and 80 freelancers, working for 22 clients. Today with just four paying clients left, he has 14 content creators and 25 freelancers. Yet, amidst the energy of the heaving West Delhi suburb of Janakpuri, home to innumerable small family businesses, Singh today creates content for more than 100 sites in various stages of preparation. Each can be brought to life in a couple of hours, useful add-ons to modernising companies.

Singh slogs for every rupee. His margins are piffling, but he flourishes by ingenuity and hard work. He will sell content, sites-on everything from maps to automobiles-domain names, even inquiries. For instance, when the great crash left Singh holding a subcontracted vortal on the Taj, he launched the site himself. tajhub.com got travel inquries, which he sold to travel agents for Rs 500 apiece. ''I show them (customers) the colour of money first,'' chortles Singh as he gorges on a paneer pakoda made in his in-house pantry.

He has 200 domain names registered and actually runs 20 festival sites like diwalimela.com, eid.com, mydearvalentine.com. If and when the Net matures-and he is convinced it will one day-he will use them for retail sales. If he ever needs the money today, he can just sell one of them. After all, tomorrow is another day.
Since it is passe being just a content service provider, many in this space are branching out into specialised products. Take the instance of the perZuade, a content-services company from Bangalore run by former business journalist-turned-entrepreneur Josey Puliyenthuruthel John. After finding it difficult to penetrate the US and Middle East market for generic content, he has come up with a product branded Recreed. He describes it as a product with ''actionable content'', or matter that is directly tied in to generating sales leads. It can be used across industries. ''As the services bottom fell off, we decided to tweak the model and go for a product,'' explains John. Netaphase has similarly come out with a product called Enphase, which is an online-publication system for newsletters. The company is talking to two large corporates who may be interested in the offering.
The Age Of Chasing Opportunities
So the buzz words today are: content plus technology. One of the fastest growing areas for Netaphase, is applications bundled with content. For example it not only provides information on stocks for thenewspapertoday.com (an India Today Group company) but also the application for stock tickers and customisable stock portfolio for subscribers.
Similarly Webdunia sells its content along with its language applications and has been able to hold its ground in today's quicksand because of its technological prowess in vernacular applications. ''Customers now look at a ready and complete service rather than only one part of the service,'' explains Vivek Bhatia of Netaphase.
Besides taking a look at new sources of generating revenues, content providers are taking a long, hard look at their clients. Nobody wants to deal with the get-rich-quick variety any longer. Most are building a set of big clients who they nuture, talk to and intend to grow with.
And of course, job cuts are inevitable, especially with the biggest. Simarpreet Singh's factory-Substance-had 44 wholetimers and 86 others freelancers working at the height of the dotcom boom.
Now, as he learns to survive, he's whittled those numbers drastically (see How Does A Skipping stone Survive). Even Friday's Dhar talks of letting people go but hesitates to talk numbers.
Meanwhile, new opportunities do crop up-like telecom companies looking for content for sms services, which are now growing in popularity. The trick is to be able to spot opportunities-and go after them.