STATS & STRATS

What's Hot!
E-commerce witnessed its darkest hour yet even as the net went on a rescue mission of its own; Indian insurers get handhelds. And the Nimda worm is on the rampage.
Team BT
The darkest hour for e-commerce began a day or two before September 11, 2001. It came when a man called Mohammed Atta (alleged to be involved in the terrorist attacks on New York city and Washington) logged on to the site of American Airlines and ordered a ticket for a flight bound to California, from an unidentified location in Boston. This was the first plane to crash into WTC (the north tower).
The Ten Most Searched Words On The Net*
Nostradamus
CNN
World Trade Center
Osama Bin Laden
Taliban
American Flag
FBI
Pentagon
American Airlines
American Red Cross
And the setback came pretty soon. It wasn't the impact on airlines that caused it; it was the possible fall out on e-commerce. Goldman Sachs reduced estimates for all three publicly traded players in the online travel sector-Expedia, Travelocity, and Priceline-following the event.
On the flip side, the event or rather, what followed, proved that only the internet and cockroaches would survive any catastrophe. Much of the $200 million charity collected so far has been spurred by the ease of donating over the net. The Salvation Army, for instance, estimates that $2 million of the $4 million it raised came over the net.
One site whose popularity spread through chat rooms and usenet groups gave tips on how to prevent hjacking. Steve Kirsch, Founder-CEO of Infoseek, and serial entrepreneur, had put up his preventive thesis revolving around the global positioning system (GPS) technology at skirsch.com.
Beam Me Back, BT!
Surfing back@Net time, to
October, 1996
As the technology comes home to roost, the net reaches for the sky. With Direc PC, a company begins to offer internet services through satellite for the first time.

The International Ad Hoc Committee (IAHC) is founded. The aim is to offer a platform for discussion of the assignment of Top Level Domains and their organisation. The committee will be dissolved a mere six months later, in May 1, 1997.

Sun Microsys launches JavaStation. The Portable Network Graphics Format (PNG) is recommended by the W3C. PNG offers particular advantages for brand recognition, product design, medical applications, fine art and on-line catalogues, where visual quality is important.

Microsoft and Intel react to Oracle's Network Computer (NC) by rolling out NetPC.
Insurers sure are a confused lot. On one hand is the accepted wisdom that paranoia drives their business up, and, on the other, is the possible impact on the nascent private insurance business in India. Remember, one major new Indian player goes by the name of Max New York Life. The news is that Ingram Micro India Limited (IMIL), is partnering with the Life Insurance Corporation (LIC) to provide the insurer's sales and marketing agents with ecMobile-enabled Palm Handhelds. The ecMobile Life Insurance Companion software is a result of 15 months of research and development by the 'Palm Top Committee' specially constituted by LIC of India, Central Office.
And you thought will was dead? Well, Satyam has some left. Sify has decided to use will technology to wire its i-Way internet browsing centres across the country. This follows a successful test-launch in 10 i-Ways in Chennai. In order to upgrade the networking infrastructure in its internet cafes, Sify has been experimenting with fixed wireless equipment from California-based data networks solutions company Adaptive Broadband Corp., which develops technology for the deployment of broadband wireless communications over internet. As the proverb suggests there is some link between will and way.
Slowing down the net seems to be another jehadi mission these days. The new kid on the virus turf, Nimda, proved it on September 18-19 when the net went slow. The self-replicating bug slows the performance of the net and e-mail. As techies tell us, Nimda (w32. Nimda.a@mm) is a combination of Code Red, Code Blue, Apost, Magistr.B, and SirCam. And as this report goes to press (September 21), nasscom says at least 25 Indian companies have been hit by the worm so far.
---
Wings Of Trade
The newest packaged solution in the financial space.
Ever since services dollars became scarce, there seems to be a surge in packaged it solutions development in this part of the world. Targeting the ever-active financial services turf comes a new kid on the block, Wings Trade, developed by a Hyderabad-based accounting software company Wings Infonet.
Yes, a recent survey did throw up the result that financial services applications is the industry segment to watch out for. But then, India has never been short of products in this area, what with offerings like Tally hanging around for more than a decade. ''But most existing products in the market, available in the price range of between Rs 4,000 and Rs 10,000, do only part of the job like say billing or accounting. Ours is a more comprehensive software,'' says Ajay Gandhi, Director, Wings Infonet.
Priced at Rs 22,000 for a single user and Rs 26,000 for a multiple user licence (a lan of five users), wings has multi-lingual capabilities and offers solutions in 12 languages. Wing Trade's key feature, says Gandhi, is that it helps companies obtain valuable secondary sales information and inventory reports from distributors and stockists.
-E. Kumar Sharma
---
Tales From The Dot Hot
Ashok Khosla's tarahaat.com was the first NGO to go online. BT's T.R. Vivek catches up with the man for the latest update on the great NGO hope.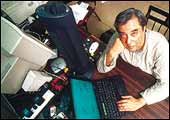 Ashok Khosla, CEO, TARAhaat.com: a great online vision, now for the action
Q. To catapult villages into the digital era, create jobs, promote sustainable livelihood and transform rural marketing systems: weren't those the objectives of tarahaat.com when it started off?
A. Our objectives remain the same. It would be implausible for us to say that we have, over the past year, done more than to start on them by setting up the systems that will take us there. It will be another two years before we can truly show the kind of progress that would prove our contention.
What happened to tarabazaar.com?
Tarabazaar is still very much on the cards. When we go about it, we expect to do so in partnership with other groups working on similar lines, including Indian groups working to identify craftspersons as well as overseas agencies with marketing capabilities.
How about capital?
Today, it is difficult to attract capital, and doubly so for a dotcom, which we are, even if of a very different kind. We are discussing the possibility of tying up with the state governments. Of course, in the long run tarahaat has to be commercial and will need commercial investment capital.
The future...
We are already operating a number of tarakendras in Bhatinda, Punjab, and are looking further. As I mentioned, the idea is to get started with money from whoever is willing to provide funds for limited purposes, and use those funds to set up a viable cluster that can move forward commercially thereafter.
1 2