STATS & STRATS
New Skin For Old Ceremony
The one-outlet Charagh Din discovers a deadly combo of TV and the net to spread its wings.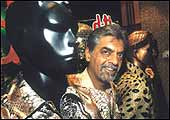 Raju Daswani, Charagh Din: a fistful of opportunities
There's a ''collar-raising'' feeling as you amble downtown Mumbai's Wodehouse Road. The four-storeyed Charagh Din shirt shop juts out impressively from the old-world surroundings that shelter Mumbai's upper crust.
Charagh Din, or CD as it's popularly known, is not just a shirt shop, it claims to be one of the largest shirt shops on planet earth, and it has no branches. That's a unique way to maintain brand equity, but it is a bottleneck to realising volume-potential. This is why CD needed to go online, a well-thought out brick 'n' click option. Beginning August 1, 2001, CD realised the growth curve can only be sustained by welding the old and the new. So from a mere cosmetic online presence, wherein it was voted the best by bestwebsites.com, it started to take its business online.
In brief, since August 1, CD has been aggressively advertising its range of online offerings on television. Why? ''Simple'', says its 49-year-old owner Raju Daswani, ''It (TV) is the most effective tool to maintain customer loyalty for a one-shop-stop such as Charagh Din.'' It comes as no surprise then that in a recessionary market, CD is zipping ahead at 25 per cent after it chose television to advertise its online character. Prior to this, CD was flagging at a 12-15 per cent growth rate.
Today, Daswani says CD receives, on an average, 8-20 orders a day through its website, enabling the store to sell 30-100 shirts. How much would he like it to go up to? That's a figure Daswani likes to keep to himself.
-Moinak Mitra
---
Pax Britannia, The MSN Way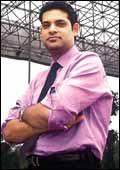 Rajiv Kaul, MD, Microsoft India: Fulfilling a vision
Here comes another old-e-new alliance, a la Pepsi-Yahoo and Rediff-bpl, msn.co.in has joined hands with Britannia for a 18-month alliance as part of promoting its msn Explorer service in India. Essentially, Britannia will be associated with the promotional activities undertaken by msn.co.in, and in turn, msn will promote Britannia's brand and products. ''Digital marketing helps FMCG companies to offer a complete brand experience to customers. And we are proud to be associated with msn Explorer,'' says Nikhil Sen, Senior Vice-President (Bakery), Britannia. But Microsoft India's MD Rajiv Kaul, sounds more abstract in a visionary sort of way: "We want to fulfill msn's vision of "Make it your home".
Well, the grapevine has it that Amul is waiting for AOL to arrive.
---
One For Your Own Voice
Call them new gen vortals: they play the ASP game, but with an unmistakable accent.

C.M. Ram, CEO, Antarix: looking busy
The visual accompanying this piece showing an executive juxtaposed between two telephone receivers should tell the rest of the story. The idea: to supplement, or may be, supplant PCs with telephones as the medium for web-enabled customer services. The players: a host of low-key names like Antarix e Applications and Sankar Applied Technologies.
Voice portals is what they'd like to be known as, but they are essentially customised voice-software makers, with a new-found focus on Indian voices and accents. Both Antarix and Sankar Tech boast a library of such voices which can understand varying response accents. For instance, railway enquiries where the user is asked to punch the train number (which nobody remembers) is an area where voice applications will come of real help. ''Instead of the user punching the number, he can just spell out the name Chennai-Bangalore Shatabdi,'' says Mohan Ram, Chief Executive, Antarix (brand name: Juzzphone.com). The response will still be automatic, correct, and as Ram stresses, come in an Indian accent.
Coimbatore-based Sankar Applied Technologies (brand name: Justvox.com) has developed a voice synthesiser, which it has enhanced with outsourced voice-recognition technologies. But unlike Antarix, it has thus far been reluctant to venture into deployment and maintenance. Well, to each, his own tune.
-Nitya Varadarajan
1 2