PERSONAL FINANCE

Women And Money
Even successful career women prefer to let their spouses make investment decisions for them. But there's reason enough for them to play a more active role, and it isn't too tough to do so.
By Shilpa Nayak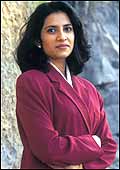 Sulajja Firodia Motwani, CEO, Kinetic Engineering
Firodia-Motwani and her husband Manish Motwani, MD, Kinetic Communications, make the household's investment decisions together, and the lady isn't exactly risk-averse
It's not the kind of answer you'd expect from two of corporate India's senior-most women managers. The first, Vibha Desai, is a slightly-built 38-year-old who heads advertising agency Ogilvy & Mather's Delhi office (her card reads Executive Director, Northern Region). The second, Preety Kumar, is one of India's most high-profile headhunters as the managing partner of Amrop International's Indian arm. Both belong to a niche category of women to which the term glass ceiling has no relevance. If their professional lives were any indication of their attitude to investments and savings, one could safely pigeonhole them as rational and active investors. Surprise, surprise, they aren't that.
''I don't bother myself too much with my bank balance and investments,'' confesses Desai. ''It is not something I personally attend to very much,'' says Kumar. The general perception about managing money is that it is a hunter-gatherer kind of pastime that men traditionally perform. And general perception, which is usually as wrong as gender stereotypes tend to be, is surprisingly correct in this case. There're enough reasons for it to be wrong: women like Desai and Kumar, who are in the higher executive echelons of their organisations, if not at the top, constitute one and the fact that the typical urban Indian woman can expect to live about five to seven years longer than her male counterpart is another.
Money Management Tips For Career Women

1

Study the household's expenses and earnings and understand its financial requirements

2

Discuss investments with spouse, even if you are not actively involved in the actual decision

3

If you have the skills and the inclination, start managing your own finances and investments

4

If you lack the skills, look up online personal finance sites, or retain an investment advisory

5

Before investing, allow for emergencies, and factor in short-term and long-term requirements
''Finance is an area of interest for me,'' says Sulajja Firodia-Motwani, the chief executive of Kinetic Engineering. ''In our household, both my husband and I take interest in money management.'' Firodia-Motwani's interest in managing her finances could well be attributable to her station-she is the scion of the Firodia clan that controls Kinetic Engineering. As if to lend credence to this, Chayya Shriram, daughter of Siddarth Shriram of SEIL (she manages the new product development function at Usha International), says, ''(Managing my investments) is a challenge I love.''
Still, women like Shriram and Motwani belong to the minority. Leave alone investment decisions, most career-women (homemakers aren't even in the picture), are not even aware of the state of their finances. ''Women do come to us for investment advice, but they form a small proportion of the entire client base,'' says Sapna Joshi, who heads JM Morgan Stanley's retail financial advisory. For the record, Joshi, a post-graduate in Economics from the University of Bombay, manages not just her finances but her spouse's too.
Reluctant Investors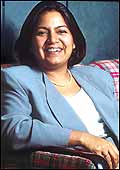 Preety Kumar, CEO, Amrop International
Kumar leaves the details of investing to her husband Atul Kumar, Partner, Amrop, and she'd rather settle for a bank deposit's 7 to 8 per cent return than invest in the 'volatile stockmarket"
Career women do have a rationale for not managing their own finances. Time, or the lack of it, is one oft-used excuse. ''I work late, travel a lot, and have a small baby; money matters do tend to take a back seat sometimes,'' admits Firodia-Motwani. Even Joshi acknowledges feeling the pressure sometimes. ''One is so busy with work that one's own finances do get neglected.'' Time-management isn't easy, but it isn't impossible either, and online portfolio tracking devices do help. Why, those women who can afford to could even use the services of their banks or professional investment advisories.
''Taking responsibility for their money makes women feel independent,'' says Shriram. ''I, for one, rue the fact that I entered the world of personal finance at the late age of 30.'' There haven't been enough studies on women as an investing-group to draw conclusions from, but the investing behaviour of most career-women is likely to span the spectrum from conservative to aggressive, the same way that of male investors does. Indeed, the conventional image of the conservative female investor would well be wrong. ''I am equities person,'' says Joshi, ''but my husband is risk-averse.''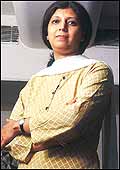 Vibha Desai, Exec. Director (Northern Region), O&M
Desai admits that she can never apply her mind to managing her savings and investments, and prefers to leave this task to her husband, Santosh Desai, Executive Vice-President, McCann Erickson
Single women, typically, are far more investment-savvy than the rest of the sorority. Take the case of Shivani Sharma, a 28-year old marketing manager who works with a cellular services company. Her investment-decisions are her own, although she does take some help from her brother who she claims is a finance whiz. ''As far as the way I manage my money goes, I do not think I am different from any other smart investor, male, or female,'' says Sharma.
A Distaff Portfolio
So, what should the career woman who has been blasť about her money and investments so far, do? Investment advisors suggest two strategies, for two different kinds of women. The more passive type, they explain, would do well to just be aware of where her money, and her husband's go. ''This is more than adequate to avoid any unpleasant surprises,'' says Vimal Shah, a Mumbai-based chartered accountant and investment advisor.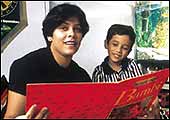 Sapna Joshi, Manager, J.M. Morgan Stanley
Joshi, who prefers equities, manages not just her own investments but also those of her husband, Sagar Joshi's Head (Western Region), LinOpinion. However, she admits that time could sometime be a constraint
The second strategy is for the proactive investor who is willing to expend time and effort understanding her (and her family's) monetary needs over time, and invests her money accordingly, always factoring in emergencies of the kind that most people encounter-a divorce, an accidental death, or a prolonged illness in the family. ''I believe in a balanced approach,'' says Firodia-Motwani. ''Money that is not required in the short-term can be put into higher-risk investment options.'' Whether you do that, or whether you follow the risk-averse approach of Kumar and Desai who swear by bank deposits is irrelevant as long as you know exactly what you get out of each.
''I advise my female clients the same way I do the male ones,'' says Shah. ''The starting point for all investors is an understanding of their immediate and future financial requirements.'' That, in the case of managing ones finances, is half the job.
-additional reporting by E. Kumar Sharma and T.R. Vivek
SNIPPETS
SBI To Sell Stake In MF
The SBI Mutual Fund is likely to undergo a re-engineering process close on the heels of the retirement of its managing director Niamatullah. Before beginning the restructuring process, State Bank of India, the country's largest public sector banking outfit, would be selling off its equity stake in the SBI Mutual Fund. SBI holds 50 per cent stake in SBI Mutual Fund. The stakes in the asset management company, SBI Funds Management, will most likely be sold to Cardif, which is SBI's partner in its insurance venture. AIG is also expected to pick up part of the stake. This move can only mean good things for investors.
Sundaram Reduces Entry Caps On Liquid Funds
Sundaram Newton Asset Management has reduced the minimum investment amount under its liquid fund, Sundaram Money, from Rs 50,000 to Rs 10,000. The company aims to get a larger client base under its fold with this initiative. ''Liquid funds are a good parking slot for money, till investors decide where to invest,'' says the company's MD, Tallam Puranam Raman. Sundaram also plans to make the fund easy to access as well as exit. It has put in place systems through which the investor's bank account will be automatically credited with the proceeds, once the redemption is requested for. Sundaram Newton starts off by offering this facility for investors having accounts in ABN-Amro Bank, BNP Paribas, HDFC Bank, ICICI Bank, and Standard Chartered Grindlays Bank.
Collaterals On The Car Loan Street
Borrowing from a bank to buy a car is indeed antediluvian hat. How about borrowing money by offering your old car as a collateral? Well, that seems to be the trend on the loan street now. But you won't get a penny if your car is a Premier Padmini, 118 NE, Ambassador or Contessa Classic. Only new models can fetch you the loan, owing to the simple arithmetic of salability. And the loan available per car is maximum 70 per cent of the value of the car. ABN Amro was the first of the block and has been hawking loans against used cars for two months now-a product conceptualised by Citibank. The latest one to join this bandwagon is HDFC Bank, while Standard Chartered Bank is proposing to launch the product soon.