CHINA SYNDROME
Wheelin' Dragon
Even as Indian industry labels Chinese bikes inferior, one company readies to launch a 100cc Chinese bike.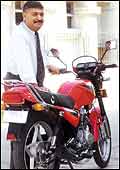 Rajat Chibber, GM (Marketing), Monto
First they lobbied the GoI to increase import-tariffs on bikes. Then, they told lachrymose tales of how they would face competition from across the Wall. Now, Indian two-wheeler companies claim, Chinese bikes just don't meet Indian emission norms. The Pune-based Automotive Research Association of India (ARAI) has yet to receive a Chinese two-wheeler for final testing and according to B. Bhanot, Director, ''(just) one or two Chinese bikes may pass the test''.
However, Monto Motors, a Delhi-based company claims it is ready to launch the Cosmo, a 100 cc Chinese bike. ''We'll sell this at under Rs 32,000,'' boasts R. Chibber, General Manager (Marketing), Monto, and adds that the bike has cleared emission-tests (ARAI's Bhanot says Monto is yet to obtain a clerance). But Monto, which has appointed 165 dealers is pushing ahead with its plans. It's immediate target? Sales of 4,000-6,000 a month. That's a start!
-Swati Prasad
---
Executive Tracking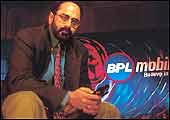 Rajeev Chandrasekhar: Is He? Isn't He?
The suspense around the naming of the CEO of the BPL-Birla-AT&T-Tata combine is, literally, killing. Sometime in the middle of September headhunting circles were abuzz with the news that Rajeev Chandrasekhar had been identified as the CEO, but the man denied that when contacted by BT. And so, the search continues. While on the cellular front, Bharti Enterprises has picked Prabhat Pani-him of ITspace fame-to head its operations in Madhya Pradesh and Gujarat. In case the telecom connection isn't clear, Pani used to be coo of Tata Cellular before the dotcom bug got him. B2C?
RETRO
Flogging The Old Iron Horse
Giggles aside, Hindustan Motors is sprucing up the Amby and eyeing export markets.
"It's like an old castle with all modern facilities inside,'' says B.K. Chaturvedi. Would it surprise you to know the speaker, the president and executive director of the automobile division of Hindustan Motors (HM) is referring to the Ambassador.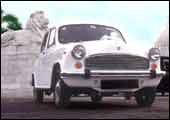 HM's Ambassador: now it dreams of a life beyond India
Thus, starting next month, the old maiden of Uttarpara (that's where the car is manufactured) will have the same gears as mid-size cars like Mitsubishi Lancer and Honda City, a new locking system, and a smoother window regulator.
HM's ambitions stretch further. Chaturvedi says the company is looking Westward with a variant. Such persistence would be understandable if HM made money on the Amby, but it doesn't. Employee costs account for almost 20 per cent of the product's cost, as against the industry-norm of 4 per cent.
Numbers show that HM sells over 1,000 Ambys a month, mostly to taxi operators. The Supreme Court's ruling that cabs run in Delhi can be based on any fuel as long as they meet the mandated emission norms will ensure that this market stays with the company, but certainly, that can't last for the next 44 years.
-Swati Prasad
Dial V. For Versatility
IIn 1997, for his first official photo shoot after becoming the Prime Minister of the UK, Tony Blair arrived in a Ford Galaxy, a multi-purpose vehicle (MPV). Any Indian politico with a preference for this part-car, part-van species would have, until now, had to be content with the Maruti Omni (a small van that's still produced), or M&M's Voyager (a big van that's no longer produced). Now, Maruti Udyog is opening up this sub-segment of the Indian market with the Versa, a 1300 cc minivan that is called Every everywhere else in the world. MPVs have a devout bunch of followers and most major car companies have at least one offering in this segment. Chrysler has the Voyager, Honda, the Odyssey, Renault the E'space and Toyota the Verso. Given the success of the Omni, the Versa coul find a lucrative niche in the Rs 6 lakh to Rs 7 lakh price band. And if the run the Qualis has had is any indication, taxi operators are sure to make a beeline for it.
-Suveen K. Sinha
---
THIN TIMES
Tips To Beat The Software Slowdown
How three Bangalore-based software hotshops are dealing with the downturn their way.

Jerry Rao, CEO, Mphasis BFL: A focus on verticals

Gerhard Watzinger, CEO, Mascot: Marketing helps

Rajiv Mody, CEO, Sasken: An eye on cost efficiency
The first changed its CEO, the second its CEO and business plan, and the third, its business plan, and compensation strategy.
In May 2001, Mascot Systems let its managing director of 18 months, V. Chandrasekaran leave. In his place, it hired an American Gerhard Watzinger. The expat exec suggested the company, which was into application reengineering and maintenance, start focussing on value-added activities like web-solutions. That paid off. In September, this year, Mascot announced that it had bagged a Rs 191 crore ($40 million) contract from a European company.
Mphasis BFL, formed by the merger of US-based interactive integrator Mphasis and Bangalore-based application development and maintenance company BFL was plagued by the ills that normally beset a merged entity.
Jaithirth 'Jerry' Rao, who took over the reins around a year back set out to restructure the company by getting it to focus on lucrative domains and letting go of the rest, like bfl's wooly internet kiosks business. ''We concentrate on finance, retail and logistics, and technology solutions,'' says Rao, a former head of Citibank India who founded Mphasis.
The third company of our modern day fable didn't change its CEO, but it did almost everything else.
Till just a year back, Sasken Communication Tech was a hardware-design company.
Today, it is a telecom software company. And for good measure, it responded to the dip in the fortunes of its clients-telecom equipment manufacturers-by announcing that it was implementing a 20 per cent cut in salary across the board. ''This is in keeping with global practices,'' says Rajiv Mody, CEO, Sasen. ''Besides, it is only a rollback of salaries that were increased in April, 2001''. Three companies, three strategies, one moral-did you get it?
-Venkatesha Babu
---
Death Suits Her
Your father's first car dies a quiet death.
The premier padmini was finally declared dead last month. Her manufacturer, Ind Auto formally announced that she will no longer be produced. Ailing, ever since new age cars from Maruti Udyog made their appearance in the mid-1980s, Padmini's demise was widely anticipated. She was 39. The petrol-version of the Padmini died about a year ago, and now, the last of the species, the diesel variant is gone too.
Along with HM's Ambassador, about which there's news of a more cheerful nature on the opposite page, the Padmini ruled over Indian roads for two decades. In total disregard to her given name, the Padmini was simply called the Fiat, and she was considered a sleek and stylish alternative to the more traditional Ambassador.
She debuted as a three-box car at the Turin Motor Show in 1962. Then, she was called the 1100 Delight and was powered by a 1221cc, 50 BHP engine. Little did anyone imagine that she would have such a successful run in a land so far away from the place of her birth.
Padmini is survived by a distant descendant, the Fiat Siena.
-Suveen K. Sinha
---
CONCRETE STEPS
Pan-India Cements
The Chennai-based cement major looks northwards.

India Cement's N. Srinivasan: considering crossing the Vindhyas
A few years ago, when India Cements went on a shopping spree in the South, it explained its geographical focus by citing the demand-supply gap in that market. That, alas, has changed. Today, supply far exceeds demand in the southern markets. Given that, companies are loath to be part of a cartel which fixes cement prices. Expectedly, prices fell to around Rs 100 for a 50 kg bag a few months back, but have since recovered to around Rs 125.
For a company already plagued by huge interest costs-Rs 190 crore in 2000-01-that isn't the best of news. That is why India Cements has put one of the facilities belonging to its subsidiary Sri Vishnu Cement on the block, and is considering setting up a greenfield facility in the North. ''We do intend to go North, but the idea is still at the very preliminary stage,'' says a spokesperson of India Cements.
A northern-move could help revive the India Cements stock from the 52-week lows of Rs 27 in September-it was quoting at Rs 29.45 on September 24. Says C.V. Sunish, Chief Analyst, Southern Shares and Stocks, a broking services company: ''If India Cements can start a project in the North without adding to its interest burden, it would be a very good move.''
-Nitya Varadarajan