TRUCKIN
6 Wheels, 40 Tonnes, And An IQ Of 120+
The bad news is these trucks continue to be big and mean; the good news is they're intelligent.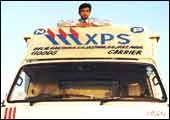 TCI's Vineet Agarwal: of truckers and barcodes
It is nothing short of a revolution in an industry where the term ETA (Estimated Time of Arrival) means nothing at all. Anyone who's had occassion to ship something through trucks should be aware of the uncertainty associated with when the shipment will reach. So, it must come as a relief to everyone concerned that the front-office clerk at any of TCI's 1,000 offices in the country, can tell the customer the exact status of the shipment. Those allergic to personal interactions can even access the information online. A simple card with a string of barcode is the technological deux ex machina behind this miracle. The trucker is required to swipe this card as he passes each of 100 specified highway-points in the country. The machine captures the data and transmits it through a VSAT network to TCI's central server in New Delhi. ''For once, the customer is driving change in this business,'' says Vineet Aggrawal, Director, TCI. It isn't just TCI, trucking companies across the country are embracing technology. The Hyderabad-based Associated Road Carriers is experimenting with a Global Positioning System (GPS) utility that'll help it pinpoint the location of a truck. There are more changes happening in the industry: old single-axle trucks are being replaced by newer multi-axle higher-capacity ones, but that, is another story.
-Vinod Mahanta
Ebb And Flow
As a last resort, P&G plays the price card with Tide.
This wasn't the tune P&G was singing 15 months ago when it launched its bestselling detergent brand Tide, valued at $3.6 billion (Rs 17,208 crore) in India. Then, it was all about targeting quality conscious households by positioning an offering between the existing popular (Rs 80-100 a kg) and the super-premium (Rs 150 and beyond a kg) segments of the maret. The cost? Rs 120 a kg. Now, after the brand has managed to carve out a share of a mere 1.8 per cent (in value terms) of the Rs 2,600 crore detergent market the company has slashed the price of the product by 30 per cent. ''We realised the importance of giving the consumer the right value proposition and hence we have managed to bring down the price by achieving internal efficiencies,'' says P&G's spokesperson. At Rs 85 a kg, Tide will compete with HLL's best-selling Surf (Rs 86 a kg). ''The Indian edition of the international soap wars is poised to begin,'' says Nirav Sheth, Vice President (Research), at brokerage SSKI. With the action restricted to a segment of the detergent market that accounts for a mere 8 per cent (in terms of value) of the whole, may we say, Yawn!
---
TECHNOLOGY
Life After Data Death
Can a company's computers escape terrorist attack? Yes, if it invests in the hottest IT commodity, data storage.
When terrorists kill people, the knowledge lost is irretrievable. There is no backup available. And with computers? Well, even if a data centre is reduced to rubble, backing up data helps businesses run smoothly, almost as if nothing has happened.
Data helps companies understand their own processes, their customers, customer preferences, and this information allows services to be modified accordingly. Lose it and you might lose the company.
The Big Idea
When us stock exchanges reopened on September 17, one of a handful of hot stocks belonged to a company called Visionics, which shot up 93 per cent on huge volumes. Visionics deals in biometrics, a sector likely to get a big boost from the bombings.

Biometrics is the technology of storing biological specifications of human beings in computer systems as a means of identification.

This is very useful for cutting-edge security systems. Visionics, for instance, sells systems that can analyse images from cameras and match them to police records. Another biometric company can encode airline tickets with the biometric data of passengers, then scan and match fingerprints or irises as boarding begins.

There are a handful of Indian companies too offering verification technologies based on fingerprints, hand geometry and iris, voice and face recognition. This might be a good time to invest in them-or set up a biometrics company.

Prime Numbers
Despite approaching physical limits, experts see at least 20 more years of silicon miniaturisation.

42 million
Transistors on a Pentium IV

1 billion
Transistors on upcoming chips

1 trillion
Transistors possible on a chip
With massive volumes of data being generated, it's no surprise that storage is the fastest growing commodity in the it industry. ''Banking, financial services and telecom companies could have as much as 80 per cent of data that is critical to every day business requirements," says EMC India Country Manager T. Srinivasan.
''The recent incidents could spark off a fresh look at storage and security of data, and the ability of business to start functioning again,'' adds K.P. Vinod, Director Marketing, Computer Associates India. If data is to survive, multiple backups must be created and copied in real-time at another location. But every terabyte of data stored (1 terabyte is 1000 gigabytes; newer PCs have 20-30 gigabytes of storage space), needs seven terabytes of storage space, a cost many companies prefer to postpone.
It was after the first bombing of the World Trade Centre in 1993 that companies offering remote data storage were born. They are sure to take similar advantage of the situation created by the flattening of the twin towers. India-with its array of data-threatening events-is adopting extreme caution. Exodus data centre locations, for example, do not have any mention of customers' names. Cisco's data centre has racks with rocking floors to withstand earthquakes.
Mumbai has two large data centres coming up, promoted by Reliance and the Tata group. Given India's-and Mumbai's-experience with terrorism, this makes sense. A back-up centre is especially important. Srinivasan will not take names, but he says companies are talking of locating their disaster-recovery sites in Bangalore or Hyderabad. Indian companies may have finally begin to wake up from their paisa-wise-rupee-foolish approach to data storage.
-Ashutosh Sinha
---
ON HIRE
Lessor Heaven
India Inc. wants to know why it should buy computers that'll be obsolete in 18 months if it can lease them?
Gordon moore would approve. In 1965, the co-founder of Intel observed that the number of transistors per square inch on an integrated circuit (or chip) had doubled every year since the IC had been invented. Moore expected this trend to continue for sometime. Today, this phenomenon happens every 18 months, and that time-period is part of the contemporary rendition of what's called Moore's Law. In plain English, this means that a state-of-the-art computer purchased today will become a museum piece in a year and half. That could explain why leasing is hot as far as it-purchases are concerned in the first world. Now, hardware majors are trying to push the concept in India.
Will Zakir Stop Playing the Tabla?
Likely not. Those who've seen the latest television commerical for Taj Mahal where Tabla maestro Zakir Hussain promises to give up the tabla if someone finds a better tea than Taj Mahal are sure to have wondered where the catch lies. According to Hindustan Lever Ltd., Hussain will abandon the Tabla only if any other ''normally available packet tea is superior to Taj Mahal on parameters listed by the Ustaad''. Since the decision on which tea is better is going to be made by Hussain himself or by ''independent consultants appointed by HLL'', there's little chance of that.
Just so readers get this right, when it comes to computers there are two kinds of leases, financial and operational. A financial lease looks at a box as, well, a box. The company selling the computer provides finance to the individual or company buying it; after the duration of the lease, during which the entire cost of the equipment plus interest has been paid, the latter returns the computer to the former. Worse, says Dheeraj Mehta, a technology finance consultant at Hewlett-Packard India: ''A finance lease is just like a loan; the maintenance costs are borne by the lessee (that's the individual or company acquiring the product).''
The good news is, most PC manufacturers are offering operating leases in India. Maintenance, is the lessor's responsibility; so is providing upgrades. And technology-intensive businesses that need the newest machines available are finding out that leasing is a great solution to their obsolescence-woes. The mushrooming call-centre business in India, for instance, is highly dependant on leasing. ''Leasing of computers by corporates is becoming the accepted thing to do in India,'' says Avinash Shah, Country Manager, IBM Global Financing.
So, what happens at the end of the lease period when the company takes back the computers? They simply sell it in another market, explains a leasing industry exec. ''The government-some of its arms still use 486s-is a ready market for these.'' Other companies recondition the machines and sell them in developing markets where customers are willing to forego a little bit of the bleeding-edge stuff if the product is discounted. ''H-P has refurbishing factories outside India,'' says Mehta, ''and once the lifecycle of a PC ends, it is sent to one such. It reappears as an almost new PC and is re-sold in places like Africa''.
First companies outsourced the software part of it; then they did maintenance. Now, leasing provides smart companies with an opportunity to get the best of both worlds-the latest technology, and optimal cost. This sure looks like a trend that could catch on.
-Moinak Mitra
---
CITIES
Hyderabad Blues? Nope
Things may not be well in the Indian IT domain, but you'll never guess it looking at India's second hottest infotech city.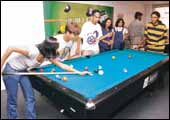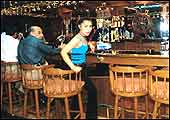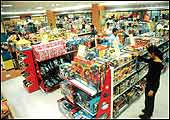 Clockwise, from top left: Teenagers trying their hand at pool; An evening at the underdeck; Thriving supermarkets
In 2000, when all was well with infotech stocks, Mercedes Benz sold 25 cars in the first eight months of the year in Hyderabad. This year, the figure is almost three times that, 67. For readers loath to take that statistic-flotsam as sufficient evidence of Hyderabad's resilience, this correspondent recommends a short trip to the city.
As you drive into the city from the airport-actually, Hyderabad is still sufficiently small for the airport to be in the city-on the Begumpet-Somajiguda Road, the number of car dealerships and chrome-and-glass heavy retail outlets hint at a prosperity that's withstood the great tech meltdown. There's up-market retail store Lifestyle, for instance, that has opened its store in the city-its second in the country after the one in Chennai-right next to the cavernous Shoppers' Stop outlet. ''The Chennai market seems saturated, but there is potential for growth in Hyderabad,'' says V. Mohan Kumar, 32, Business Manager, Lifestyle. Perhaps it is this growth Kumar speaks of that is responsible for the Tata Group's Westside planning a second store in the city, and the Delhi-based Ebony Chain to look southwards at the erstwhile city of the Nizams.
The casual visitor to Hyderabad would also do well to spend a few hours at Giant, the country's first hypermart set up by the RPG Group at a cost of Rs 10 crore (that's pretty steep for a large supermarket that essentially sells food).
Despite sentiments running low on infotech, spirits run high at the city's various watering holes-from the Taj Banjara's Underdeck to the slew of coffee houses that have sprouted. Then there is 10D, the average Hyderabadi's quick-speak for 10 Downing Street, once the most famous pub in the city before it closed down, which is expected to reopen its doors in, surprise, surprise, a building called The White House.
-E. Kumar Sharma
US Hits US 64
The terrorist strike on the US could be US 64's end.

UTI Chief M. Damodaran: Time for last rites?
As the sensex tumbled to its eight-year low of 2600, the Net Asset Values (NAVs) of most growth and balanced mutual funds, including the US 64, dipped. The UTI scheme does benefit from the fact that it doesn't declare its NAV, but according to some back of the envelope calculations performed by Value Research, a Delhi-based Mutual Funds tracker, the US 64's NAV on September 21, 2001, was down to Rs 8.17 from Rs 9.75 on June 31, 2001.
This calculation assumes the debt:equity ratio in us-64's portfolio at 32:68, and then calculates the NAV by taking into account the depreciation in the Sensex as well as the marginal increase in the return on debt (2.16 per cent). Since uti's limited repurchase option was based on the premise that the markets would eventually recover, the US 64 scheme is now in deeper trouble than it was before.
-Roshni Jayakar