CONTRARIETY
The Cost Of Infinite Justice
The fallout of the very possible Afghan war on the American and Indian economies.
The sanctions, imposed in the wake of India's 1998 nuclear tests, are gone, the US and Britain seem set to go to war against Afghanistan, and India is increasingly seeing its role-as a victim and an ally-shrink.
Popular perception is right: war, despite what all doves and some economists say, is generally good for the economy. True, when Iraq invaded Kuwait in August 1991, the Conference Board Index of Consumer Confidence in the US dropped 40 per cent, but that changed once Operation Desert Storm got underway. And the end of that war marked the beginning of a decade long economic boom.
India didn't really benefit from that war, but some say it was the volatility in oil prices that resulted from that, and the consequent run on our foreign exchange reserves that forced the government's hand into starting the process of economic liberalisation. This time round, the impact on both India and the US isn't easy to predict.
The attacks of September 11, have proved to the world that the US is vulnerable, and it does seem hard to believe that the capture or death of one individual could halt the wave of Islamic fundamentalism sweeping through the world.
How Will Stock Futures Help?
The securities and exchange Board of India's in-principle nod to the introduction of stock futures in 31 scrips could stir things up a bit in the market. In the immediate term, the move could inject liquidity into a market desperately short of it. An institutional investor that wishes to trade in a particular stock can first transact in the futures market, and then, reverse its position in the cash market. Since mutual funds are beset by problems relating to their inability to move out or into a scrip when they need to, the introduction of futures will help fund managers orchestrate an entry into or exit from specific scrips. And differences between the cash- and the futures-market will present investors with enough arbitrage opportunities. Low risk, less volatility, and higher liquidity-futures could just be what the doctor ordered for a market plagued by hypochondria.

-Roshni Jayakar
It seems equally implausible that a reconstruction budget in the region of $40 billion (Rs 1.88 lakh crore) could help revive an economy with a GDP of $9.2 trillion (Rs Rs 432.4 lakh crore). That means the US economy won't rebound in a hurry, not unless the country manages to effect a quick strike.
What of India? Well, the slowdown in the global economy-it is expected to grow by a mere 2.7 per cent this year as against 12 per cent last year-means there will be a sharp fall in oil consumption. According to a Deutsche Bank report, a single percentage point cut in growth will reduce demand for oil by 4 lakh barrels a day. That should reduce the chances of any sharp swings in oil prices, and insulate countries with significant oil import bills like India.
Unless there's an extended skirmish in West Asia, then, the Indian economy won't face a war-induced crisis. As for reviving itself from its present sorry state, it will have to think of something fast.
-Ashish Gupta
---
UDUPI WARS
The Great Sambhar Hunt
Encouraged by his restaurant's success in Delhi, Jayaram Banan wants to take on mtr in the instant food-mixes market.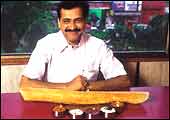 Banan of Delhi's Sagar: it may be among the PM's favourites, but it lacks the heritage of MTR
It's a classic rags to riches story. Boy leaves hometown Mangalore at the age of 14, works in an industrial canteen in Mumbai as a cleaner, makes his way to Delhi, starts a restaurant, and then, 34 years after he left Mangalore, decides to go global. That's the career-graph of Jayaram Banan, the man behind Delhi's famous Sagar chain of restaurants.
Over the next three months, Banan's Sagar International will first venture to other North Indian cities like Jaipur, Amritsar, and Bhopal, then to New York, London, and Sydney. ''Sagar has enough brand equity (to succeed in this),'' says the 47-year old Banan.
An Off-The-Shelf Menu
How to get by with a microwave, a well- endowed wallet, and an empty larder.
BREAKFAST
VEGETARIAN: You can't do better than trying out MTR's Khara Bath (Rs 35 for 350 grams) or Pongal (Rs 40 for 400 grams). Sambhar? That you'll have to prepare the old fashioned way
NON VEGETARIAN: You can try out Naturen's Spicy Chicken Franks or Chicken Cold Cut Paprika (Rs 60 for 150 grams)
NOTE: The health-conscious can round off both meals with some Del Monte pitted prunes (Rs 120 for 340 grams)
LUNCH
VEGETARIAN: Both MTR and Tasty Bite (a brand owned by the Pune-based Tasty Bite Foods) have a variety of gravies on offer-from Kashmiri Spinach (palak paneer) to Punjabi Sarson Da Saag to Bombay Chole (prices vary from Rs 40-50 for a 450 gram pack). Try these with a variety of ready to eat pulaos from Batchelor's (Rs 120 for 135 grams)
NON VEGETARIAN: Opt for Meatazza's Frankfurter's (Rs 80 for 450 grams)) if you have a preference for junk food. Otherwise, check out Heinz's baked beans with pork (Rs 150 for 450 grams). Sadly, there aren't too many ready to eat non-vegetarian curries doing the rounds
DINNER
VEGETARIAN: Go up-market with ITC's Dal Bukhara (Rs 190 for 450 grams), which can be had with frozen parathas) from Attari Enterprises (Rs 28 for 5) or Gujarati khakra rotis from Patras (Rs 26 for 200 grams)
NON VEGETARIAN: A repeat of lunch. Or, if truly desperate, try out the parathas or the khakras with a range of chicken and fish pickles from Coastal Queen (Rs 80 for 300 grams)

-T.R. Vivek
Sagar is well known in Delhi, but its brand-recall in the other cities isn't exactly something to write home about. Unlike the Bangalore-based Mavalli Tiffin Rooms (MTR)- the restaurant has just one branch, in Infosys' sprawling campus-which has managed to translate its cult-status into a brand, Sagar has never really been seen as anything other than a South Indian restaurant in the heart of paratha-land. Which is why the third leg of Banan's expansion strategy, an entry into the spice-powders and ready-to-cook mixes market, could run into trouble.
MTR is the King of this market and its Chairman and Managing Director P. Sadanand Maiya is sure things will stay that way. ''We are aware of Sagar's plans, but I don't think they pose a threat to us.''
Banan, for his part, is confident. ''We have already started marketing our papads in the southern markets and the response has been encouraging. Besides, we are more interested in the export market.'' Purists may swear by MTR, yuppies by Sagar, but it's difficult to dismiss this brewing clash as just a tempest in a sambhar bowl.
-T.R. Vivek
---
AUTOMOTIVE
Uncertainty Unlimited
It's puzzling why GM is shying away from acquiring ten of Daewoo's overseas operations including India.
General motors has finally pulled out its cheque book to buy much of bankrupt Daewoo Motors of South Korea after three years of dilly dallying. But the deal leaves much room for uncertainty.
Prima facie, GM has picked a winner. It gets control of Daewoo for $400 million. That's less than it usually spends to build a single new plant. Ford had bid $6.9 billion for Daewoo before withdrawing from the race in September last year. The Korean company collapsed in November the same year with an estimated $17.5 billion in liabilities.
What They Pay,
What They Get
General Motors
» Pays $400 m for 67% equity in a new firm
» The new firm will run two of Daewoo's three factories in South Korea and two of its 12 overseas operations
Creditors
» Pay $197 m and write off a large amount of debt
» Get 33% equity and $1.2b worth of preferred shares
The deal fits in well with GM's 10-year Asia plan that began in 1994. It considers Asia a major market, but has been struggling here in the absence of models suited to local tastes and pockets. GM can also count on Daewoo's low-cost cars to fill gaps in its lineup elsewhere, including the US, where it has been losing marketshare to, among others, Daewoo. GM will take control of Daewoo's best assets and leave the worst; and it will gain a tax exemption-South Korea's Deputy Prime Minister Jin Nyum has lifted an excise tax imposed on new cars for six months.
But it won't be easy for GM to make Daewoo globally competitive after a year spent in bankruptcy. Many of its models have gone five to seven years without a facelift. Its share of the domestic market has tumbled from over 20 per cent last year to 11 per cent. Unpaid parts makers last month stopped shipments, forcing two factories, including one GM has now bought, to shut down for a day.
Daewoo's workforce remains intransigent and has threatened to block the deal in response to GM keeping away from Daewoo's largest and most antiquated Bupyong plant. The plant employs 25 per cent of the total workforce and was the venue of violent labour unrest last year. As regards India, Daewoo Motors India CEO Y.T. Cho says, "GM has assured us of honouring all existing commitments.'' But nothing is forthcoming from GM, which has chosen to take on only two (Vietnam and Egypt) of Daewoo's 12 overseas operations.
Daewoo could be an asset to GM in India. The Korean company's Matiz-90,000 of them are on Indian roads -will give GM a foothold in the high-volume small cars segment. And that is something that's proved elusive to most non-Asian auto MNCs in India.
-Suveen K. Sinha
---
Corporate Clips
Hewlett-packard has swallowed Compaq. But it may have some trouble digesting these figures. According to IDC, h-p India's share of the pc market has been dwindling steadily from a high of 7.2 per cent in q2, 2000 (not unhealthy at all, considering that 57 per cent of the market is accounted for the unorganised sector) to 3.8 per cent in q2 2001. In contrast, Compaq has managed to increase its market share, albeit slightly, to 9.5 per cent from 9.1 per cent over the same period.
The ZEN will no longer be the Alto and the Alto will become the Alto. Now that we have confused you, let's try and set things right. Maruti Udyog used to export its Zen model to Europe under the brand name Alto, a different car from the Suzuki stable. Now, having launched the new avatar of the Alto last year, Maruti will phase out the Zen from Europe by the end of this year and start exporting the Alto as the Alto. Is that better?
Last month, confederation of Indian Industry (CII) staff were seen en masse at a theatre showing Lagaan, the movie in which a bunch of Indian village yokels beat a team of Brits at cricket. CII had arranged for the tickets at the staff's request. Since, CII has often walked the tight rope between liberalisation and protectionism, was there more to the Lagaan outing?