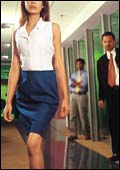 THE WAY WE ARE
A Sakshi survey throws up some worrying statistics on sexual harassment
80 %

says sexual harassment exists in the workplace



49 %

has encountered cases of sexual harassment



41%

has either experienced it, or knows women who have faced sexual harassment



53 %

says men and women don't have equal opportunities at work



53 %

says women are treated unfairly by supervisors, employers, and co-workers



58 %

hasn't heard of the SC's 1997 ruling on sexual harassment (also known as Vishaka Judgement)



20 %

says its organisation has implemented the guidelines
Sheetal Sinha (name changed) finally felt vindicated in December 2001. That's when Star TV's Indian operations finally fired the man who'd made her life living hell. It started innocuously enough, during a business trip to Kanpur in 1999, when Sinha's boss asked her to "drop by" his room so that he could help her with a presentation she was to make. This was late in the evening, but Sinha, believing it was all part of work, did drop in. Instead of helping her with the presentation, the man started asking her some very personal questions. Sinha muttered an excuse and left abruptly. But she couldn't avoid her boss. He recommended a mere 5 per cent increment for her, commented on her "great body", and tried to force himself on her during a business trip to Mumbai (Sinha worked out of Delhi). Her complaints to the human resources department of the Delhi office fell on deaf ears and Sinha quit in February 2001. Then, she sent in a complaint to Star's Hong Kong HQ. An inquiry resulted, but was closed citing lack of evidence. But her complaint came to the notice of another Star TV exec who had suffered similarly at the hands of the same man, and the case was reopened. The man was fired. Star's Indian operations refused to comment to Business Today on this particular case, when contacted.
Aruna Kumar (name changed on request) should feel vindicated, but she doesn't. In 1998, Kumar, then an information analyst at McKinsey's Delhi office became the focus of unwanted attention from the firm's head of research. It was abusive language at first. Then, it became an indirect request for sexual favours. Kumar wrote the hr department of the company, but with her complaint ignored she had no option but to quit. After she left McKinsey's employment, Kumar was contacted by two women employees from the firm's Mumbai operations-the head of research frequently visited Mumbai-with similar complaints against the same man. The three wrote to the firm's global hr head. Despite the complaints, the man continued to work for McKinsey until he was fired in 2000, not for sexual harassment, but for some other offence. A McKinsey spokesperson claims "there is no evidence of such a complaint".
In early 2002, close to 3,000 employees of a GE-run call centre in Gurgaon received an e-mail from one of the company's senior managers. The mail detailed a recent complaint of sexual harassment, the company had investigated: an entry-level agent had accused her manager of having asked for quid pro quo sexual favours; the company found there was sufficient evidence to support her claim and fired the manager. The mail was then sent out, to warn employees about the company's stand on sexual harassment. GE chose not to respond to a faxed questionnaire from Business Today.
Nudge, nudge, wink, wink. Seemingly innocuous discussions on pre- and extra-marital sex, apparently innocent physical contact, outright demands for quid pro quo sexual favours, even physical assault-these are just some of the things women in India Inc. have to put up with. Two minor clarifications before we progress any further. One, by India Inc. we mean the best Indian companies, and the Indian operations of hoary Old World multinationals. "Sexual harassment is prevalent even in companies where the victims are highly educated and have considerable economic leverage," explains Sandhya Rao, Director, Hengasara Hakkina Sanhgha (Women's Rights Programme), a Bangalore-based NGO. And two, it is, by and large, women who are targets of sexual harassment. The older-woman-harassing-a-younger subordinate stuff is rare, and mostly restricted to single-male fantasy.
Sexual harassment isn't new to India Inc (See Where We Stand). Only the recent Infosys-Phaneesh Murthy-Reka Maximovitch case-Maximovitch, a former executive assistant to Murthy, Infosys' US-based head of sales and marketing, has alleged that she was the victim of sexual harassment-has highlighted the impact this can have on corporate reputations, even shareholder value. Immediately following Phaneesh Murthy's departure, Infosys' shares fell 6.6 per cent on Bombay Stock Exchange-much of that can be attributed to fears about the impact on the company's marketing efforts in the US. Says Ramesh Jude Thomas, Principal Executive Officer, Equitor Consulting, "Such incidents affect the company's ethical image-critical to all stakeholders."
Then, there's the profitability aspect. With a sexual harassment code in place, liabilities could run into crores. Consider this: In June this year, a California jury awarded $30 million to six women employees in a lawsuit against Ralphs supermarket chain for failure to prevent their abuse by a store manager. That's big money. Says U.R. Bhat, Director and Chief Investment Officer, JF Asset Management: "These litigations have to be factored in as risks that could affect a company's stock valuations."
Still worse is the impact on employee morale. With a sex ratio of 933 women to every 1,000 men, it is inconceivable that the best managers in India are all men. And good women execs, points out Atul Vohra, Partner at head-hunting Heidrick & Struggles, shy away from companies that do not protect their female employees from sexual harassment or have women-friendly policies.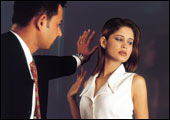 Sexual harassment is prevalent even in companies where the

victims are highly educated

and have considerable economic leverage
The Corporate Response
India Inc's response to the sexual harassment virus ranges from the proactive to the ostrich-like. Wipro puts all recruits through a workshop that instructs them on how to deal with colleagues of the opposite sex. And Bank of America has introduced a training module to educate employees on what constitutes sexual harassment. Other companies have policies (See A Cross-section of Policies), but for every company that was willing to speak to Business Today, there were several that weren't. "So far the attitude among Indian companies is, 'If we have a anti-sexual harassment policy, it means we have sexual harassment,'" laughs Naina Kapur, a director at NGO Sakshi and a former Supreme Court lawyer. "A good policy is something a company should be proud to show off."
Only, a policy, by itself, will achieve little (Infosys had one). Companies have to ensure that the organisational culture doesn't condone offensive behaviour. "If an episode of sexual harassment happens, it is the responsibility of the company," says Dr Achal Bhagat, Senior Consultant, Department of Psychiatry and Psychotherapy, Indraprastha Apollo Hospitals.
It isn't that companies do not know what they need to do. In its landmark 1997 judgment in the Vishaka vs State of Rajasthan case, the Supreme Court laid down guidelines (popularly called the Vishaka Guidelines) that companies need to follow. But as Justice J.S. Verma, the author of the judgment and now the Chairperson of the National Human Rights Commission, points out: "It is difficult to implement them in the private sector." That apart, there is no law against sexual harassment, although sections of the Indian Penal Code can be invoked (See A Sexual Harassment Ready-reckoner). The US law against sexual harassment came into being in 1977; India is yet to see a bill tabled in Parliament.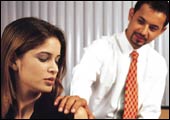 Most women don't act over

fears

that prolonged litigation would only hurt them
Business vs Morals
No company would like to fire a top manager on charges of sexual harassment, even if they were to be proved. When faced with such an issue, CEOs prefer to take a business decision, not a moral one. The general manager at a Delhi-based FMCG major came on strong to one of his direct reports; she opted for a transfer. And a senior hr exec at an auto company got drunk at a party and misbehaved with a woman employee; the company hushed things up, but quietly asked the man to leave.
Only, sexual harassment is not a moral issue but a legal one. Which is why companies need to investigate complaints objectively before deciding on a course of action. Irrespective of what the company decides, though, the people concerned can take legal recourse. A Hughes Escorts employee filed a sexual harassment complaint in 2000. The company investigated the case and decided that the woman couldn't substantiate her claim. The case is now before the Delhi High Court.
Most victims of sexual harassment claim internal redressal systems, if any, rarely suffice. In one instance, a Bharti Group employee filed a complaint to the Complaints committee, but withdrew it a week later. A few months later, she resigned and filed a case against the company as well the person she had named in her original complaint.
Still, for every person who files charges, several don't. "Over the past two years several women have approached me with sexual harassment problems they faced at the workplace," says Flavia Agnes, a Mumbai-based lawyer. "Most preferred to not do anything over fears that a long-drawn out litigation would affect their employment opportunities."
That's a valid gripe: justice could take time (a Saudi Arabian Airlines employee in Mumbai, Shehnaz Mudbharkal, got hers after 11 years), go either way (the Apparel Export Promotion Council fired an employee who had tried to molest a woman; he appealed the High Court, which ordered his reinstatement; finally the Supreme Court set aside the High Court's order), and, in the long run, not be worth it at all-in a 1999 judgment, a Mumbai industrial court ordered Steelage Industries to pay damages of a mere Rs 40,000 to receptionist Parvin Anklesaria for failing to protect her from being sexually harassed by a manager. Bajaj Auto is one company that'll never face such a problem. Its workplace, the company claims, is completely free from sexual harassment. The fact that it has no women employees helps.