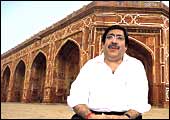 Fine, it doesn't promise to be a box-office hit, but it will be the first play of its kind-anywhere in the world. On September 9, Pravin Anand, Managing Partner at law firm Anand & Anand, is organising a play (called Brainchild) at Delhi's Shriram Centre on intellectual property (IP). The play is written by London-based scriptwriter Farukh Dhondy, who also wrote the script for Aamir Khan-starrer The Rising, and cast by Bollywood actor, Yashpal Sharma. "I am trying to create subliminal awareness of IP. I want people to be passionate about it," says the 50-year-old Anand with a straight face. It's easy to explain Anand's passion for IP. The law firm was set up by his grandfather in 1923, and Anand is the third generation in a family of IP lawyers. The play apart, Anand has been organising, for the last eight years now, a moot court (that is, a mock court) for law students to hone their argumentative skills in. As far as IP on IP issues is concerned, there's no doubt that Anand's got some original stuff.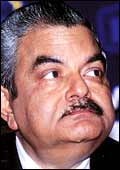 Lodha's Alibi
R.S. Lodha sprang a dramatic surprise on the rival Birla camp by producing senior advocate V. Gaurishankar, 83, as the man who wrote Priyamvada Birla's 1999 will at her explicit instructions. Sources close to Lodha feel this will help disprove the charge that she was deceived into signing away her assets to Lodha. The Birlas will challenge this interpretation. Meanwhile, in an interesting twist to the tale, Special Officers appointed by the Calcutta High Court found a cache of priceless antique gold coins, ornaments and utensils in a secret strong room in M.P. Birla's house in Kolkata. The value, according to both camps: not crores, but only a few lakhs. The soap opera continues.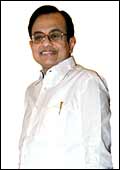 Unfair, My Lord
It's one case finance minister P. Chidambaram must wish his wife and lawyer, Nalini Chidambaram, hadn't ever taken up. Last fortnight, rival politicos gunned for the minister's head after it was revealed that the income tax department, which reports to him, had appointed his wife to a case earlier handled by him when he was not the fm. The lady not just quit the case but returned her engagement fee when the controversy threatened to snowball. Chidambaram has our sympathies. Even if you are the fm, it's hard these days, living on a single income.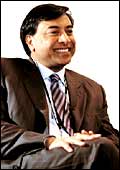 "Billionaires' Row"
If steel czar Lakshmi Niwas Mittal ever needed an excuse to move permanently into his sprawling Kensington Palace Gardens mansion (12 bedrooms, 13 bathrooms), which he bought last year for a stunning $127 million (Rs 559 crore) from Formula One's Bernie Ecclestone, he's just got one. He's lost a long-running battle with neighbour and Saudi Princess, Samerah bint Mokhtar al-Saadawy, to keep her from building a new block of apartments that would overlook his house on London's Bishop Avenue Street, also known as the Billionaires' Row. The local council saw no merit in Mittal's contention that the proposed property would "have a negative effect on the appearance of the street", and ruled in favour of the Princess, whose English country manor is expected to consist of 12 apartments with balconies that overlook Mittal's back garden. Therefore, the world's third-richest man, who still holds an Indian passport despite owning a global steel empire, may just decide to move than put up with intrusive neighbours. A man estimated to be worth $25 billion (Rs 1,10,000 crore) is hardly going to lose sleep over a $16 million (Rs 70 crore) apartment.
Ghosts From The Past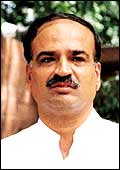 Former urban development minister Ananth Kumar led Hudco for less than two years, but apparently red tape was not one of his failings. For instance, "on a single day, he sanctioned Rs 5,000 crore to 50 companies within one hour", says Prashant Bhushan, counsel for the Centre for Public Interest Litigation, which has accused Kumar of misusing funds worth Rs 14,500 crore. Kumar, who described the charges as "motivated, malicious and baseless" to BT, says he disbursed only Rs 8,100 crore in his two years, and of that 93 per cent went to government agencies. The Central Vigilance Commission, directed by the Supreme Court to probe the charges, will find out in four months if Kumar's dealings were indeed above board.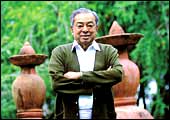 Setback At IRMA
Less than six months after GCMMF's (read: Amul) Verghese Kurien sacked K.P. Reddy as the director of the Indian Institute of Rural Management (IRMA), where Kurien is the Chairman, a Gujarat High Court order has put Reddy back on the job and declared his tormentor's order "null and void". But the octogenarian and feisty "milk man" of India is hardly the one to give up a good fight. While the IRMA board has extended Reddy's term, which ended on September 1, by another three months, Kurien has gone ahead and issued him relieving orders. That apart, the man credited with India's milk cooperative revolution has appealed against the single-judge order with a division bench of the Gujarat High Court. Maybe Kurien has his reasons for wanting Reddy out, but his pugnaciousness does take something away from his rich legacy.