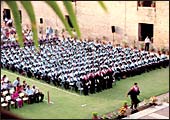 IIM-A


Among those who passed out this year was an IPS officer of 1998 batch who bagged the highest domestic offer of Rs 34 lakh per annum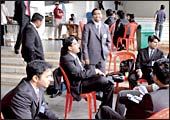 IIM-B


Almost a third of its graduating class was placed on Day Zero-a record of sorts. Some firms like Lehman Brothers only recruited here
In a year where India's bellwether stock index, the Sensex, overtook the Dow Jones Industrial Average, it was only apt that salary offers at the top Indian B-schools came within spitting distance of those of the Ivy League. At Harvard Business School, for instance, the median base salary last year was $100,000 (minus bonuses and tuition reimbursement), not too much more than what the average dollar salary at IIM Ahmedabad this year: $92,500.
Unfortunately, though, media's (mainly TV channels, which were bringing almost hourly updates on placements at the IIMs) preoccupation with soaring salary offers-an Indian School of Business student getting a $233,000-offer from ITC Infotech, an IIM Bangalore grad snagging a $193,000 one from Barclays Capital-meant little time for the more important part of the story unfolding at the premier B-schools. (Actually, we don't blame others: BT-CoolAvenues' annual study of B-school placements isn't just the oldest-six years, now-but also the most authoritative and comprehensive.) Unlike the previous years, the graduates walking away with the top offers weren't fresh-faced engineers, but candidates with solid work experiences. IIM-A's top domestic salary of Rs 34 lakh went to 42-year-old M.V.N. Surya Prasad, an Indian Police Service officer of 1998 batch, who has joined RPG Group's KEC International as General Manager (Projects). (Deputy Inspector General of Tamil Nadu, Prasad, is on a five-year leave from the police force.) Ditto the IIM-B poster boy Gaurav Agarwal, who worked in the US for two years after doing his ms at the University of California, Berkeley.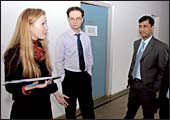 International recruiters are flocking to the premier B-schools, but some are actually being turned down by students keen to work in India or turn entrepreneurs
In other words, Indian recruiters are finally getting around to doing what is a norm at most American B-schools: recruit students with work experience. Not that there is too much to choose from at present. An estimated 80 per cent of the class at an IIM comprises fresh graduates. In contrast, the typical class at an Ivy League college has students with four years of work experience. But that's not to say that things aren't changing. At IIM Lucknow, a record 105 offers were made for lateral hires (that is, students with work experience), and at IIM Calcutta, the number was more than 72 (eight of them were international offers).
Seen from this perspective, the six-figure salary offers don't seem all that high. After all, most software professionals with 10 to 15 years experience can make more than Rs 30 lakh per annum. Also, some of the salary offers are ridiculously padded up. For instance, one of the leading banks even adds the cost of the canteen food it provides its employees to the compensation offer. There are many other tricks that recruiters use to beef up their pay packages.
MOCKING AT MERIT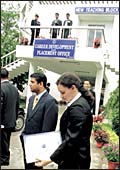 IIM-C


The institute maintained its leadership in attracting the highest average salary (of Rs 9.81 lakh) among all B-schools

The government's proposal to reserve 49.5 per cent of the seats at institutes of higher education, including the Indian Institutes of Management (IIMs), is the worst thing that can happen to B-school education in India. Already more than a quarter of the seats are reserved (15 per cent for Scheduled Castes, 7.5 per cent for scheduled tribes and 3 per cent for the disabled), leaving just 900 of the 1,200 seats at the six IIMs open to regular candidates. The number of people who take the Common Admission Test (CAT) every year: 130,000. The new proposal will take another 300 seats out of competition. While the IIMs are planning to add seats, doing so may be neither simple nor significant enough to offset the resulting crunch. Finding quality faculty, for one, will be a big challenge. More worryingly, reservation will strike at the very root of what IIMs stand for: competitive excellence. Will Indian and foreign recruiters continue paying top-dollar salaries if half the class made it for reasons other than merit? Fat chance. Instead of ensuring social justice, the move will only ensure the slow death of India's best-known management education brands.
Getting Too Pricey?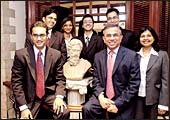 ISB


With recruiters beginning to prefer students with work experience, ISB's one-year MBA should become even more popular
A lot of the recruiters that BT-CoolAvenues contacted for this study had opted out of the IIMs. Why? They believe that the IIMs are getting way past their budgets. Besides, there's a lot of emphasis on Day Zero (first day of recruitment when the cream of the class appears for the interviews) hires, meaning that companies that don't get invited for Day Zero placements may see little value in hiring students who are not top of the class. Such recruiters would rather hire toppers from tier-II B-schools, where they wouldn't have to make large salary offers. But don't expect any sort of "correction" to take place as long as the economy is booming.
Besides, as some recruiters discovered this season, a lot of students aren't actually interested in salaried jobs; more and more of them are looking for the thrill of entrepreneurship. At IIM-A, for example, 10 students either opted out of placements or rejected offers to pursue their own ventures. Even at IIM-L, nine students, including the topper of the batch, gave in to their entrepreneurial urges. One of them, Satyajit Sadanand, turned down an offer from JP Morgan Chase to return to Baroda, where he plans to professionalise a football club, called Providence, that he and a few of his friends founded in 1998 (see Ah, Providence! in Business Today, April 23, 2006). An increasing number of students also seem sold on the India story, rejecting foreign postings to take up jobs within the country. Apparently, these students would rather maintain India as a base and travel to other countries for the required exposure and experience.
ISB STRIKES IT RICH
PLACEMENTS TRIVIA
» At IIM-A, 18 students chose domestic offers over foreign offers
» McKinsey & Co. was the single-largest recruiter at IIM-B (9 hires)
» Wall Street and European i-banks made 15 full-time hires at IIM-C
» Nine students at IIM-L opted out of placements to start their own ventures
» A stunning 35 companies were first-time recruiters at SPJIMR
The highest offer made so far this year on B-school campuses was at the Indian School of Business (ISB), Hyderabad. The $233,800-offer was from ITC Infotech to a student with more than 10 years of experience in IT. The student, whose name has not been disclosed by the school, will be posted in London. "We don't see the offer as high or low, but as being appropriate for the job and the role it involves," says Sanjay Verma, Managing Director, ITC Infotech. (The highest offer made to a woman student was at $233,400-just a tad lower than the highest offer.) Strictly speaking, ISB's placements aren't comparable with those of the IIMs, not just because ISB runs a one-year MBA programme, but also because it prefers students with work experience. Therefore, in the case of an ISB graduate, the more relevant figure is the percentage jump in exit salary over entry salary. Unfortunately, the school does not give out such details. But there's little doubt that ISB's one-year MBA model has more than gained acceptance among recruiters. The average international salary this season was $120,700 (Rs 53.5 lakh), up 21 per cent over 2005. The highest Indian salary offer was Rs 30.33 lakh (44 per cent) and the average Indian salary offer was Rs 11.77 lakh (18 per cent). Four students received offers over $200,000. All told, the school, which follows a rolling placement model, had 143 companies visit its campus and 328 of its 345 students participate in the placement process. Of the 425 offers made, 42 were international. And as would befit a school of ISB's profile, 424 of the 425 offers were lateral.
Although the bt-CoolAvenues' placements survey only covers the top B-schools (which in our case is less than 20), there are several tier-II schools that are pulling in impressive offers. DMS-IIT Delhi, Great Lakes Institute of Management-Chennai, TAPMI-Manipal, BIM-Trichy, NMIMS-Mumbai and Goa Institute of Management are some of them. These "emerging" B-schools haven't just recorded 100 per cent placements, but also a quantum jump (between 20 and 25 per cent) in salaries offered. For management education in India in general, that's a reassuring sign.