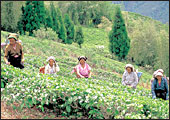 Turning over a new leaf: Tea planters in Darjeeling have struck gold by going organic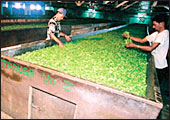 Green Fingers: Workers at Makaibari Tea Estate processing the best teas for high-end buyers
The clichés were sounding a little tired -and tiring: Darjeeling teas are the best in the world; they are the "Champagne of Teas"; they are the world's most expensive teas; etc., etc., etc. At one level, all these statements were (and remain) true. But at another level, these rah rah descriptions almost mocked the harsh reality that existed at these gardens. Most of them were losing money, they had little control over the geographical indication "Darjeeling Tea", and the future seemed bleak.
Then things began to turn-almost by chance. In 1988, T'Classic (Darjeeling) Pvt Ltd, which owned the famous Makaibari Tea Estate, faced a major cash crunch; it couldn't afford to buy fertilisers and pesticides. Result: it began experimenting with locally sourced organic inputs. Says Rajah Banerjee, the fourth generation scion of the family that runs the world's oldest single-owner tea estate: "It was partly compulsion and partly a conscious decision. I realised that nature doesn't require any external help to sustain and evolve the myriad life forms that make up the ecosystem. How do so many varieties of trees exist cheek-by-jowl in a sub-tropical rain forest and sustain the wide diversity of organisms that exist in them? The mulch (a protective covering of leaves placed around tea bushes to prevent the evaporation of moisture) created a wonderful topsoil, but millions of useful organisms were annihilated by a single dose of fertiliser. I, therefore, banned all chemical applications." It's paying off. Earlier this year, he sold a 55 kg lot of Makaibari Silver Tips at an astronomical Rs 18,000 per kg-a world record-at an international tea auction in Indianapolis, us. This wasn't just a flash in the pan. Makaibari regularly sells small lots of organic teas at Rs 10,000-plus per kg. The buyers: high-end stores in the West, pop stars, leading industrialists and royalty. Queen Elizabeth of Great Britain, Emperor Akihito of Japan and pop icon Elton John are among the host of celebrities who are driving this trend worldwide.
Yes, the Rs 3,500-crore Darjeeling tea industry is reinventing itself in line with the National Programme for Organic Production (NPOp), formulated by the Centre, which provides an institutional framework for implementing standards for organic products.
DARJEELING TEA: THE BIGGER PICTURE
No. of Gardens: 86
Organic Gardens: 28
Total Production: 11 million kg
Organic Tea Production: 1.9 million kg
Projected No. of Organic Gardens by 2010: 44
There are, at present, 86 running gardens in Darjeeling, covering an area of 19,000 hectares. Of these, 28 have already gone organic and account for 18 per cent of the district's annual tea output of 11 million kg. "By 2010, 50 per cent of tea gardens in Darjeeling will go organic," says Ashok Kumar Lohia, Chairman, Chamong Tee Exports Pvt Ltd, which owns 10 organic gardens in Darjeeling. There is compelling economic logic behind this. Contrary to popular perception, organic tea farming does not result in lower yields. "In general, the perception is that organic farming leads to a crop loss of up to 50 per cent and a 50 per cent rise in production cost. But our experience shows that organic tea yields are 15-20 per cent higher than those of regular teas and production costs come down in the long run," says Lohia. The cheapest organic teas sell for Rs 250 per kg compared to Rs 100 per kg for regular varieties. Thus, it presents planters with a win-win option.

The Organic Path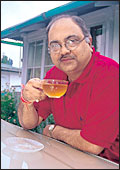 "We will eventually convert all our gardens in Darjeeling and Assam into organic estates. Yields are higher and production costs lower in the long run"
Ashok Lohia
Chairman/Chamong Tee Exports
An estate wanting organic status has to abjure the use of all chemical fertilisers and inputs and receives an "Organic in Transit" certificate from the Tea Board for the first three years. A regular organic certificate is issued only after this. "It's not easy to get this certification. It's even more difficult to maintain the status because these certificates are reissued every year after inspections," says Lohia. Adds Vijay Singh Parmar, Advisor, Chamong Tee Group of Gardens: "Organic tea is defined as tea grown on estates that use absolutely no artificial or chemical inputs. Tea bushes get their nutrition from vermiculture (the use of specially bred earthworms to regenerate soil) and largescale application of composts, neem cakes and castor cakes to the soil (the last two are natural insect repellents). And the Tea Board monitors the soil in organic estates at regular intervals throughout the year to ensure strict compliance with organic norms." The post-harvest treatment and curing of tea leaves, however, is identical for both organic and non-organic teas.
Healthy Growth Rate
The growing global demand for and high realisations from organic tea are obviously fuelling this organic revolution. Since its introduction in the late 80s, organic tea consumption has been growing at 10 per cent annually. There is also a growing demand for organic tea within the country, mainly in Mumbai, Bangalore, Delhi and Hyderabad. Currently, the break up of domestic consumption and exports is 20:80. The Chandigarh-based Alchemist Group (which owns several large tea gardens like Kalez Valley, Dooteria, Balason, Tung Sung, Simripani and Peshoke Tea Estate in Darjeeling), too, is planning to tap this burgeoning demand by going organic. The group, which is a big player in the floriculture industry, is also establishing synergies between its tea and floriculture businesses, planting orchids, roses and other special category flowers on its tea gardens, as the first step towards this conversion, informs K.D. Singh, Chairman, Alchemist.
A Tea Board spokesman says: "The production of organic (or organic in conversion) tea was 150,000 kg in 1990; this increased to 2.15 million kg in 2000 and further to 3.5 million kg in 2005-06." The Tea Board has recently come up with a proposal to standardise organic tea production techniques. "We also provide garden owners financial assistance and provide their staff with training on organic methods of tea cultivation," he says. On average, it costs a 1,000 hectare tea estate about Rs 25-30 crore over three years to convert itself into an organic garden.
THE O-WORD IS SPREADING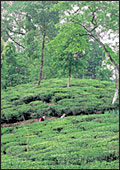 Garden owners in Darjeeling aren't the only ones who're latching on to the organic trend. Chamong Tee Exports, which is at the forefront of the organic tea revolution in North Bengal, is converting six properties in Assam to organic tea estates. "We will eventually convert all our gardens in Darjeeling and Assam into organic estates," says Ashok Lohia, Chairman, Chamong Tee Exports. K. Manibhai & Co, Ambootia Tea, Castleton and Jayashree Tea are some of the other companies that have converted their gardens. Assam now has 10 organic tea gardens.

The Union Commerce Ministry is considering a plan to extend the organic tea experiment beyond Darjeeling and Assam to South India. This is expected to boost the demand for Indian teas and lead to much better realisations in the global market. "We will actively promote the consumption of organic teas in India and abroad," says Basudeb Banerjee, Chairman, Tea Board.
The Spin-offs
The law of unintended consequences has also started working in favour of the Darjeeling tea industry. Since most of these organic teas are single garden brands, there is very little scope for blending. This is expected to provide a fillip to the Darjeeling tea brand and arrest the widespread practice of blending only a small quantity of Darjeeling tea with teas from other regions and then selling the mixture as the real thing. Last year, Darjeeling produced 11 million kg of tea, but the total volume of "Darjeeling tea" sold worldwide was more than 20 million kg.
Organic tea is extremely popular in the UK and Japan, the two largest export markets for this variety of tea. It is also gaining acceptance in Australia, Germany, the Netherlands and, wonder of wonders, the US. Its reported therapeutic properties are drawing increasing numbers of converts in these countries. The way forward, the Tea Board spokesperson says, "is to set up a few model organic tea estates and then launch a sustained awareness and brand promotion campaign for organic tea across the country and abroad. Planters will have to realise that this is the future and people at large will have to be made aware that organic tea is the safest for human health and the environment."
The story of Darjeeling tea is 160 years old. It began when a Dr A. Campbell, a British civil surgeon, planted tea seeds in his garden at Beechwood Estate, 7,000 ft above sea level, just for kicks. That simple (and largely unplanned) act laid the foundation for the world's most famous tea industry. The makeover that it is now receiving is also the result of a similarly unplanned act by Makaibari's Banerjee. But the others who are following his lead are doing so consciously. Because they realise that the path is strewn with gold.