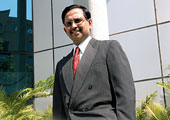 IBM's Annaswamy: With two big deals in his pocket, he is hungry for more
In March 2004, IBM's India arm won a 10-year contract, then estimated at $750 million, from Bharti Airtel in an it transformational deal (editor's note: Unlike in traditional outsourcing, in a transformational deal the service provider also acquires the existing resources and employee base and agrees for a shared revenue model for services provided on a risk-reward model). It was a defining deal as it made international service providers sit up and take note of the potential of the domestic Indian market for the very first time.
Though it took nearly three more years, Big Blue has displayed that it understands the Indian market better than its competitors when, on March 21, it announced it had inked a similar $620-million (Rs 2,728-crore) deal with Idea Cellular to integrate, innovate and transform the cellular company's business process and it infrastructure. As a part of the deal, nearly 200 employees of Idea's it department are expected to move to IBM. Idea, with nearly 14 million subscribers, is the fifth-largest telecom cellular service provider in the country. Sanjeev Aga, MD, Idea Cellular, points out that the contract is a win-win for both companies. "IBM India will manage Idea's it infrastructure and other services, including billing and customer management on a revenue-sharing basis."
The revenue-sharing model is one of the reasons why it has been tough to quantify the exact size of the deal and the reason why the companies have said it might range between $600 and $800 million. At the lower end, the 10-year contract is expected to yield $620 million to IBM India, according to company insiders. "It will be similar to the Bharti Airtel deal, where the initial deal size over 10 years was estimated to be around $750 million, but which has now been revised to upwards of $1.5 billion (Rs 6,600 crore) over the same period because of the explosive growth in the subscriber base. That is one advantage of a transformational deal where the risk and rewards are both shared," adds the IBM official on the condition of anonymity. Ramesh Awatney, IBM's VP for Communications Sector (Asia Pacific), who played a key part in bagging the Idea deal, says it was the company's deep understanding of the needs of the Indian telecom sector and its ability to leverage its global expertise that helped the company swing the contract.
The next big whopper for which all it services players are right now angling is the it outsourcing deal from Hutch-Vodafone-Essar, the fourth largest cellular company with nearly 25 million subscribers. This deal is believed to be in the range of $1.4-1.6 billion (Rs 6,160-7,040 crore). IBM India is already believed to be in talks with the company. Once the acquisition of Hutch is completed by Vodafone and all regulatory clearances are obtained, the outsourcing contract is likely to be announced.
Awatney, for the moment, is at least playing it safe and, when queried, says IBM continues to look for opportunities to bag new customers in the marketplace. "We work with more than 100 telecom customers, small and big internationally, including the likes of Vodafone and Telstra in various markets they operate in." However, officials within IBM point out that the company is one of the globally preferred it vendors for Vodafone. In several European countries such as Portugal, Greece, Italy, Spain, and the Czech Republic, apart from Australia and New Zealand, IBM's local operations already work with Vodafone. So, there is a very good chance that Vodafone in India might opt for similar arrangements, adds the IBM official.
For Shankar Annaswamy, MD of IBM India and South Asia, the deal is a sweet vindication of his patient strategy to go after larger transformational deals. "This win reinforces IBM's position as a leading partner to global telecom companies," he says. IBM won the deal after going head to head with the likes of HP and some Indian players. Perhaps the Indian it majors will now keep a more watchful eye on the domestic market.
---
Wrath of Grapes
The arrack dries up in Karnataka. Revenues too will follow suit.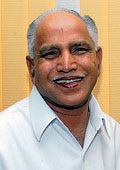 B.S. Yediurappa: So far, so

good
In what was perceived as a please all budget, deputy cm and finance minister of Karnataka B.S. Yediurappa announced a ban on the manufacture and sale of arrack (country liquor) and all kinds of lottery, including internet lottery. The ban on arrack alone is expected to cost the state exchequer Rs 1,905 crore in revenues and an additional loss of Rs 250 crore is estimated because of the lottery ban. Predictably Yediurappa defended the move to ban arrack and lottery. "This was a commitment made by the BJP-JD (Secular) coalition government when we came to power. We have just fulfilled our promise to the people. Lottery and arrack were ruining the lives of millions of people specially in the rural areas."
The budget, which was presented to the state assembly on March 16, shows a marginal deficit of Rs 23 crore but it reverses a three-year trend of surplus budgets. Former deputy cm and Finance Minister S. Siddaramaiah, who is a senior Congress leader, strongly criticised the budget proposals: "This is an election-oriented budget as the coalition government is unlikely to last. So they are throwing sops without heed to the long-term fiscal health of the state. It remains to be seen where the government will raise money to make investments."
Yediurappa, on his part, says that the government will raise additional revenue by increasing the licence fees for establishments selling liquor, by increasing stamp duty and enhancing tax on various classes of vehicles registered in the state.
---
Coal Comfort
The Tatas make a billion-dollar power-packed acquisition.
Just when you thought the Tatas would take a break from big-bang acquisitions, it was the turn of Tata Power Company to get into the act. In a bid to ensure sufficient coal back-up for its upcoming power projects on the west coast of India-7,000 mw of capacity is to be developed over the next five years-India's largest private power utility announced plans to buy a 30 per cent stake in Indonesian energy giant pt Bumi Resources' premiere coal mines for approximately $1.3 billion (Rs 5,720 crore). The Bumi mines include pt Kaltim Prima Coal (KPC), pt Arutmin Indonesia (Arutmin) and related companies. Tata Power has signed an offtake agreement with KPC, which entitles it to purchase about 10 million tonnes of coal per annum. Macquarie Bank advised Tata Power on the deal, while Credit Suisse advised PT Bumi. The estimated sale price includes the base price of $1.1 billion, as well as closing and working capital adjustments.
Tata successfully outbid at least five companies vying for the coal companies. The acquisition will be made through an offshore special purpose vehicle (SPV). Funding will be done through a combination of debt in the SPV and internal accruals and borrowing from Tata Power.
Other than providing a back-up for Tata's power plant on the west coast as well as for future projects, pt Bumi's coal will also come in handy for the recently-won ultra-mega power project of 4,000 mw at Mundra in Gujarat. Bumi, which failed to raise $3.2 billion (Rs 14,080 crore) through a share sale last year, also stands to gain by virtue of this agreement. It is expected to use the funds raised though the stake sale to build plants that produce diesel from coal and crops such as palm oil.
"We are delighted to have purchased the stakes in KPC and Arutmin, which are among the top three thermal coal mines in the world. This strategic partnership not only supports coal requirements for Tata Power's aggressive growth plans but also creates opportunities to own and participate in operating a world class energy business overseas," says Prasad Menon, MD, Tata Power, which has an installed generation capacity of 2,300 mw.
One section of analysts is of the opinion that the Tatas may have taken a high risk with this acquisition considering the perennial state of instability in Indonesia. Yet, the flipside is these coal companies are together among the top three largest exporting thermal coal mines in the world. With a strong export focus supported by a good supply infrastructure, they have been feeding the huge regional demand (mainly from China). Together, KPC and Arutmin produced approximately 53.5 million tonnes of coal in 2006 with over 95 per cent sold in the export market. In the years ahead, a few million tonnes will also be headed India's way.
---
Life After Nandigram
It won't be the same for mega projects.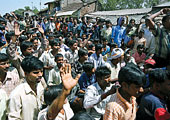 Nandigram on fire: Its spark is a concern for other states too
Social balance is the new buzzword, at least when it comes to the implementation of projects for special economic zones (SEZs). All SEZs in West Bengal have been put on hold until a "socially balanced" decision is taken in this regard at the national level. The state government's move comes on the heels of a major flare-up of violence at Nandigram in East Midnapore district, where at least 15 people died after police opened fire on people opposed to the acquisition of their land for a proposed SEZ by Salim Group of Indonesia. And Nandigram may only be the beginning. A high-level political panel constituting representatives of UPA constituent parties has warned the Centre that the proposed Reliance SEZ in Maharashtra can degenerate into another Nandigram. This warning was followed by a public announcement by Maharashtra Chief Minister Vilasrao Deshmukh that no final award will be passed for acquisition of 10,120 hectare land for the multi-crore SEZ project. As a result, the ownership of the land will remain with the farmers till the dispute is resolved.
So, what's the future for SEZ, and indeed for any large project that calls for mega-acquisition of land? After all, the Reliance SEZ is just one of the 140 projects earmarked for different parts of the country. Then there are corporate India's plans for production units, the most high-profile of them being Tata Motors' proposed facility for making a Rs 1 lakh car in Singur in West Bengal.
Other projects in West Bengal now shrouded in uncertainty include Jindal Steel's Rs 10,000-crore steel plant at Shalboni in Midnapore and the Ruia Group's Rs 3,000 crore ship-building and shipyard project at Jelingham near Nandigram. The Jindals claim they have already bought nearly 80 per cent of the 5,000 acre land required for the project directly from farmers/land owners. The Ruias are eyeing 1,200 acres acquired by the state 15 years ago. Meantime, the Trinamool Congress (TMC), the party at the forefront of the "Krishi Jami Bachao Committee" (or the Save Farmland Movement), will now initiate a state-wide campaign to drive home that it is not against industrialisation but the forceful acquisition of crop land. Says Subhendu Adhikari, TMC legislator and leader of the Krishi Jami Bachao Committee: "We are ready to welcome the Ruia Group if they come up with a large employment-oriented project at Jelingham. The state acquired this land 15 years ago but none has got any compensation, forget about job per family." The wounds of many of the people may be much older and much deeper than the recent destruction in Nandigram.