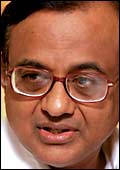 "Today, the message we are sending is different. We want to make this growth inclusive"
A day after he presented his fourth successive Budget, Finance Minister P. Chidambaram's schedule was still chock-a-block. Besides facing TV news channels that had queued up for interviews one after another, his day was packed with meetings with industry and business associations and other interest groups. Yet, Chidambaram seemed visibly relaxed when he met up with India Today's Group Editorial Director Prabhu Chawla and Business Today's Editor Sanjoy Narayan. Unfazed by the lacklustre response to his latest Budget, Chidambaram said the hype around budgets just media build-up. He was happy that his Budget was able to keep the Indian growth story intact and nurture the weaker sectors of the economy. Excerpts:
Congratulations Mr Finance Minister, for your fourth successive Budget. Are you dismayed or disappointed by the reaction to your Budget?
Whose reaction are you talking about? Are you talking about the reaction of the corporate sector? I was there with them this morning and they have forgotten what they said yesterday and they sang a very different tune today. It is a 'media created event'. I don't blame the media; they are perfectly entitled to do that. The point is, you must understand that Budget has a context, it has an economic context and it has a political context. Ten years ago, we had very different dreams. The dream was to plug India in with the rest of the world, and tell them that we are ready to open up and become part of the global economy.
Today, the message we are sending is quite different. We have growth that is not cyclical. We now want to make this growth inclusive. We are sending a message-to India, that we want everyone to be a part of the growth story of India. That (in 1997) was one kind of dream, this is another kind of dream. It was my good luck that I was part of that dream and I am part of this dream as well. But this Budget addresses different dreams.
This Budget also addresses a different challenge. Inflation has been worrying this government. You've tried to balance sustained high growth, rein in inflation and at the same time, tried to make growth inclusive. How tough was that?
This is a new kind of challenge for India. India has not had a period of sustained high growth where that growth, to some extent, has been clouded by inflation. The last time there was high inflation in this country was in 2000-2001, which is apparently simply a memory even for the people who were in the government at that point of time. For 48 out of 52 weeks, inflation was above 6 per cent, for 22 of those weeks it was above 7 per cent, for 12 of those weeks it was above 8 per cent. They had low growth and high inflation, how could they address this issue? Today, we have high growth and inflation around 6.5-6.6 per cent, and we are genuinely concerned. We believe that we can moderate inflation without affecting the growth story. But as the Prime Minister said yesterday, what we are trying to do is to maintain high growth while moderating inflation.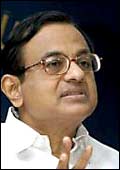 "If you take the view that ESOP is a fringe benefit, which it is, then it is a right tax"
You are saying that inflation is going out of control, so who do you think is responsible-the trading community?
I can only tell you what is responsible. First, the monetary aggregates. Credit growth is 30 per cent, money supply growth is 21 per cent, foreign exchange inflows are very, very robust. So, the monetary aggregates are putting pressure on the monetary side. Secondly, global commodity prices, which have been very high and are impacting Indian commodity prices. The third reason is completely unexpected-supply-side constraints. One year you have sugar, one year you have wheat, one year you have pulses... but this year all of them have come together. Sugar was the first trigger point; we moderated it when the first sugarcane crop came in. But then we had wheat, add to that pulses, add to that edible oil, all coming together...
Tell us frankly, is this your Budget?
Yes it is.
And you are happy with the Budget?
Of course, I am happy with the Budget, I will defend it.
But some of your allies aren't very pleased.
I can't speak for my allies, all I can say is that this government has faithfully adhered to the National Common Minimum Programme. We have spent more money on agriculture; we have put more money into education, more for healthcare-Polio, HIV/AIDS. We have put more money into social security; we have put more money into seeds and water management. I can give you a whole list of things; I can read out the list if you have the time...
But there is no 'Big Bang' in the Budget.
I'm sorry, the Budget can only provide the bucks. The bang has to come when the bucks are used to deliver the outcomes.
In the past you have spoken about moving to a tax regime that is simpler, with lower rates and no exemptions. At a time when your revenue collections are the most buoyant, wasn't this the time to do something like that?
We have done so. We have removed several exemptions. And we have also rationalised several taxes, Section 36 (1A) has been rationalised, several exemptions that were expiring on March 31 have been allowed to lapse. We have done it.
But the education cess is going to impact taxpayers...
The education cess is a universal demand. Show me one person who says they won't pay it.
But have you been able to spend the money that you have collected?
Of course, the money has been transferred to a non-lapsable.
Non-lapsable perhaps, but have they spent it?
Look at the numbers... the Ministry of HRD has spent all the money that it was allocated.
But money was collected for Tsunami relief also...
The Tsunami money was to be spent by the state governments. The state governments haven't spent the money that they were given and all I can say is that I am sorry. But look at the hrd numbers. A sum of Rs 17,128 crore was given and they have spent Rs 17,126 crore. I am very happy with the way HRD has spent the money allocated to it.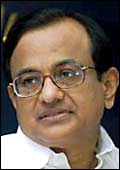 "I am happy that I have been able to do something for children, dropping out of school..."
You have said that you are happy with the way the money is being spent, but what about the outcomes?
The outcome budgets will be presented by the respective ministries to Parliament. This year, I have had a meeting with them and I have impressed upon them that the quality of the outcome budget must improve over last year. It is a new experiment and I think that they are now competing with each other to present a good quality outcome budget.
You talked about focussing on healthcare and the social sector with a lot of measures, but the delivery systems are still a matter of concern. Ultimately, we find in a lot of cases that the money doesn't really reach the beneficiaries.
Is that an issue that can be addressed in the Budget speech? It cannot. It is part of the governance system. I said so in my speech quite candidly. I said there is no dearth of funds, there is no dearth of schemes, what needs to be done is to deliver the intended outcomes. How much more candid can a Finance Minister be? This is part of the governance structure in this country-Central governments, state governments, district administration, panchayat. Money has to be spent down the line. Obviously, these are matters that cannot be addressed by one person in his speech. These are to be addressed by systemic changes in the governance system.
But in the absence of such systems, pushing money down...
What do you want me to do? Put the money away in the bank? It is intended for agriculture, education, health etc., and we give the money and we try to improve the governance. What do you want me to do? Just because we have some leakages and some wastage, we can't hold back and say we won't give the money.
What would you then say is the big idea behind the Budget this time?
The big idea behind this Budget is, I think, that the growth cycle, which is now visible, is not a cyclical shift, it is a structural shift. The message is: Now that we seem to have got into a higher growth cycle, let us then distribute this growth to a larger section of our people. And the most deserving sector of our people is the most neglected so far, and that is the farm sector. And, therefore, more money is being pumped into the farm sector. The other sectors that have been asking for more funds-health and education-have been given more money. The message of this Budget is, growth is happening, let us become more inclusive. Let the gains be distributed to more sections.
But aren't you being a bit conservative about growth in the coming Budget? Your revenue targets seem to be a bit lower than last year's?
That is not correct. All of you, wittingly or unwittingly look at the re and then the be. Budgets are not made that way, Budgets have always been made on be to be. And if you take that, last year I had Rs 442,000 crore and this year Rs 548,000 crore, a good Rs 106,000 crore increase, which is a 20 per cent increase. And that is not a conservative, not a pessimistic assessment. That is a very aggressive assessment.
Many sectors expected more from the Budget. We have been talking about making India a small car hub globally and automakers expected cuts in excise...
We addressed that issue last year when we brought down excise duty from 24 to 16. Are you suggesting that we bring them down further this year?
Yes, but that was only for a certain category of cars.
Only for small cars, we said that we will make India a hub for small cars. And the industry thanked the government for that last year.
But this year the industry responded by raising prices.
Raising prices is a sum of many factors. Demand, input costs and other factors. The fact is, hasn't India become more of an exporter of small cars than it was in the past? The answer is a resounding yes. More cars were exported out of India in 2006-07 than in the previous years, because they got a huge benefit from the 8 per cent excise duty cut.
There is the issue of capital account convertibility, do you think the time is right for that?
The report says, fuller convertibility, not full convertibility. Except for some countries, and even they have some sort of capital controls (no one offers full convertibility). What we are trying to move towards is fuller convertibility, where the glass is fuller and fuller. As we reach the parameters for inflation, for reserves, for deficit, we will take steps towards fuller convertibility.
You have imposed Fringe Benefit Tax on ESOPs and fast growing companies are concerned that this will add to their costs of retaining people by giving them ESOPs.
You see there is a logical way to proceed. Is ESOP a fringe benefit or not? If you take the view that ESOP is not a fringe benefit, then it is a wrong tax. But if you take the view that ESOP is a fringe benefit, then it is a right tax. Undoubtedly, ESOP is a fringe benefit and must be taxed.
Would you have done more in this Budget if you could do so?
(Laughs) Whatever I wanted to do I have done. I am very happy I have been able to do something for children leaving Class 8 and then dropping out. I am very happy I have been able to do something for the physically challenged, I am very happy I have been able to do something for groundwater recharge. I am happy for what I have been able to do for HIV/AIDS, Polio. These are very important concerns for me, concerns which are close to my heart. I have always spoken and written passionately about HIV/AIDS, Polio and the physically challenged and I am happy that we have been able to do something about that this year because we have the money. I could not have done it a couple of years ago.

What I meant was, if Congress had the single-party majority would you have done it before?
That is not the way to look at it, I am bound by the NCMP, if the Congress party was alone in majority I would be bound by the Congress party's manifesto, and as I said last year that when I took on the job, I knew I had to do the NCMP. Everything that has been done in this Budget is consistent with the NCMP. Today, we are the UPA government, we have the NCMP and I am the Finance Minister of the UPA government.