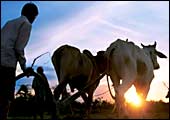 A "growth process that is much more inclusive," is what the Prime Minister wanted. And P. Chidambaram obliged. And how! A little more than half of his 103-minute Budget 2007-08 speech was devoted to essential services that urban city slickers wouldn't ponder over for too long: Drinking water and sanitation, rural roads and houses, health and family welfare, polio eradication...and of course the big A, agriculture. "One of the major positive features of the Budget has been its prime focus on education and healthcare. The Budget aims at improving access to social services and provides a social safety net," says Dr Siddhartha Roy, Economic Advisor, Tata Group. The step-up in outlays for these sectors are significant, though not eye-popping. Bharat Nirman, a four-year programme for building rural infrastructure, for instance, will now witness a 31.6 per cent increase in budgetary allocation, up to Rs 24,603 crore. The provision for education is up 34.2 per cent to Rs 32,352 crore, and for health and family welfare it's almost 22 per cent higher, at Rs 15,291 crore. The stated objectives of these increases are higher growth in the agricultural sector, faster employment creation, and access to basic physical infrastructure, health and education for all. The final milestone: A growth rate of 10 per cent by 2011, which is when the 11th five-year Plan period ends. Here's how Chidambaram hopes to get there:
Agriculture's New Lifeline
The agriculture sector, much neglected in the past, received a shot in the arm in the 2007-08 Budget. The aim: To nudge the growth rate to an average of 4 per cent during the 11th Plan period (2007-2011), as against the dismal 2.3 per cent recorded during the 10th Plan period (2002-07). The prescription: More farm credit to boost investments; strengthening state-owned institutions in the sector; higher investments in irrigation projects; measures to improve efficiency in the farm sector; and additional help for distressed districts by way of low-cost loans.
FOCUS ON THE FARM
» Farm credit target for 2007-08 fixed at Rs 225,000 crore as against the previous year's Rs 175,000 crore (which has been exceeded). 50 lakh new farmers expected to enter the banking system
» Budget for fertiliser subsidies increased from Rs 17,253 crore in 2006-07 to Rs 22,452 crore
» To improve the quality and increase the quantity of certified seeds, the Integrated Oilseeds, Oil Palm, Pulses and Maize Development Programme will be expanded. The government will offer a capital grant or concessional financing to producers in a bid to double production of certified seeds within three years
» Special plan-which includes water-related schemes and schemes for inducting high-yielding milch animals and related activities-being implemented over three years in 31 "especially distressed" districts in four states, involving Rs 16,979 crore
» A special-purpose tea fund has been launched; similar mechanisms to rejuvenate the coffee, rubber, spices, cashew and coconut sectors to be flagged off
» Outlay for the Accelerated Irrigation Benefit Programme (AIBP) to be increased from Rs 7,121 crore in 2006-07 to Rs 11,000 crore. Grant component to state governments will increase to Rs 3,580 crore
» World Bank has signed a Rs 2,182 crore loan agreement with Tamil Nadu to restore 5,763 water bodies. A similar agreement is expected to be concluded for Andhra Pradesh, Karnataka and Orissa soon
» Government to transfer Rs 1,800 crore to NABARD to enable 100 per cent subsidies to small and marginal farmers, and 50 per cent subsidy to other farmers, to create millions of "dug wells" (into which rain water is diverted)
» Rs 100 crore for a training programme to train farmers in water harvesting
» Provision for the Agriculture Technology Management Agency increased from Rs 50 crore to Rs 230 crore
» Provision of Rs 500 crore for the National Agricultural Insurance Scheme, and Rs 100 crore allocated for a weather-based crop insurance pilot scheme, to be started by the Agricultural Insurance Corp.
» Nabard to issue rural bonds worth Rs 5,000 crore, which will be guaranteed by the government, and be eligible for tax exemptions
It's doubtless a sound prescription, but that on its own may not be enough to fix the sector's woes, many of which have turned chronic. These include the lack of investments, poor irrigation systems, overdependence on monsoons, low quality seeds and numerous intermediaries that cut into farmer's income. The question, though, is: Are the fm's revenue-expending initiatives adequate to hit the targeted growth of 4 per cent in the years ahead? Maybe not, feels Roy of the Tata Group. "In the absence of any fresh capital schemes, which could kick-start long-term growth in this sector, it is difficult to envisage a 4 per cent growth rate in agriculture in 2007-08, leave alone averaging a 4 per cent growth during the 11th plan," he shrugs. The government's think-thank would beg to differ. Says Saumitra Chaudhuri, Member, Prime Minister's Economic Advisory Council: "The ingredients for a success story are there in the Budget. The task ahead is that of delivering results. Yes, if the measures are delivered with reasonable efficiency, a 4 per cent growth rate (in agriculture) during the 11th Plan period is achievable."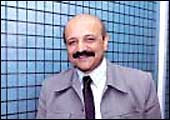 "The ingredients for a success story are there. If the measures are delivered with reasonable efficiency, a 4 per cent growth rate (in agriculture) is achievable"
SOUMITRA CHAUDHURI

Member, PM's Economic Advisory Council
While farm credit has doubled in the last two years, the Finance Minister hopes to do better in the following year. He expects it to rise to Rs 2,25,000 crore this year and in the process add another 50 lakh farmers to the banking system. To catalyse this development, banking norms with regard to bad and doubtful debts will be eased. To ensure that the economics of the business do not convert the lending business into a losing proposition, Chidambaram has raised the government funding for irrigation by around Rs 5,000 crore to Rs 11,000 crore and increased the grant component to states by as much as Rs 1,000 crore to Rs 2,350 crore.
Taking a leaf from the Green Revolution in the 1960s that brought about self-sufficiency in key farm products, Chidambaram has mooted strengthening the state-owned institutions like the Indian Council of Agricultural Research and the state agricultural universities. The objective is to provide 100 trainers, and train 1,000 farmers every year in various farming practices, including water harvesting. To enable this, the government will provide an interest-free loan of Rs 3 crore per institution as corpus. Complementing this exercise will be a revamp of the prevailing Training and Visit (T&V) programme, where experts from agriculture institutes visit the farm and impart new techniques. The Agriculture Technology Management Agency, which is present in 262 districts, will now expand its operations to 300 districts. Additional funding to the tune of Rs 180 crore will be provided for this purpose.
Besides a strong dose of funding, the farm sector is in dire need of good seeds; the private sector, so far, has not found it viable to develop non-hybrid variety seeds. Realising this inadequacy, which can be filled for the moment only by the state, the Finance Minister has decided to strengthen the Indian Institute of Pulses. The investments are aimed at doubling the production of certified seeds in three years. This will improve crop production, especially, in the case of oilseeds, pulses, oil palm and maize.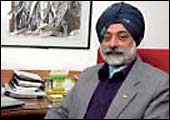 "It's heartening that the Finance Minister has taken a number of steps to improve public health. They are all welcome steps"
DALJIT SINGH

President/ Fortis Healthcare
While the Finance Minister has outlined the proposals in his Budget, the Agriculture Ministry will prepare the implementation programme for the various proposals. And, therein lies the rub, argue experts. Given the government's inefficient delivery mechanism, it will be a tall order task to ensure that benefits accrue to the targeted lot. Agrees the Finance Minister: "Implementation is a very important aspect of the programme." With 60 per cent of the country's population depending on agriculture for their bread and butter, finding the right fix for the agri-sector is critical.
Healthcare in the Hinterland
If agriculture got its due in the fm's budget speech, health and family welfare wasn't far behind, what with Chidambaram proposing to increase the allocation on this front by 21.9 per cent, to Rs 15,291 crore. While the much-awaited National Urban Health Mission as well as the National Pharmaceutical Policy are yet to be announced, the institutional integration of all the health schemes at the district and lower levels have been achieved under the National Rural Health Mission (NRHM). All districts in the country will complete preparation of District Health Action Plans by March 2007 and the allocation for the NRHM has been increased from Rs 8,207 crore in 2006-07 to Rs 9,947 crore in 2007-08. Through Monthly Health Days (MHD) organised at Anganwadi centres, the government plans to bring together various programmes such as immunisation, antenatal care as well as nutrition and sanitation. While 320,000 Associated Social Health Activists (ASHAs) have been recruited and over 200,000 have received orientation training, another 90,000 link workers have been selected by the states. Ayurveda, Yoga & Naturopathy, Unani, Sidha and Homeopathy systems are also being mainstreamed into the health delivery system at all levels. Says Naresh Trehan, Executive Director, Escorts Heart Institute and Research Centre: "The direction of the Budget is laudable. Finally, the rural sector, (education) and healthcare are getting attention."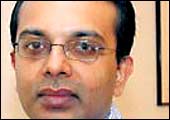 "Increased allocations for safe drinking water and sanitation are welcome, but at best they sustain initiatives of the past"
SATISH REDDY

MD/ Dr Reddy's Laboratories
Consider, for instance the polio eradication programme, which has now been integrated into the NRHM. The ASHAs and the Anganwadi workers will visit every household and track every child for the immunisation programme. The number of polio rounds will be increased, monovalent vaccine will be introduced, and there will be intensive coverage in the 20 high-risk districts of Uttar Pradesh and 10 districts of Bihar. To achieve the goal of eliminating polio, Rs 1,290 crore has been provided for 2007-08.
The National aids Control Programme (NACP)-III, which will start in 2007-08 by building on NACP-I and NACP-II, will target high-risk groups in all states. More hospitals will provide treatment to prevent transmission of HIV/AIDS from mother to child. Support will be given to the protocol on paediatric dosage developed by Indian doctors and launched in November 2006. For 2007-08, the provision for aids control has been raised to Rs 969 crore. Daljit Singh, President (Strategy and Organisational Development), Fortis Healthcare, says: "It's heartening that the Finance Minister has taken a number of steps in improving public health. So, increased allocation for the NRHM, Rs 969 crore for aids control, provision for polio eradication and increased allocation for Integrated Child Development Services are all welcome steps."
But there's still a lot more hard work left to be done. "There is no direction on implementation or what models will be used," he adds. And there are those who don't see any radical, or even fresh, initiatives in the fm's budgetary proposals. Says Satish Reddy, Managing Director & coo, Dr Reddy's Laboratories: "Increased allocations to the National Rural Health Mission and for safe drinking water and sanitation are welcome, but at best they sustain initiatives of the past." Reddy adds that health being a state subject brings along its own set of problems. "It is clear that few states have the money to make a difference and the Finance Minister has chosen not to make an effort to alter the status quo."
Education: Building a Knowledge Economy
India's schools mirror its painful struggle to transform an unequal and ignorant society into an equal and enlightened one. Look into this mirror and you see images that inspire as much hope as despair. Hope because India's recent economic success rests on its enlightened workforce (think IT, pharma and biotech) and despair because knowledge hasn't filtered into a greater part of the Indian population. Now, with Chidambaram kick-starting outlays in education (see Education Gets a Leg-up), it's the hope that's in the limelight.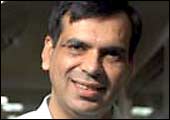 "Building a regular cadre of teachers is a must but it should go hand in hand with more accountability for teachers"
GAUTAM PURI

Managing Director/ Career Launcher
"Until the early 1990s, the government still believed that there is no demand for education among a number of backward communities. The recognition for huge demand for education only met with reduced spend on education and other social sectors in the early 1990s when reforms were kick-started. I am inclined to believe that things are changing though we still are grappling with the issues of poor access, quality and equity," says Sukanya Bose, a Delhi-based economist who has worked with Economic Research Foundation, a non-profit research outfit, on expanding educational opportunities. O.N. Singh, Commissioner, Navodaya Vidyalaya Samity, which runs residential schools for talented but underprivileged children in rural areas, says Chidambaram has nudged India nearer to the league of developed nations that spend huge amounts on education. "A 35 per cent increase in school education is a great leap forward in expanding access," he says.
But that may not be good enough. Arvind Sardana, an educationist at Eklavya, an NGO that has helped over 500 government schools in improving the quality of education, says enhanced allocations for education mean little unless the fundamental issue of quality of education is addressed. "A high drop-out rate is a direct result of the poor quality of education. What's disturbing is that instead of building a regular cadre of teachers, states have been hiring para teachers (on short-term contracts) who get one third of the salary received by regular teachers," points out Sardana. Gautam Puri, MD, Career Launcher, says building a regular cadre of teachers is a must but it should go hand in hand with more accountability for teachers.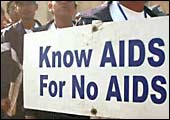 The medium is the message: The allocation for AIDS control has been increased to Rs 969 crore
Bose says motivated and engaged teachers represent just one of the desiderata. "In rural areas, most of the pupils are first generation learners, whose parents have never had any education. Many of them also belong to the downtrodden communities. These pupils have special needs that can only be addressed by motivated, sensitive and engaged teachers," she says. Yet Bose is heartened by the proposal to turn 1,396 Industrial Training Institutes (ITIs) into centres of excellence through public-private partnership because vocational education must build stronger linkages with industry. She also welcomes the additional 1 per cent cess for secondary and higher education as the growing number of primary school graduates needs more secondary school infrastructure. "Doubling the allocation for secondary education, 1 lakh scholarships for 8th standard pass under the National Means-cum-Merit Scholarship Scheme and a 1 per cent additional cess for secondary education mean that India is serious about education. They are all welcome steps," Puri adds.