INDIA'S BEST EMPLOYERS: THE TOP 5
[1] Infosys: Wealth & Values

A 50-acre Rs 320-crore campus, stock options for all, and egalitarian work practices make Infosys more than just another geek-Mecca. They make it the Best Employer in India.

By R. Sukumar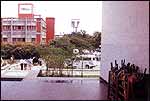 Ask for Udipi Garden, you can't miss it. The bus stops right opposite it. Pause. ''On the other side of the road.''
I pass on the idiot-proof directions received the previous evening to my cabbie, a Bangalore-Tamil who's keen to hear my take on the Rajkumar thing, and he nods his head vigorously: ''Yes, I've heard of the place.''
So, at twenty minutes past six on a Tuesday morning, I find myself standing opposite the eatery everyone in Bangalore seems to know about, waiting for a blue bus that will ferry me to the best place to work in the country. I'm early; my escort won't be here for another 10 minutes. That gives me time to soak up the atmosphere some. This is the penultimate stop for a few of the buses that shuttle close to 4,000 people every day to India's very own geek-Mecca, and it's in an up-and-coming neighbourhood of Bangalore called BTM Layout. While waiting, I'm joined by an assortment of people, all unmistakably techies, who emerge out of the morning gloom (actually, the side streets, but this sounds so much better).
''Lots of our people live here,'' says my escort, who is among those who have materialised from the grayness. His name is Samit, he works in the hr department of the company, and he has already picked up the typical hr-pro's practice of referring to everyone else who works for the company as 'our people'. Samit recommends we let the first few buses that come our way go and we do so. Once inside the fifth, he pulls out a crisp copy of a daily for himself and proffers me another. I decline: on a trip like this a correspondent's job is to observe his fellow passengers.
I couldn't pull out the others in the bus from a line-up of techies. Just across me, on the other side of the bus, is one who's dressed fairly formally for a code-jock in khakis and an almost-clean white shirt. ''A hangover from yesterday,'' whispers Samit. ''We insist on formal attire on Mondays. But as the week progresses, things will get more and more casual.'' I can see that: khaki-and-white hasn't shaved. What's strange, though, is that there isn't much talk in the bus. People sort of say hello and then whip out newspapers and magazines (a few rows in front, a girl who looks like she means business takes what looks very much like a tech-book from her bag) and bury their noses in them. And yes, I can see a couple of heads right up in front starting to nod off. Samit follows my line of vision and shrugs: ''Some catch up on their sleep.''
The crowd's also far more cosmopolitan than I expected (so much for preconceived reporter-notions). To my untrained eye-it isn't too difficult to hazard fairly accurate guesses on provenance-there appears to be the usual profusion of eggheads from the South of the Vindhyas. But there are also faces that bespeak an origin in other places: the West, the North, and the North-East. I learn later that three or four of the outsiders often get together and sub-let an apartment or a house in localities like BTM Layout.
But to get back to the bus, the crowd, with one significant exception-me-is young. Most of them are junior employees. Other junior employees ride into work on their motorcycles, but the company discourages the practice: Hosur Road, for those who don't know their Bangalore is as treacherous a thoroughfare as you can get. Most executives in the middle - and the senior-levels- include some junior employees who've cashed in their stock-drive into work.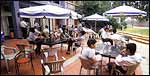 [ II ] It's a quarter past seven and the bus rolls into the Infosys lot. Spread across 50 acres, the company's campus-that's what everyone insists on calling it-has grown to almost unrecognisable proportions from the one I visited in the summer of 1995. Then, the Infosys campus had all of one office block (presently, to my dismay, called the Heritage Building); now it has five. Then, it had one canteen; now it has three, apart from a Dominos outlet, a Coffee Day bar, a kathi-roll joint, and the only branch of that hallowed dive, the Mavalli Tiffin Rooms (MTR). Then it had one small gymnasium. Now it has a 5,000-square feet one that comes with a sauna. Other novelties on the campus include a 5,000-square feet swimming pool, a three-storeyed chrome and glass training centre where fifty of the country's best software instructors put every batch of engineers recruited by the company through a gruelling three-month training programme (Investment: Rs 23.6 crore), a parqueted aerobics room, Asia's largest video-wall, and a full-fledged medical centre. And yes, a miniature golfing green.
The constructions are easy on the eye; the emphasis on detail just short of staggering. Mohandas Pai, Infosys' CFO who doubles up as its head of administration-a bearded giant, he moves at a speed that belies his, um, bulk-points to a Sydney Opera House-like structure on a campus walkabout. For the architecturally inclined (others may skip this sentence), each of the four walls is shaped like a parabola, forming four hyperbolas where the walls meet; and the curvature of the parabolas and the hyperbolas is the same. ''We had to crunch over 4,000 equations to get that right,'' boasts Pai.
The hubris-that's the word that comes to mind-may seem out of place in a company that sets store by the virtues of humility and austerity. Still, there is nothing wrong in spending Rs 320-crore (that's how much the campus will eventually cost) in creating, purely from the physical perspective, a great workplace. Not if the company has seen its stock price zoom from Rs 63.75 in early April 1996, to Rs 7,160 today (December 15, 2000); its sales from Rs 88.97 crore in 1995-96, to Rs 884.35 crore in 1999-2000 (Sales for the half-year ended September 2000: Rs 801.63 crore); and its profit after tax from Rs 21.01 crore to Rs 293.52 crore in the same period (for the first half: Rs 280.81 crore). Not if the company has managed to offer stock options to 7,853 of its 7,925 employees (as on September 30, 2000) creating, in the process, 1,773 rupee millionaires and 213 dollar millionaires. Indeed, a couple of enterprising Bangalore-based real-estate developers make a living primarily from selling apartments to people who work for Infosys. And certainly not if it has what it takes to be a great place to work.
C E O B Y T E S

In a sense, all your people policies are focused on making people believe...
The task of leadership is to make people believe in themselves, the organisation, the value system and the philosophy of the organisation, in the aggressive targets the organisation sets. Belief comes from trust: the trust that this organisation isn't about making one set of stakeholders better off; it is about making every one of us better off.... And belief in a civilised society comes from accepting the norm that if we sub-ordinate our personal interest in favour of the larger community interest-the interest of the company in this case-eventually we'll be better off.

To what extent do you think you have succeeded in cascading this down the organisation?
Leadership has to be by example. I think what we have done in our own small way in this organisation is to demonstrate that there is good in actually doing what we say. For example, all our doors are always open. It's a meritocracy; there are no groups in this company. There is fairness in every decision.

But some people may just like working in Infosys because it helps them enhance their wealth and do the kind of work they like to...
Let's put it this way. These are new ideas in this country; we've made a small start. But if we can proselytise a small section of this community we can expand, and once we get to that critical mass, everyone will buy into it. Not just at Infosys, but at every other company. Because you need a successful model of such community behaviour. I have no pretensions. We have started this marathon. We have a long way to go.
[ III ] It's a little before eight, I've breakfasted (at MTR, where else?) - everyone pays market prices for food; someone later tells me Chairman Narayanamurthy believes subsidies on food aren't exactly what software engineers need - and am watching the cars rolling into work. Most are Maruti 800s, Zens, and Santros (there's the austerity bit again), although it isn't too difficult to spot a Ford Ikon or a Lancer. I spot the first gray hairs I've seen all morning in some of these cars. Most of those driving in scurry straight into work-a few exceptions linger long enough at Coffee Day to pick up some latte or mocha. Some are carrying their lunch.
With 4,616 employees working in the Bangalore campus itself, not everyone knows everyone else. Infosys is also a company everyone seems to want to work for: it received 1,83,966 applications in 1999; and till December 1, 2000, it had received 2,59,820. And the pace of recruitment has been hectic: in six months, between April and September, 2000, Infosys hired 2,991 people. That kind of number could make some employees uncomfortable. As Muthamma Acharya, a twenty-something marketing executive with the company puts it: ''You come in one morning and find the breakfast line 400-people longer''. The average Infoscion (as those who work for the company call themselves) isn't really bothered by this. The physical environment helps: you wouldn't feel overwhelmed in a college campus, would you? Nor is the Bangalore facility the only one where Infosys is trying to create an atmosphere. ''All our centres will have similar facilities soon,'' emphasises Pai. ''Perhaps not on this scale, but they will.'' What also helps is a similar educational background. Apart from the 840 people who work in Infosys' staff functions (like hr, Finance, Marketing, and Administration) everyone else is a techie.
The accent on the physical aspects of the workplace also part-addresses another critical issue: stress. ''Every time things get a little too much for me,'' confesses an employee who not infrequently puts in 16 hours a day at work, ''I go out for a smoke, or a walk, or play a few holes of golf.'' And Infosys' torrid growth rate (sales grew by 111.75 per cent in the first half of 2000-01; net profit by 122.30 per cent) ensures that the organisational pyramid expands to fit a growing number at the middle and the top. ''We are growing so fast that many people with two to three years experience are getting into managerial roles,'' admits Hema Ravichandar, Senior Vice-President (HR). Still, that only happens to those willing to let it happen to them. ''I don't have to become a project manager if I don't want to,'' explains Sushil, who works for Infosys' m-commerce practice. ''I can focus on the technology and become a technical consultant to projects.'' Sums up Suparna Shankar, an Assistant Manager (Marketing ) in the company's Asia-Pacific operations: ''You can create a role for yourself.''