INDIA'S BEST EMPLOYERS: THE TOP 5
[2] P&G: Pure Passion

A sizzling-young atmosphere and a focus on knowledge-enhancement makes this transnational the second-best employer in the country.

By Brian Carvalho

The belt around Tiecicon House-the India headquarters of Procter & Gamble (P&G)-is bustling. Bang opposite is Famous Studios, from which I witness a stream of wannabe models and actors rushing in or out. Between the two buildings, tie-clad executives, camera crew members and taxi drivers flock around the ubiquitous tea stall, paanwalla, and the sandwich-maker lined along the footpath. Ubiquitous in Mumbai, except for one thing: this sandwich-maker also has a baked beans speciality. Perhaps it's a favourite at P&G.

Enter Tiecicon House and I am suddenly cut off from the roadside flurry. Perhaps I shouldn't be saying this, but Tiecicon House isn't exactly a building you'd expect to be housing this blue-blooded fast-moving consumer goods multinational (that's why they're finally moving in July). Spartan would best describe the structure, which also houses a couple of multinational corporations that don't ring a bell offhand. I take the lift to the second floor, enter my name and other unnecessary details into the visitors' book, clip on my visitor's tag and walk into the reception area. The mood of austerity persists (although the Christmas decorations relieve it somewhat), as I see a security guard (outsourced) sitting in the receptionist's seat. He asks me who is it that I want to meet, and directs me to take a seat. A few minutes later I meet up with Shweta.

Hi I am Shweta Godbole, Associate Manager (Public Affairs). I joined P&G six months ago straight from campus, one of the 30-odd greenhorns P&G picks up every year (let me remind you that almost every recruitment at P&G happens via campus). Before that, I had done a two-and-a-half month summer training stint at ...Hindustan Lever! Yes, I know what's running through your mind, but let me just say this much: P&G was the first offer I got at campus, which I gleefully accepted. (I did my MBA at Narsee Monjee Institute of Management Studies, specialising in advertising and communications.) I know you are dying to ask me to compare my experiences at Lever and P&G. Instead, I'll tell you why I decided to opt for P&G without even waiting for other offers.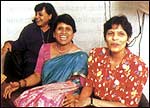 The two biggest attractions of P&G without doubt are, as Sunil Durrani, our Executive Director for India & Thailand, will tell you, early responsibility and the ability to chart out a rapid career path. Right from Day 1, P&G gives you the feeling that you are in charge. And your career path isn't restricted by geographical limits. The best way to illustrate this point would be to drop a few names. I don't know whether you remember Ravi Chaturvedi, who joined the company way back in 1983 (when it was known as Richardson Hindustan). In a couple of years, he was off to the Philippines, he then returned as brand manager, rose to marketing director, and by 1997 was country manager at Thailand. Today, Ravi is Vice-President (Hair Care) for the entire North American region, a $6- billion business which contributes 8 per cent of P&G Worldwide's total revenues. Another one to make it big after starting out in India is Moheet Nagrath, who is now a Vice-President in Cincinnati, US. Sunil told me the other day that as many as 200 executives from our Indian office are now posted at overseas P&G bases.
Let's now get into a little more detail with two of my colleagues, Deeptha Chandrakumar and Sandeep Seth, both assistant brand managers who will be moving to Singapore in April to take on added responsibilities-just two years after joining P&G India! Before that, I'll make a mention of another one of my young colleagues, Shalini Nagesh. As Manager (Plant HR), Shalini looks after the hr function of two of our Goa plants, right from recruitment to employee relations to organisational design. Oh, did I mention that Shalini has been with P&G for just one-and-a-half years! ''It's a challenge, but then I know that I have a massive support structure to lean on,'' says Shalini.
I'll take a small break here, and let Deeptha and Sandeep talk about their experience and their move to Singapore.
Responsibility Comes Fast
Deeptha: Hi, let me begin by saying that when I joined P&G I knew that I would have a career in the world. But I didn't know that it would come so soon! I've been looking after the Whisper brand in India, and once I move to Singapore I will be still be on the same brand but with added cross-country responsibility across the AAI (Asean-Australia-India) region. That's P&G for you: responsibility comes fast. Why, I remember that my first responsibility was thrust on me in my first week itself! I had to draw a plan on a TV talk show that was being promoted by Whisper. My task didn't end there. I had to ensure that the show received the television rating points targeted by my seniors. Six months later, I was put on to a bigger project-Project Drishti, via which on every sale of Whisper, Re 1 went to the National Association for the Blind. This was indeed challenging, as for the first time I had to interact with various bodies including gynaecological societies and Unicef. But I was secure as I knew that my seniors trusted me, and their sense of involvement was high. I knew that I could jump into the pool right from day one and that I wouldn't drown. The coaching and training I received was tremendous. And this isn't just restricted to classroom sessions. For instance, we would have these marketing lunches, where my brand manager would talk about her experiences, and hear out my problems. I am sure Sandeep has a similar tale to tell.
Sandeep: Yes, pretty much actually. Like Deeptha, I am also headed to Singapore for bigger responsibilities. I was handling Tempo here, but by April 1, 2001, will be looking at the Singapore and Malaysian operations of Pringles. What I would like to talk about is how P&G pulled out all the stops to make our transition to Singapore a painless and seamless exercise. You'd probably see photographs of Deeptha and myself in what's known as the Transition Room, where all kinds of information about Singapore-food, housing, people-is available. Whenever we get the time, we slip into this room and catch up with life in Singapore.
C E O B Y T E S

On what makes P&G such a great company to work for...
The best thing about P&G is that it's not driven by hierarchies and protocol. What's more, the interest of the company and its employees always go hand in hand. In fact, the way we seek to provide shareholder value is by keeping our employees' interest at the forefront.

On what employees look forward to once they join P&G...
P&G's two main attractions are its ability to provide global opportunities and early responsibilities. At campus, where we compete with the best, we strive to convince students that they will have space to move on at P&G. And once they come on board, they're expected to own a territory and start performing from virtually Day 1 itself.

On the perception that P&G is reducing its focus on India...
We are not de-emphasising. In fact, thanks to our regionalisation strategy, we can now access a larger share of investment. We are now in a position to prove that the perception that we are pulling back is wrong. Our Indian business is significantly larger now, and we'll be posting double-digit growth for the second consecutive year.