Deal-Meister
He may be elusive and media-shy, but he's the man behind most of India's earth-shattering M&A deals. From Grasim's buy-out of Reliance's stake in L&T to the creation of the BPL-Birla-AT&T-Tata axis, it's been a 'win-win' ride for JM Morgan Stanley's Nimesh Kampani. A look at what makes India Inc's ace deal-maker tick.
By Brian Carvalho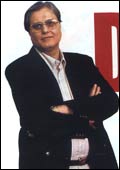 Nimesh Kampani: first among equals
December 1999: Birla-AT&T, the cellular service provider for Maharashtra (excluding Mumbai), Goa, and Gujarat hands out a mandate for an initial public offer to investment bank JM Morgan Stanley. The proposed size is Rs 850 crore. JM Morgan Stanley is busy tying up funding from the institutions, and IDBI sanctions Rs 120 crore. The issue is slated to hit the market in the first quarter of 2000-2001. It never does, thanks to one Nimesh Kampani.
The chairman of JM Morgan Stanley meets the Birla-AT&T top brass, including CEO Sanjiv Aga and Chairman Kumar Mangalam Birla, and proposes that the public issue be put on the backburner. Instead, Kampani suggests, why not consolidate the company's operations by increasing the number of circles it operates in. That, surely, would make the company far more valuable. Aga and Birla are interested. Next step: to find a partner that fits best with the Birlas. Kampani feels the Tatas should be the first choice for the merger with Birla-AT&T. For Tata Cellular, the alliance makes good business sense too, since it has a presence only in one circle (Andhra Pradesh).
THE MEN
BORN: September 30, 1946
EDUCATION: Graduate from Sydenham; Chartered Accountant
COMPANIES FOUNDED: JM Financial & Investment Consultancy Services in 1973; JM Share & Stock Brokers in 1985; Joint venture with Morgan Stanley in 1998
ON THE BOARDS OF: 20 companies, including Gujarat Ambuja Cements, Escorts, Ranbaxy, and Tata Infotech
OTHER POSTS: Chairman of CII's Financial Services Committee in 2000-2001; member of SEBI's Primary Market Committee and of the Bhagwati Committee on SEBI Regulations for Substantial Acquisition of Shares and Takeovers
HOBBIES: Doing deals, and more deals
Kampani first bounces off the idea with N.A. Soonawala, Finance Director, Tata Sons. He then takes it to Kishore Chaukar, Managing Director, Tata Industries, and then finally to Ratan Tata. It doesn't take too long to get Tata's in-principle agreement.
The independent valuators then get into the act, a partnership of equals is hammered out (Birla, Tata, and AT&T each agree to a 33.33-per cent holding) and the deal that brings two of India's biggest business groups for the first time ever in Indian corporate history has moved from proposal stage to completion in 45 days.
That's Nimesh Kampani at work for you: swift, unobtrusive, and at the right time at the right place. ''It's a win-win situation for all,'' says Kampani, as a matter of fact. In fact, 'win-win' has become a favourite buzzword with this dyed-in-the-wool deal-maker. For that's exactly how most of his mergers and acquisitions have worked out, be it an Ambuja-acc alliance or an Alcan-Hindalco amalgamation or a BPL Cellular-Birla-AT&T-Tata merger, or the most recent Reliance-Grasim-L&T arrangement, with Grasim picking up the Ambani's 10 per cent stake in the engineering, construction, and cement major. ''Managements have to be open to change, and fast,'' says Kampani with a smile.
LANDMARK TRANSACTIONS:
November 2001: Grasim-Reliance-L&T
Advised: Grasim
Nature of Deal: Grasim buys Reliance's 10.05 per cent stake in L&T, at Rs 306.6 per share, in an all-cash deal
Value of Deal: Rs 770 crore
JM Morgan Stanley's Role: Positioning of sale; negotiation strategy; deal closure; media management, and documentation for deal closure
Highlights of Deal: Grasim gets a foothold in India's premier infrastructure company, Reliance gets rid of a dead investment (at a handsome 47 per cent premium to the prevailing market price), L&T gets an opportunity to exploit potential synergies in cement with Grasim

October 2001: ICICI-ICICI Bank
Advised: ICICI
Nature of Deal: ICICI, ICICI Personal Services and ICICI Capital merged into ICICI Bank, at a ratio of one ICICI Bank share for every two ICICI shares
Value of Deal: Merged entity is now a Rs 95,000-crore powerhouse
JM Morgan Stanley's Role: Performed a valuation exercise in order to arrive at swap ratio; valuations and swap ratio then negotiated with advisors of ICICI Bank
Highlights of Deal: Creation of India's second- largest commercial bank; largest banking M&A transaction in India; ICICI gets to become universal bank

July 2001: BPL-Birla-AT&T-Tata
Advised: BPL Communications
Nature of Deal: The merger of BPL and Birla-AT&T-Tata's cellular properties
Value of Deal: $2.1 billion (Rs 10,052 cr)
JM Morgan Stanley's Role: Exclusive financial advisors to BPL; leverage of relationship with the Birlas, Tatas, and AT&T
Highlights of Deal: Largest M&A deal (though not yet completed) in India; creation of India's largest cellular services company, with a marketshare of 24 per cent, spanning Mumbai, Tamil Nadu, Kerala, Madhya Pradesh, Chattisgarh, Gujarat, Maharashtra, and Goa
OTHER TRANSACTIONS:
March 2000: Alcan-Hindalco
Advised: Alcan
Nature of Deal: Hindalco buys out Alcan's 54 per cent stake in Indal, at Rs 190 per share
Value of Deal: Rs 1,008 crore
JM Morgan Stanley's Role: Positioning of sale; negotiating; sale of Alcan's stake at 54 per cent premium; media-management, strategic advice to Indal employees; documentation for closure
Highlights: Largest cash deal in India; brought together leading aluminium players; Hindalco gained presence in value-added products

March 2000: Birla-AT&T-Tata
Advised: Aditya Birla group
Nature of Deal: Merger of Birla AT&T and Tata Cellular, with each party holding a 33 per cent stake
Value of Deal: Merged entity had an enterprise value of Rs 3,300 crore
JM Morgan Stanley's Role: Conceived the idea; initiated negotiations; conducted detailed valuation; and closed the deal in 45 days.
Highlights of Deal: Brought two of India's biggest business houses together for the first time; created considerable economies of scale

December 1999: Gujarat Ambuja-ACC
Advised: Gujarat Ambuja
Nature of Deal: GACL, through a subsidiary, picked up a 7.2 per cent stake from the Tatas at Rs 370 a share (the Tatas exercised the option of selling another 7.24 per cent later).
Value of Deal: Rs 900 crore.
JM Morgan Stanley's Role: Valued Tatas' holding; advised GACL on acquisition; and negotiated
Highlights of Deal: A step towards the consolidation of the fragmented cement industry; timing was crucial because of the fear of MNCs like Lafarge
Don't let that unassuming smile lull you (it can). For, within Kampani the hunger for the next deal, the desire to be at the top of the investment banking sweepstakes burns on. The 55-year-old, six-foot former cricketer isn't given to bragging, but when it comes to the competition, he's clear about one fact. ''We are the best. We are the most innovative. We have the best execution team in India.'' Cold numbers validate those boasts. For the past three years, JM Morgan Stanley has been at the top of the league tables. And by the time you read this, Kampani will ensure that JM Morgan ends 2001 as No 1, in terms of deals announced. (The $2.1-billion BPL-Birla-AT&T-Tata deal isn't complete).
If not for him Birla-AT&T would still be a three-circle cellular provider; Lafarge would probably have become India's largest cement manufacturer by acquiring ACC's 11.5 million-tonne capacity; and Indal would be in the Sterlite fold.
If not for Nimesh Kampani, it wouldn't be an exaggeration to say that a chunk of the consolidation within Indian industry wouldn't have taken place. And it's his ability to turn out landmark transactions on a regular basis that makes it difficult for corporate India to ignore him. ''His biggest skill is deal origination. Others can implement or negotiate, but his ability to see opportunity to bring industrialists together is something very special,'' points out Nowshir Mirza, Director, Ernst & Young.
The Old Boys Club
And then there are those relationships-carefully nurtured over decades-with the country's top business houses that makes JM Morgan Stanley the first port of call for Ratan Tata, the Ambanis, Kumar Birla, Gujarat Ambuja, Escorts, Nusli Wadia... the list can go on and on. True, many of these business groups do call in other investment bankers periodically (DSP Merrill Lynch and Kotak Mahindra being the other top favourites), but there's little doubt about who they're most comfortable with. Industry sources reveal that JM Morgan wasn't the first investment bank to take the L&T deal to Birla, but when it came to negotiating with the Ambanis, Birla's comfort level was highest with Kampani.
The rest was relatively easy; negotiations on the phone with Anil Ambani, who was in South Africa at that time, were 'fierce', but the deal was signed in less than a week. ''Few can claim to have the tremendous confidence and trust Nimesh has built amongst India's biggest industrialists. He's not a Tata man or a Birla man, but has built deep relationships with each of the major groups,'' adds Mirza, who's watched Kampani for 30 years now. ''There are probably just six-to-eight people in India who can make a call to any of the biggest Indian industrialists and get them on the line. Nimesh is one of them,'' adds Munesh Khanna, Head (Corporate Finance), Andersen, who has done a few valuation exercises for JM Morgan.
Trying to get Kampani to talk about his deals, his relationships, his negotiation strategies, himself, isn't easy. ''Investment bankers shouldn't be talking too much, they should be listening,'' he grins. That's why he doesn't approve of too much partying (and drinking) by his team. He's distinctly uncomfortable with the idea of being splashed on the Business Today cover, and only agrees mid-way through the second meeting (there were three of them totalling over five hours), thanks largely to the efforts of the well-oiled JM Morgan corporate communications machine. ''I am a low-profile guy,'' he shrugs.
Walking A Tightrope
More significant than the spontaneous flair with which he manages these relationships is Kampani's skill at avoiding potential conflicts of interest. And that's where the credibility and trust factors play a major role. For instance, Kampani represented Birla in the telecom merger with Tata, and then BPL in the subsequent merger (and he's perceived to be close to the Tatas!). He represents Reliance on many deals (including the open offer for BSEs), but was on the board of Essar Shipping at one time, and even represented Nusli Wadia.
PEER-SPEAK

Shitin Desai
Vice Chairman, DSP Merrill Lynch
"No investment bank can have a 100 per cent monopoly on any company. There's little to differentiate the top three"

Ashok Wadhwa
Managing Director, Ambit Corporate Finance
"Nimesh is in tune with complex financial issues. He's tough. You need depth of knowledge to sit across him at the table"

Munesh Khanna
Head (Corporate Finance), Andersen
"Nimesh is one of the six-to-eight people in India who can call the biggest Indian industrialists and get them on the line"

Nowshir Mirza
Director, Ernst & Young
"Nimesh has the ability to build trust among Indian industrialists. He's been able to grab opportunities to bring them together"
Recently, Reliance wanted to give Kampani the mandate for the acquisition of Enron (via bses), but he refused because the Tatas approached him first. And in the IBP privatisation JM Morgan is representing Shell, although Reliance too is in the race. ''I don't speculate, I don't trade. I give honest advice that is in my client's best interest. Much of my time goes into managing conflicts. I am willing to lose business, but don't want my relationships to get damaged.'' Adds P. Krishnamurthy, Vice Chairman, JM Morgan Stanley: ''We're relationship-, not transaction-oriented.''
The relationships are Kampani's solid foundation, on which he's built myriad other skills that make him India's most powerful deal-maker. Numbers alone can't tell the entire story-a tale of a shrewd negotiator, who can find his way smoothly through the regulatory maze and juggles comfortably with complex financial convolutions.
Consider, for instance, the ease with which he rattles away the six points of control based on the number of shares held: if a company has a 10 per cent holding in another, it has the right to go up to the Company Law Board for redressal if it feels oppressed; if it has 25 per cent, it can block voting resolutions; 50 per cent gives control of board; if it goes up to 75 per cent, it can pass all special resolutions; over 90 per cent allows the acquirer to force the minority shareholder to sell its stake; and 100 per cent, of course, paves the way for a de-listing from the bourses.
''Nimesh is in tune with the regulatory environment (be it the Companies Act or the Takeover Code) and complex financial issues. He's a tough negotiator, and you need depth of knowledge to sit across him at the table,'' points out Ashok Wadhwa, Managing Director, Ambit Corporate Finance, who has sat across Kampani on a deal or two.
1 2