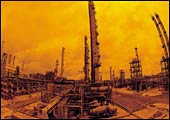 IPCL's olefin plant at Vadodara, Gujarat: Value waiting to be unlocked
Look at it whichever way you want. The three chapters in this disinvestment story couldn't be more unrelated. First of all, look at their businesses: one is into international long distance telephony; another pumps out petrochemicals, and the third bashes (ok, non-ferrous) metal-zinc, to be precise. Then, look at the price at which they went: IPCL fetched the highest at Rs 1,491 crore, vsnl a close Rs 1,439 crore; and Hindustan Zinc, a relatively modest Rs 445 crore. Finally, consider the challenges each of the new owners faces: The Tatas, despite their face-off with the Communications Ministry, must figure out ways of making the acquisition viable; the Ambanis of Reliance have probably got themselves a nice deal in IPCL, but there's historic baggage (read: expensive overheads) that they need to get rid of and then invest in expanding capacity. Anil Agarwal of Sterlite, which also acquired Bharat Aluminium Company, must drub Hindustan Zinc back into shape.
In each case, the buyers may have paid for the speculators too. vsnl's stock price is down to Rs 103 from Rs 179 in mid-February; IPCL has taken a bigger hit, falling from Rs 154 in June, when the deal was struck, to Rs 60 now; and HZL has halved in market price to Rs 16 over the last six months.
The question, then, that the new owners-and the other investors-must answer is this: can the latent value in these three companies be unlocked to take the stock prices to a new high, or will the acquisitions prove an expensive (even bitter) lesson in M&A? A big part of the answer lies in two things: One, the industry environment-including things like prices and regulations-and, two, the strategic plans of the new owners. Let's start with VSNL.
A TALE OF THREE PSUS
In each case, there are pitfalls to negotiate.
Why It Makes Sense


VSNL: With its ILD dominance and DLD licence, VSNL fits in well with the Tata group's strategy of becoming an integrated telecom player.
IPCL: IPCL and RIL have a near monopoly of potentially one of the largest markets in the world. Per capital consumption of polymers in India is one-sixth of the world average.
HZL: The zinc-led producer fits in well with the copper business of Sterlite and the aluminium business of Balco, acquired earlier by Sterlite.

What The Owners Plan
VSNL: Gaining consumer access through tie-ups with local access providers starting with Tata companies. May have to undertake direct marketing to build relations with consumers.
IPCL: Growth through geographical expansion, market consolidation, product extensions, acquisitions, and greenfield investments. Investment in infrastructure and water also planned.
HZL: Increase capacity and productivity of the workforce. Apparently, productivity is set to touch an all-time high this financial year.

What The Issues Are
VSNL: Needs to hammer out a favourable interconnect agreement with BSNL and MTNL, which could be crucial to its long-term competitiveness. Needs to roll out DLD quickly.
IPCL: Needs to cut overhead costs, reduce manpower, and interest costs to become more competitive. May also need to increase capacity of polyethylene and polypropylene.
HZL: Industrialised nations are increasingly opting for aluminium and plastics over zinc. The trend may come to India, although it may take several more years.
The Morning After
One of the things that the Tatas are unhappy with in the VSNL deal is the compensation package given by the government to the TELCO for dismantling its monopoly in April this year, two years ahead of schedule. The package includes a licence to provide domestic long distance (DLD) telephony, but none for fixed line or mobile telephony. Union Communications Minister Pramod Mahajan maintains that the package was accepted by the old management and the new one knew about it before bidding for the company.
One could forgive the Tatas for feeling miffed. After all, VSNL is under pressure. While the global long distance traffic has remained flat over the last few years, new players like Bharti Telesonic and Data Access have launched their ILD operations and are also biting at VSNL's heels. There is pressure on its margins due to a 40 per cent fall in tariffs triggered by the new entrants. It is engaged in a bitter haggling with Bharat Sanchar Nigam Ltd and Mahanagar Telephone Nigam Ltd over revenue-sharing on international calls. The two PSUs own practically all of the fixed-line telephone subscribers in the country and are, therefore, the largest customers of VSNL-a fact they are exploiting to the hilt.
Still, the Tata top brass appears sanguine, claiming that VSNL need not lower its tariff further. Their argument is that neither of the competitors has the capacity to carry any significant chunk of India's ILD traffic (2.5 billion minutes of incoming and 0.7 billion minutes of outgoing per year, as of March 2002). Customers will, therefore, not be able to connect through the competing networks and will go back to VSNL.
Bharti Telesonic's CEO N. Arjun disagrees. "As the traffic grows, we can easily buy additional capacities," he claims. Besides, Bharti doesn't need to replicate VSNL's infrastructure. It has entered into bilateral agreements with foreign carriers focusing on 10 countries that account for 80 per cent of the traffic. Siddharth Ray of Data Access claims to have cornered between 20 and 25 per cent of the country's ILD traffic, outbound plus incoming.
BT 500 RANK




22


AVG. MKT. CAP
4,387.1*
For H1 2002-03 in Rs crore

VSNL's tussle with BSNL and MTNL, and new ILD competitors may be worrying some investors. But there's little doubt that the erstwhile PSU fits in well with the Tata's overall telecom gameplan.


Ratan Tata


Chairman, VSNL
The thing in favour of VSNL is that Bharti and Data Access have been tapping only a small amount of the outbound traffic originated by private basic and cellular operators. With BSNL and MTNL, VSNL enjoys a preferred carrier status for the next two years. But it will be hard-pressed to charge a premium. In DLD, for instance, the bigger BSNL was forced to undercut Bharti, even though Bharti was confined to the cellular-to-cellular traffic, a meagre 7 per cent of the market.
What this means is that VSNL needs to do something fast. "There are huge uncertainties over the core business of VSNL," says Manish Srivastava, an ABN Amro analyst. "Investors, especially those in the secondary market, are not comfortable with the uncertainty," he says.
The Tata think-tank is aware of the need. Says a group executive: "VSNL has to fit into the context of the group's overall telecom strategy, which is an integrated one starting with international traffic to the last mile access to the consumer, retail as well as corporate." The strategy envisages group company Tata Teleservices, the basic and limited mobility operator in six circles, including Delhi and Mumbai, and Idea Cellular (in which the Tata group is one of three investors) as access providers, and VSNL providing the long distance transport, international and domestic.
The Tatas, however, have not yet rolled out VSNL's DLD service. "If I had acquired VSNL, I would have launched the DLD service the next day," says a rival. And the bid to get consumer access by investing Rs 1,200 crore out of VSNL's reserves in the equity of Tata Teleservices has been stalled thanks to the intervention of the communications minister. The issue is now before a review committee.
BT 500 RANK




24


AVG. MKT. CAP
3,084.4*
For H1 2002-03 in Rs crore

IPCL's PSU past means the company is burdened with inefficiencies of all kinds. Not surprisingly, the new management is focussing on productivity improvements.


Mukesh Ambani


Chairman, IPCL
Besides, the new status of VSNL as a private sector company has its erstwhile siblings looking upon it as just another rival. It doesn't help that MTNL is a rival to Tata Teleservices in Mumbai and the two will soon compete in Delhi. The other four operations of TTL happen to be the most lucrative operations of BSNL. DLD happens to be BSNL's cash cow. Thus, VSNL's bid to get consumer access and enter DLD takes it head on against its two biggest customers.
However, the Tatas' immediate concern would be to thrash out an interconnect agreement with BSNL and MTNL, which have leveraged their dominance in the access business to work out a very lucrative arrangement with Bharti and Data Access. The PSUs now want similar terms from VSNL. They seem to hold the most potent cards in the game since VSNL's preferred carrier status can be scrapped if it doesn't offer 'market prices'. Mahajan has been saying that the PSUs will be happy to join hands with Bharti and Data Access if VSNL did not match their rates.
All said and done, VSNL may not be a bad buy for the Tatas. They paid close to Rs 2,500 crore for a 45 per cent stake in it. VSNL earns over Rs 7,000 crore in revenues, has about Rs 2,000 crore worth of cash on its books, its 5.4 per cent equity in Intelsat is valued at close to Rs 1,200 crore, and it has a healthy revenue stream in leased circuits business. Plus, there are its internet service business, real estate, other infrastructure, and incumbent strengths. "Even the worst case scenario for VSNL will not be as bad as it is being made out to be. It can make a decent amount of money even if it accepts BSNL's terms," says Srivastava of ABN Amro.
Strength In Size
There is no such confusion over the wisdom behind Reliance's acquisition of IPCL. It happens to be India's second-largest petrochemicals company and fits well with the oil business of Reliance and the two together have a near monopoly of the sector. The two together rank 11th in the list of world's largest polymer producers. And since they service the same customers, both in domestic as well as overseas markets, a detailed programme is underway for integrating their operations at marketing offices and warehouses.
HINDUSTAN ZINC: BROWN GOLD?
In the midst of big-ticket divestments of VSNL and IPCL, little attention has been paid to Sterlite Industries' acquisition in April this year of Hindustan Zinc Ltd, one of India's leading zinc products manufacturers. Having acquired 26 per cent of the government's equity and another 20 per cent through an open offer, Sterlite has been busy cutting costs and improving productivity with a vengeance. HZL is projected to end this financial year with a 20 per cent increase in production to 205,000 tonnes.

Next on the cards is a two-fold increase in capacity through a combination of brownfield expansion and debottlenecking. Plans are afoot to up the production at five lead-zinc mines operated by HZL. Zinc consumption in industrialised countries is stagnating due to its increasing replacement by aluminium and plastics. But lesser developed countries are still growing consumers of zinc. In any case, since India is a net importer of zinc, all of HZL's production finds a market within the country.

Investors, however, would be paying extra attention to HZL. Bharat Aluminium Company (BALCO), an unlisted company in which Sterlite acquired 51 per cent equity in March 2001 (the government holds the rest), reported a dismal performance in its first full year (2001-02) under Sterlite. Its net profit plumetted to Rs 87 lakh from Rs 55.72 crore in the year before. Sterlite cited a 67-day strike and a steep increase in power costs due to prolonged shutdown of one of Balco's four captive power plants as the reasons. The investors would be hoping no such thing happens with HZL.
Not that there aren't issues to be tackled at IPCL. Its PSU past means it is burdened with inefficiencies and high costs of all kinds. Says Miten Lathia of SSKI: "IPCL has the high cost structure typical of a PSU. One would look forward to improvements on that front." Not much has come from the company officially on the future plans, except that feedstock integration between the two companies, particularly in naphtha, has already been achieved, resulting in lower costs to IPCL. Reports, however, suggest that Reliance is already busy, albeit quietly, addressing the other issues.
One of the first things it is said to have done after acquiring a 46 per cent stake in IPCL at Rs 231 a share is to put a proposal to the government to pre-pay a $100-million loan. Refinancing of an overseas commercial borrowing is also planned. The idea: halve IPCL's interest costs to the levels of Reliance. "IPCL can now raise funds at 6.5-7 per cent, the rate that applies to Reliance," says Satyam Aggarwal of Motilal Oswal.
However, there are no immediate plans of a merger. "The current focus of the company is to make it debt-free and enhance its capital productivity," new Chairman Mukesh Ambani said at the company's AGM in Vadodara on September 28. "By March 2003," he added, "IPCL (would be) on the rebound and be recognised as the most successful example of the disinvestment programme of the Government of India." Investors-not just of IPCL-will be watching.