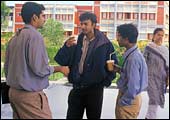 IT services: Happy days could be here again for techies like these on Infosys' campus in Bangalore
First, the bad news: there is no global recovery in it yet. Now, the good news: Despite-or may be because of-near recessionary conditions in the US and Europe, there could be more it outsourcing work coming India's way. That's because in a bid to cut costs, companies are not just outsourcing but offshoring work to cheaper, but reliable, vendors. And by all measures, India has the most of them. Therefore, absolute spend on it continues to be stagnant, but India's share in it is set to go up. In fact, while announcing Wipro's second quarter results recently, the company's Chairman Azim Premji said as much. ''A challenging business environment has made India-based offshore initiatives a key priority for global corporations.''
A recent survey of global Chief Information Officers in the US backs Premji's claim. According to the survey, spending on global it services outsourced to India will increase from 3 per cent to 6 per cent in 2003. That means even if the it spend continues to stagnate, India's share could straightaway double. ''The increasing interest in outsourcing and increased awareness of the Indian offshore model have been the key drivers of volume growth,'' notes Nilambu Syam, it Analyst, Kotak Securities.
That the industry can already sense the coming tide was obvious in the first flush of second quarter results announced over the past fortnight. For Infosys, the q2 sales were up 15 per cent quarter-on-quarter, but a significant 35 per cent year-on-year. Similarly, while its net profits for the quarter was up 11 per cent, on a year-on-year basis it grew 19 per cent. By comparison, Wipro's revenues jumped 21 per cent, although the bottomline grew an unimpressive 2 per cent. (Satyam Computers and HCL Technologies had not yet declared their quarterly results when BT went to press.)
What's important about the results is that they hint at some sort of a price stabilisation-the first sign that there's a let up in pricing pressure and that it spending may start growing. In fact, Infosys reported an increase in offshore pricing of 2 per cent and onsite pricing by 6 per cent q-on-q. Nasscom Vice President Sunil Mehta says that based on the association's routinely collected data, top-notch Indian it companies are high on the list of global players and that these top companies have been routinely bagging multi-year offshore contracts, like Wipro's Lattice contract, which was valued at about $75 million. ''Earlier, the size of contracts was smaller-$10-15 million, on an average-though this was distributed among several it companies,'' points out Mehta.
The number of first-time vendor-seeking clients visiting the country, Mehta further points out, is also increasing, with two or three coming every week. Most of the large companies have added 25-30 clients during the last three quarters. Wipro added 30 new customers, while Infosys added 18 new clients during the quarter. These clients have not started giving business, but the project ramp-up could start now. The results of second-rung companies like Mastek, Visualsoft, and Mphasis clearly indicate that volume growth is there. In anticipation of that not only are people being pulled off the bench, but fresh recruitment is happening as well. For instance, Infosys recruited 1,806 engineers last quarter-the highest to date.
Offshoring may be a boon for Indian it services companies, but risks remain. The biggest one is the slower than expected global recovery, especially in the US and Europe, which anyway is not a big customer for India. Another concern is on the geo-political front (read: a US-Iraq war). If global political uncertainties increase, it customers may go back to vendors closer home, since reliability and time-to-market are still key factors in offshoring decision. However, Morgan Stanley's survey reveals that 40 per cent of respondents expect increased budgets in 2003, with only 22 per cent planning on budget cuts and the remainder, same as this year's.
So Bush and Saddam willing, it's road to recovery may be shorter than what most expect it to be.
---
PROFLIGACY
Price Of Populism
Faced with elections next year, profligate states reject austerity proposals.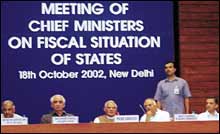 Talking heads: Consensus continues to elude them
What's surprising about the October 18 meeting of 22 chief ministers on fiscal correction is not that it failed to make any progress. Rather, what's surprising is that anybody should have expected any headway at all. For, the problem is as deep-rooted as it is contentious. Sure, India's states mirror the Centre's profligacy, but the biggest shove to the brink came from the Central government itself when in 1996 it unilaterally decided to implement the Fifth Pay Commission recommendations, jacking up salaries of state and central government employees by 30 to 40 per cent.
Therefore, now that the Central government wants the states to freeze dearness allowance (paid twice a year), reduce retirement age from 60 to 58, and swap high-cost debt with cheaper loans, the states-they have Rs 1,04,557 crore of deficit equal to 4.5 per cent of the GDP-are asking the Centre to talk a walk. Part of the refusal has to do with the fact that some 10 states will go to the polls next year. Impoverishing vote banks, then, is not a terribly smart thing to do. With little chance of any bailout package, and political interests elbowing out economic imperative, the mess in our states can only get worse.