RANK


7
Ranbaxy's RX: Seven years ago, Ranbaxy acquired Ohm Labs for a manufacturing beachhead in the US
Around the middle of October, as Davinder Singh Brar winged his way to New Jersey for the company's first-ever board meeting in the US, he must have had plenty of time to look back and laugh at his detractors. As recently as last year, Dalal Street was punishing the pharma giant for investing too much in the US, with little to show in return. Investors were also upset that Ranbaxy's early 90s annual growth rate of 35 per cent in the domestic market had slowed to miserable single digits. (Also, Ranbaxy had diverted funds to the stock markets via its subsidiary Vidyut Investments, but made huge losses.) Not surprisingly, the stock, which was at Rs 450-plus in September 2000, had sunk to sub-300 the following July, before recovering, but not quite, to around Rs 400 in September 2001.
This year, however, has been a different story. The 50-year-old Managing Director not just has Dalal Street's attention, but a virtual fan club. Reason: Ranbaxy's booming US operations, another proof of which Brar produced while announcing the third-quarter results. The US subsidiaries raked in $207 million (about Rs 1,014.30 crore) for the first nine months, compared to just $70 million (Rs 343 crore at current exchange rates) in the same period last year. In that time, the company also filed 12 ANDAS (abbreviated new drug application) with the US FDA and, remarkably, got approvals for eight of them. That takes the approved ANDAS tally to 55, with 27 more pending. In a statement, Brar sounded upbeat. "Our sales in the US is now reaching the desired critical mass (needed) for the next (level) of growth," he declared.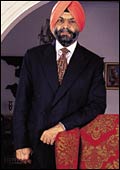 The years of investing in its own marketing distribution network and generic brands in the US are finally paying Ranbaxy rich dividends
D.S.Brar
/CEO/Ranbaxy
A Shot In The Arm
To reach that critical mass has taken Ranbaxy nine long years, when the company's then Managing Director and dream-setter, the late Parvinder Singh, reckoned that to survive in the pharma industry his company would need to go global. Although Singh died ahead of his time and dream in July 1999, Brar has pushed with unrelenting zeal-often at the cost of internal opposition and investor disapproval. But the years of investing in its own marketing distribution network and generic brands are now paying dividends.
Cefuroxime Axetil, Ranbaxy's turnaround generic drug in the US used for treatment of respiratory and skin infections, was launched only in March this year. But cumulative sales, despite price erosion, have already crossed $75 million (Rs 367.50 crore), and-according to US research firm IMS-the drug boasts a market share of 87 per cent. By the end of its life cycle in another five years or so, the drug could rake in another $60 million.
There are two reasons why Ranbaxy will continue to focus more on the US. For one, its sales in the domestic market, where prices are anyway controlled, unlike the US, aren't growing fast enough. For instance, its nine-month revenues at Rs 783.20 crore represent a bare 3 per cent growth over the same period last year. The recent promotion of Parvinder Singh's elder son Malvinder Singh as head of India region (he was incharge of global licensing earlier) will be keenly watched for obvious reasons.
For another, the US is the world's single-biggest market for pharmaceuticals, with a more than 50 per cent share. While generics account for less than 10 per cent of the market, their demand is increasing because of pressure from health maintenance organisations (HMOs), or health insurance industry, to reduce medical costs. Therefore, as soon as a cheaper generic copy is launched, consumers shift to it (that explains Cif Axetil's 87 per cent marketshare).
For Ranbaxy, already the ninth-largest generic company in the US, there's a virtual killing to be made. According to analysts, some 45 of the 100 most popular prescription drugs are set to go off patent over the next five years. Their cumulative annual sales exceed $40 billion. Sure, prices will fall, but still there will be plenty of money to be made. Quips Ashit Kothari, Senior VP (Research), ask Raymond James: "Ranbaxy has a lot going for itself in the US."
Thanks to its aggressive filing of ANDAS, Ranbaxy has a series of lucrative generics in the pipeline. One such is Isotretinoin, used for treating acne. Although the original patent holder (Hoffmann-La Roche) has been able to delay its competitor's launch in the US, most analysts expect the FDA approval to come through. When that happens, Ranbaxy-despite other generic rivals in Mylan Laboratories and Geneva Pharma-is expected to generate more than $20 million in revenues in the first year in a segment $475-million big.
Loratidine (anti-allergies) and Augmentin (for treating respiratory infection) are two other generics from Ranbaxy that investors are looking forward to. In the case of Augmentin, there are only two ANDA applicants, besides Ranbaxy.
CEFUROXIME AXETIL:

With cumulative sales of over Rs 367.5 crore, this generic drug has turned Ranbaxy's fortunes around in the US
While, once again, the patent holder Glaxo has challenged patent invalidation in the US courts, a decision in favour of Ranbaxy and the other patent challengers (including Teva Pharmaceutical Industries-a generics giant) will pry open the market for them. If that happens, Augmentin alone could fetch Ranbaxy more than $130 million in revenues by 2007 and $60 million (Rs 294 crore) in profits. Loratidine could also be worth $120 million in sales with profits of $70 million (Rs 343 crore) or so. Says Shahina Mukadam, pharma analyst, Motilal Oswal Securities: "Ranbaxy is very well positioned to capture the generics market in the US, thanks to the time and effort it has invested in the country over the years."
Not only is Ranbaxy the only Indian pharma company to have its own distribution network in the US, but also the only one to be moving into speciality generics, where margins are much higher. (Nearly three-fourths of Ranbaxy's exports are formulations; Cipla's is about a third and Dr Reddy's, two-thirds.) A key driver of Ranbaxy's foray into speciality generics is its novel drug delivery system (NDDS), which is pharma industry's equivalent of value addition.
Currently, the company is working on making such value additions to its existing drugs like Cifran OD and Coriem OD. Ranbaxy's subsidiary in the Netherlands also has a tie-up with Vectura of the UK for patent-protected, NDDS-based drugs. Simultaneously, Ranbaxy has licensed a once-a-day sustained release form of Ciprofloxacin (500gm and 1gm) to Bayer, which completed clinical trials in March. The German pharma major has since applied for an FDA approval, which is expected in the first quarter of next year.
According to the agreement, Ranbaxy will get between 6 and 9 per cent of the annual sales of the drug as royalty. If the drug is launched next year, Ranbaxy will get an upfront royalty of $25 million, besides another $15 million, which could be the royalty on Bayer's projected first-year sales of $350 million. According to industry estimates, the drug delivery segment in the US will be worth $24 billion in 2003. Says Jesal Shah, pharma analyst at SG Asia Pacific Securities: "At Ranbaxy, everything is getting overshadowed by the US promise."
Brazil is emerging as another important market for the company. The nine-month sales in the country was up 128 per cent at $21 million. What helps is the fact that Brazil favours generics, and Ranbaxy has swamped the local government with applications for approvals. Its Isotretinoin generic, launched recently in Brazil, has stolen a third of the market from Roche.
Analysts like Shah of SG Asia Pacific Equities expect Ranbaxy to tot up $75 million in sales by 2005 in Brazil alone. Add to that some other markets like the UK and Germany (where the progress has been slow), Japan (which it recently entered through alliances), South Africa (where it has a subsidiary plus a new joint venture), and China (it has manufacturing JV here), and you are talking about a fairly big global market. In fact, by 2004, more than 60 per cent of its revenues could come from markets overseas.
Its continued success, however, will hinge on the US and its ability to continuously develop, and win approvals for, ANDAS. Also, there are legal and regulatory hurdles that Ranbaxy will need to negotiate, and these can prove not just time-consuming but prohibitively expensive. For example, in the case of Isotretinoin, there are court cases pending relating to side-effects of the drug (Roche sells it under the Accutane brand). The drug is alleged to cause depression and, in fact, one of the lawsuits pertains to the pilot of a private plane that flew into a building in Tampa, Florida. Apparently, the pilot was using Accutane.
To realise its ambitions of being a research-driven company, Ranbaxy will have to play high stakes and launch its own drugs through basic research. But that will involve hundreds of millions of dollars in investment-a game it cannot play at this stage. And although Ranbaxy has a clutch of molecules in the pipeline-besides plans of hiring 1,000 more scientists for its research labs-many analysts believe that rivals like Dr Reddy's have better basic research competencies than Ranbaxy.
Also, there is grumbling among analysts over losses in subsidiaries-a reason why despite impressive third-quarter results, Ranbaxy's stock slid post announcement. Despite the blips, though, Brar for now seems fully in control. Be it New Delhi or New Jersey.