RANK


13
Bharti Tele-Ventures' CMD Sunil Mittal: The big game begins
In the past seven months, Bharti Tele-Ventures' CEO Sunil Mittal has hardly stepped on to the tennis court that is part of the corporate nerve-centre of the company-as is a small ersatz cataract -except to be photographed; the purplish-blue artificial surface court is popular with photographers. It seems somehow apt that the HQ of a company that wants to rule India's airwaves is a stone's throw-if you have a very good arm-from a monument that rules India's skies, the 72.5 metre Qutub Minar.
Work it is, that has come between Mittal and tennis. The various Bharti companies-Tele-Ventures is the holding company for all the company's telephony, internet, and broadband operations spanning nine companies-have hired around 2,500 employees in the seven months in question and rolled out cellular telephony across nine circles, fixed line services across four, and long distance telephony services, both domestic and international.
A year ago, Bharti was a mid-sized player in the telecom market with cellular operations in Delhi, Karnataka, Chennai, Andhra Pradesh, and Himachal Pradesh, fixed line operations in Madhya Pradesh, fledgling broadband and Internet access businesses, and, lest we forget, visions of telecommunications greatness. This year has seen, in Mittal's own words, the transformation of a "bit player into a national player". The one-time bicycle parts manufacturer, who turns 45 this month, had a blueprint handy. What he needed was just that bit of providence. So, last year, soon after winning the fourth cellular licences in eight circles, the man made a trip to Tirupati-for that divine push. Last month, he revisited the place, tonsured his head, and, for good measure, stopped by at Puttaparthi-another holy spot-before winging it back home. The Gods had answered his prayers; Bharti was (and still is) on its way to becoming a telecommunications powerhouse. And, as analyst report after analyst report puts it, it had become "a proxy for the Indian telecom sector".
THE MOOLAH MITAL NEEDS

It's quite a bit, but won't be a problem
» Rs 500 crore To grow the mobile business to 6-7 million subscribers by 2005
» Rs 500 crore To grow the new fixed line operations
» Rs 200 crore To lay optic fibre cable over 3,000 km and installation of some switches
The Financials Are Sound
A few days after this magazine hits the stands, on October 29, Bharti Tele-Ventures will declare its results for the July-September quarter of 2002. Analysts such as Sanjeev Prasad, who tracks the telecom sector for Mumbai securities firm Kotak Securities, predict a good quarter. "We expect the company to have EBITDA levels of around Rs 160-170 crore," says Prasad. The metric, earnings before interest, depreciation, taxes, and amortisation is the preferred one in the capital expenditure heavy world of telecommunications.
"We'll make a huge loss," laughs Mittal. Analyst reports estimate a net loss of around Rs 50-60 crore, but the number could be higher thanks to the I and d associated with the costs of rolling out all those new operations. And Bharti is in the second (and peak) year of a three-year capital expenditure blitz that will see it spend close to Rs 4,000 crore.
All that spend has resulted in the ubiquitous noise about Bharti Tele-Ventures spreading itself too thin and taking on more debt than it can handle. With an equity base of Rs 5,200 crore, the company can probably afford to. Mittal anticipates a near-term capital requirement of Rs 1,200 crore across the company's businesses (See The Moolah Mittal Needs) and claims, "We will not have to raise more debt." Purely in terms of numbers, Bharti Tele-Ventures could end 2002-03 with total debt in the region of Rs 3,000 crore (It ended 2001-02 with Rs 1,300 crore), which will give it 65 paise of debt for every rupee of equity, not bad going for a telecommunications company. "That's a very decent ratio. Importantly, Bharti makes enough EBITDA to cover for the interest cost," says Manish Srivastava, who tracks telcos for ABN Amro. And if all goes well, says Mittal, the company could end the year with ebitda of between Rs 600 and Rs 700 crore and around Rs 400 to Rs 500 crore of cash on its balance sheet. "Things will only get better next year."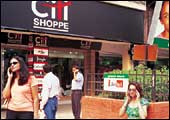 Bharti is India's pre-eminent cellular telephony company with 2.29 million subscribers versus Hutch's 1.79 million
But Threats Aplenty, Too
The competition is hoping that they don't. Still, there's no denying the fact that, circa October 2002, Bharti is India's pre-eminent cellular telephony company. With the BPL, Idea Cellular merger unlikely to come through (as this magazine reported as early as June 9, 2002; See India's Biggest Telecom Merger Is Going Sour: So Why Is Everyone Smiling?), Hutch is its closest competitor. At the end of September this year, Bharti had 2.29 million cellular subscribers to Hutch's 1.79 million. While both companies are present in the two largest markets in the country, Delhi and Mumbai, Bharti's reach-approximately 93 per cent of India's total cellular subscribers resided in its circles as of July 31 this year-is way deeper than anyone else's. The broad coverage, however, also means more expenditure and presence in some low-revenue areas, and some analysts agree more with Hutchison's strategy of picking only the lucrative metros and 'a' category circles.
With all of five licences for fixed services (See Bharti's Integrated Telecom Play), Bharti will never have fixed service operations as large as Bharat Sanchar Nigam Limited's (it has 35 million subscribers compared to Bharti's 205,000), or Mahanagar Telephone Nigam Limited's (5 million). What it will have is a network that reaches the sweet spots, "big businesses, SMEs, and affluent residential areas," in Mittal's words. "The fixed line network will be a conduit," that feeds traffic to Bharti's domestic and international long distance telephony (ILD) networks.
That is critical given the lop-sided revenue sharing agreement Bharti has entered into with BSNL and MTNL for its ILD business. As ILD operators are required to connect their switches to the nearest level one tax (trunk automated exchange), they have to pay BSNL/MTNL for carrying the call from the switch to the exchange. Under the agreement, Bharti has to pay Rs 4.40 for a distance of up to 50 km, Rs 6.40 for 50-200 km, Rs 8.80 for 200-500 km and Rs 13 for over 500 km. According to Mittal, this arrangement has been thrust upon Bharti. For domestic long distance (DLD), indications are that it will have to pay Rs 3.50 a minute irrespective of the revenue generated by the call. Thus, in both businesses, Bharti will make the most money from traffic generated and terminated through its own network, since it won't have to share this revenue with anyone else except the overseas carrier for international calls. Mumbai, where it doesn't have fixed line operations, is the big hole in this network. But the option of acquiring a licence is open to Bharti.
The biggest threat to Bharti, though, is the imminent launch of Reliance's CDMA-on-will service, code-named Ginie, across 17 circles-the rumour mills have it that the launch will coincide with the late Dhirubhai Ambani's 70th birth anniversary on December 28-and the possibility of predatory pricing by BSNL, whose cellular operations went live October 19 with a call from Prime Minister A.B. Vajpayee in Lucknow to his deputy L. K. Advani in New Delhi.
"Our planning has been elaborate," says BSNL Chairman & MD Prithipal Singh with a chuckle. It remains to be seen whether the planning has covered for possible regulatory, and maybe legal, battles with other cellular operators regarding the low tariffs-Rs 225 a month in rentals and an average airtime charge of Rs 1.20 a minute. The cellular operators are convinced that the tariffs are below cost and, hence, predatory. Expectedly, BSNL denies it. Says a top functionary of the PSU, "We have not subsidised the mobile business in any way. We are already having to subsidise the local calls on our fixed line network. From where will we subsidise mobile?"
Mittal is counting on the regulator's and the government's sense of fairplay to combat both the threats-Reliance's as well as BSNL's. If Reliance's offering is a full-blown mobile telephony under another name, he argues, the company will have to pay the same licence fee that the GSM cellular operators did. And BSNL will have to show far greater speed and customer service than it is known for. Says Ravi Kapoor, Senior Vice President, DSP Merrill Lynch: "BSNL's entry will not affect Bharti much. Bharti is well-positioned and aggressively gathering subscribers. BSNL will take a lot of time to take off and be as aggressive in customer acquisition and servicing." If BSNL's tariffs are lower than its costs, the Telecom Regulatory Authority of India will have to do what everyone expects it to-which is, intervene. Still, admits Mittal, "no (telecom) business model can be regulation-insulated." And that could well be Bharti's undoing.
A Matter Of Market Mindset
So, why is Bharti Tele-Ventures stock trading as low as Rs 29.75 as this magazine goes to press? The ceiling on foreign investment in telecom (49 per cent and Bharti's is already at 46.8 per cent), and Indian investors' obsession with profitability-based metrics such as earnings per share (EPS), and the price-earnings multiple could be responsible for this.
Mittal says the stock price isn't an immediate concern. Both of Bharti's major equity partners, Singapore Telecom (the company has an effective 28.5 per cent stake in Bharti Tele-Ventures bought in at an average rate of Rs 55 a share) and Warburg Pincus (it holds 18.5 per cent) are happy with their investments. However, he admits that they could start to get edgy if the stock continues to underperform.
The problem is this: Tele-Ventures will not return a net profit in a hurry. "We expect the company to turn profitable only towards the third or fourth quarter of 2003-04, provided it doesn't raise any more equity capital," says Srivastava of ABN Amro. Others say it may not happen before 2004-2005. The company itself expects to turn profitable earlier, unless Mittal has struck another covenant with Him. Watch the man's hair; that'll give you a clue.