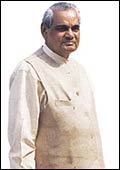 ATAL BIHARI VAJPAYEE: Taking up the cudgels
In corporate circles, it's every manager's dream to have a boss who stands by him. Disinvestment minister, Arun Shourie, may not be a manager in that sense, but just the same he has a boss who is increasingly speaking up on his behalf. We, of course, are talking of Prime Minister Atal Bihari Vajpayee, who has emerged as the single-biggest supporter of disinvestment and, by default, Shourie. Just when it seemed that the reform process was finally over-beginning with the September 17 meeting of the Cabinet Committee of Disinvestment, which decided to stall the sell-off of oil companies HPCL and BPCL by three months-Vajpayee hit back with a suddenness that no one expected.
It began with an interview to the Financial Times of London and carried on at the full meeting of the Planning Commission on October 5 and, more recently, at the FICCI-organised India-ASEAN summit on October 17. At all these meetings, the Prime Minister categorically ruled out any rollback of the liberalisation and privatisation process, and made it abundantly clear that the government intends to hike foreign investment limits in various sectors to make these sectors more competitive. Not content with speaking his mind, Vajpayee even took on the RSS chief K.S. Sudershan for his criticism of the government's reforms agenda, disinvestment, FDI policies and other reformist groups, by stating that those who oppose disinvestment are anti-reformists.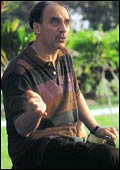 ARUN SHOURIE: Hope against hope
The tongue-lashing shouldn't surprise anyone. Since, by attacking Shourie, the detractors-worried about the loss of their administrative fiefdoms-were only indirectly venting their ire against Vajpayee. What they underestimated, however, was the force with which Vajpayee would hit back. But anybody who had followed the Prime Minister's take on disinvestment could have seen that coming. Be it Balco's privatisation, which went all the way to the Supreme Court, or the more recent controversy over VSNL's investments in Tata Teleservices, Vajpayee has backed Shourie to the hilt.
No wonder then, the tide has started to turn. And in a sudden change of heart, even the Deputy Prime Minister, L.K. Advani, at a press conference in New Delhi on October 13, spoke of how the government would go full throttle on its disinvestment agenda. Meanwhile, industry is hoping that with Vajpayee fighting the battle for it, the reforms agenda will be back on the government's list of priorities.
Not For Nothing...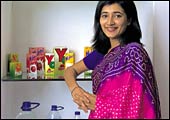 SCHAUNA CHAUHAN: Small wonder
Did Prakash Chauhan name his first born Schauna. Twenty-six years on, as the 55-year-old Chairman and Managing Director of the Rs 600-crore Parle Agro Group (of Frooti and N-joi fame) prepares to pass on the baton to the next generation, it is his little Schauna-it means one who is small and wise-that he has picked. The girl, who did her bachelor's in international business at the Business School Lausanne, Switzerland, moved early this year from the export division to take on a bigger role as the Director (Operations), and now is talking of diversification. "It's time to bring other sectors under the Parle brand," says Schauna. First off: service apartments to be built on Parle's sprawling real estate in North Mumbai, followed by forays into fitness and healthcare, which will be spearheaded by Chauhan's younger daughter, Alisha, 24, who has a degree in fitness. Clearly, the doting dad has only one piece of advice to his daughters: N-joi.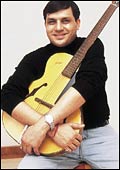 PANKAJ CHATURVEDI: Ice-cream man
On Song
He wanted to be a full-time playback singer and even today swears by his idol-Kishore Kumar. Instead, he ended up selling premium ice-cream. Not that he's complaining. Today 34-year-old Pankajj D. Chaturvedi, (he recently added the extra J to make it numerologically sound) is Chief Executive, Baskin Robbins South Asia, and the man credited with Baskin Robbins India's first profits in its nine-year history. Says Chaturvedi, who was roped in from Domino's Pizza: "Where we went wrong was in trying to blindly replicate our successful American model in India." As soon as he joined-around one-and-a-half years ago-Chaturvedi brought in a team with a food retailing background and reduced store sizes. "Having 2,000 square-foot parlours in prime locations may not make sense in India, where per capita ice-cream consumption is still only 200 ml compared to 22 litres in the US," he points out. Now putting all his 10-odd years of experience on the line, Chaturvedi says he'll sell a million litres of ice-cream this year. But don't think that the hotel management graduate hailing from the small town of Hathras, UP, has given up on his dreams of making it big in Bollywood. He's already sung for two Hindi movies and promises that more will follow.
contributed by Ashish Gupta, Roshni Jayakar and Abir Pal