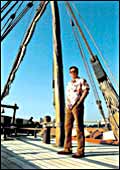 GAUTAM SINGHANIA/ CHAIRMAN/ RAYMOND GROUP OF COMPANIES: His passion for the fast-track is well-known. Not so well-known is his love of the sea, which he takes to every chance he gets in his fancy yachts, speedboats and this dhow
A couple of weekends ago, Congo, a lounge bar co-owned by Delhi fashion designer Malini Ramani was flagged off in North Goa. Present at the launch amongst the countless guests were a sprinkling of Bollywood starlets, VJs, clothes horses and fashion designers. Also present was Gautam Singhania, Chairman, Raymond group of companies, and Vijay Mallya, Chairman, UB Group, who threw in a fashion show for good measure. Congo is just about a coconut's throw away from one of the more prominent mansions in that neck of Goa's woods: Mallya's palatial Kingfisher Villa, where the flamboyant liquor baron spends virtually every weekend whenever he is in India. The Rajya Sabha mp is back in Parliament on Monday, after spending Saturday and Sunday speedboating, swimming and watching the sun sink into the sea from his favourite "Sunset Point" within the villa.
Even as you're devouring this vicarious piece, Mallya would have just concluded his birthday bash at the villa. On December 18, Mallya, now sporting a blond mane and often seen attending Parliament in his trademark baggy Armani jeans, turned 48. The partying won't end there. The ritualistic New Year's Eve bacchanalia will be followed by the Kingfisher Awards for Fashion Designing, which-if you haven't figured it out yet-will also be hosted at Kingfisher Villa. "It's my favourite holiday spot," understates the man whose most recent achievement was not a liquor or beer brand acquisition but a triple bungee jump. "I love the sea."
Also a sea enthusiast is Gautam Singhania who, if you're lucky, you'd spot just off Mumbai's Gateway of India at the helm of either a dhow, or a yacht or one of his handful of speedboats, all with fanciful names like Shazma (the dhow), Moonraker (the yacht), Golden Eye, Octopussy, and Smokin Joe (all speedboats; there's another one refreshingly called Raymond). "In a city like Mumbai, the sea can prove a great de-stresser," says Singhania, whose other passion is of course the fast-track, which he sets on fire with his Lotus Elise and Honda S2000. As he opens the throttle of the Golden Eye, taking it to close to 40 knots per hour, he has the rest of the crew holding on for dear life. Later in the evening he's at the wheel of the Moonraker (with a jet-ski perched at the back), headed toward Alibag where's he's putting up a swank pad, which reportedly will have lagoon-style pools and other such fancy trappings (Singhania isn't talking much about it, not yet).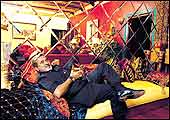 VIJAY MALLYA/ CHAIRMAN/ UB GROUP: Mallya chills out at his palatial Kingfisher Villa in Goa whenever he's not attending Parliament, acquiring new liquor brands, or out (triple) bungee-jumping
Oops, apologies for getting a bit carried away with the glitzy lifestyles of Messrs Mallya and Singhania, but you would have got the drift by now: This story is indeed about the colourful and flashy (but not lurid, not just yet) lives in the fast lane of some of India's leading corporate tycoons. Mallya and Singhania may be the more visible manifestations of India Inc taking to the high life, but spare a moment to sniff the Gucci Envy in the air around you: Across the country, as their businesses gain momentum, and sales and profit growth as well as shareholder value creation appear less elusive, a number of promoters, CEOs and professional managers are only too eager to roll up their sleeves and take to the exotic or less-trodden path (and are also less embarrassed talking about it).
Sure, most of them enjoy a round of golf or snooker or curling up with a book, and playing cricket with the family, but (yawn), that's not quite what we're talking here. Skiing in the mountains of Colorado, scuba diving in Australia, rock-climbing, water-skiing, even go-karting, and something as esoteric as mixing music are what keep CEOs busy once they're done with strategy blueprinting and brainstorming. To paraphrase the sub-title of Virgin Group founder Richard Branson's rollicking autobiography, a fair chunk of Corporate India is these days "surfing, having fun, and making a fortune doing business their way." The main title of Branson's tome of course is "Losing My Virginity," but that's the subject for another story, which may have a tough time squeezing into these pages.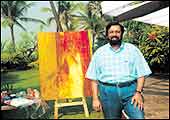 HARSH GOENKA/ CHAIRMAN/ RPG ENTERPRISES: Art is what obsesses Goenka. His eclectic collection of paintings by modern and Bengali artists is something any connoisseur would gladly give his right limb for
Mind you, this isn't even the jaded page three phenomenon (yawnnnnn)-overflowing champagne flutes and stale caviar being served up to uncomfortably numb wannabe celebrities-we're talking about here. It's also not just about mindless opulence manifested by marble-laden bungalows and oversized sedans. Rather, the good life is all about multi-dimensional personalites (admittedly with truckloads of dough) making time to explore new frontiers, or to master childhood passions, and having fun doing it. Branson's daredevil ballooning and sailing exploits may be a bit too much of la vida loca for his Indian counterparts, but hey, you don't necessarily need to be on the edge to feel that buzz.
What, for instance, do you think gets Ashwini Kakkar, CEO, Thomas Cook India, going? There's plenty to choose from actually: Could it be his Mercedes cars (220 and 240) or the 1947 Jaguar that Kakkar takes on long drives on weekends? Or is it his suit collection (Italian and slim-New York cut) boasting brands like Gucci, Armani, DKNY and Ermenegildo Zegna? All these help of course, as Kakkar points out: "All these add to your self-confidence." His eyes, however, light up when you quiz him about his passion for art: Kakkar's collection at the Thomas Cook Mumbai office attempts to capture the past 100 years of contemporary Indian art, and includes over 550 paintings, each of which tells its own story. Kakkar has also profiled works from the various periods of an artist's life. Pointing out a collection of masterpieces of Shakti Burman, Kakkar explains, "I try to reach out at the deeper story and the context behind each work of art."
Art may not be the most unusual of passions-RPG Enterprises Chairman Harsh Goenka too has a similar obsession-but what also gives Kakkar his jollies is "making an eclectic mix of music". With an assortment of remixing equipments, Kakkar has churned out 90 CDs, mixing diverse sounds, right from Latin with Arabic to even an aarti with Britney.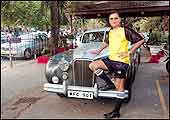 ASHWINI KAKKAR/ CEO/ THOMAS COOK INDIA: Between his cars, his vast collection of suits, and his art collection, he's got quite a lot to choose from. He also re-mixes music for kicks
The Great Outdoors
Ever considered a go at falconry? It's all about learning to take care of the bird's needs and then going hunting with it, and it's a big-time sport in the US and the UK. Meet the Hiranandanis-Surendra, Managing Director, Hiranandani Constructions, and wife Priti, Director, Culture Shop-who've given falconry a shot. And much more...archery, rock-climbing, skiing (in Colorado), scuba diving in the Maldives, Mauritius, Australia and Phuket, they have been there, done all that. Their last vacation, along with their three children, was at Center Parcs in the UK, a spectacular resort that is set amongst 100-year-old Giant Redwood trees spread over 400 acres. There, besides falconry, the Hiranandanis tried their hand at a host of activities ranging from cycling, canoeing, sailing to tenpin bowling.
When at home, the Hiranandanis spend at least one Saturday in a fortnight for the go-karting tracks (it helps of course that they own the set-up). Surendra is pretty good at it, and even won the first couple of tournaments when they were flagged off. "But these days I stay out of it, because I can't keep winning at my own course," he grins.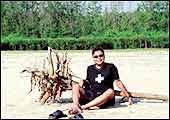 DILIP KAPUR/ CHAIRMAN/ HIDESIGN: Kapur's Auroville house reflects his eco-friendly worldview. Apart from a passion for riding shared by his wife and kids, he plants forest trees (he's planted some 15,000 so far)
To be sure, it isn't as if corporate India necessarily has to wing overseas to lead the good life. Mallya may have last vacationed on the Paradise Islands along with family, but Kingfisher Villa is where he unwinds. Adi Godrej spends his Sundays (whenever he isn't travelling) water-skiing on the Chowpatty waters off Mumbai, Singhania could well be headed in his yacht or dhow to one of his friend's farms at Alibag, an hour's sail from the Mumbai harbour, and Harsh Goenka retreats on most weekends to his Madh-Marve resort, where he also has his annual art camp. But one of the more enviable- yet pretty down-to-earth-lifestyles would be that of Dilip Kapur, the 53-year-old CEO of Pondicherry-based leather goods maker Hidesign. Kapur has a house in Auroville (he grew up in the Aurobindo Ashram and is heavily influenced by Auroville, which explains his company's eco-friendly methods of tanning and dyeing) bang in the middle of the forest inhabited by jackals, foxes and monitor lizards. The nearest residence is 400 metres away. His wife is passionate about horses and has a stable of 21 horses, four of which are kept exclusively for her personal use. Unsurprisingly the son also likes riding.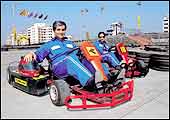 SURENDRA HIRANANDANI/ MD/ HIRANANDANI CONSTRUCTIONS: Hiranandani and his family spend nearly every alternate Saturday go-karting. It helps, of course, that they own the tracks
The Kapurs are obviously enchanted by such sylvan surroundings. That's why they've invested in a beach house along with four acres of beach land 26 km from Pondy towards Chennai. Here there is no telephone, and no television (quite deliberately).
The two huts here are made of wood and natural materials like coconut (Kapur himself is the architect), and there is a separate kitchen area. Kapur has planted 15,000 trees, mostly forest trees like African Mahogany, neem, jamun and some fruit trees-mangoes, lemons, oranges, grapes as also coconut trees. There's no electricity; solar cells provide the lighting and power the fan, solar pumps provide the water. Walking and swimming are the primary pastimes, and fishermen provide fresh sea-food. "The whole scene is aimed to reduce stress, and is ingrained in the core values of the company of developing and sustaining a good environment," says Kapur. If opulent mansions was your idea (or fantasy) of the upper crust's way of life, it clearly isn't always that way.