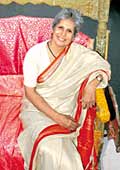 Stateswoman #1
Arnavaj 'Anu' Aga
62
I
Chairperson
I
Thermax

Aga gives up one source of power and, not surprisingly, taps into another.
India Inc. Has enough male industrialists and CEOs who have grown into the position of elder statesman-Ratan Tata, Rahul Bajaj, N. R. Narayana Murthy-but Anu Aga is the first woman who qualifies for that distinction. With her patrician features and striking cropped silver mane, the lady is a regular at industry fora, and when she talks, people listen. That's not just because Aga built the Pune-based Thermax Group into a Rs 830-crore energy and environmental engineering major. It is not because of her stated objective of "doubling turnover and trebling profits in the next three years". It is because she speaks (and acts) from the heart (one reason why this magazine dubbed her India Inc.'s Ms Conscience in last year's listing of powerful women). This is evident in Thermax's practice of putting aside 1 per cent of its profits for social causes and its generous contributions towards efforts to beautify Pune. And it is evident in Aga's own association with Akanksha, a non-governmental organisation that strives to provide education to children who live in slums and on the streets.
Last year, one of this magazine's writers wrote "... Aga will definitely not feature in the next listing... She turns 62 in September 2004 and will hand over charge as Chairperson...". Now, with the date of her retirement drawing close, it emerges that Aga's power was never positional (arising from the post she held); it was always personal-arising from truth, fairness, transparency and corporate ethics. That could explain why the economics graduate (she also has a post-graduate degree from Mumbai's Tata Institute of Social Sciences) was motivated by a letter from a concerned shareholder to put aside her grief at the death of her husband and Thermax's founder Rohinton, and focus on the ailing company. As it could, her outspoken criticism of the way the government of Gujarat handled the sectarian violence that broke out in the state in early 2002.
Vipassana, a form of meditation, Aga claims, has made her stronger and helps her keep in touch with her inner voice. "I feel very blessed," she says. "Every time something dear has been taken away, a lot of good has been given in return." Goodbye Chairperson. Hello Stateswoman.
-Abir Pal
Healer Dealer
Vedika Bhandarkar
36 I Managing Director & Head (Investment Banking) I J.P. Morgan India
The unassuming Bhandarkar is quite a rainmaker.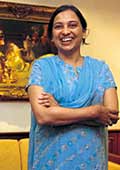 If you perceive investment bankers as machinists fuelled by greed, hypocrisy and high risk-you could blame Michael Lewis' Liar's Poker for that imagery perhaps-you obviously haven't met Vedika Bhandarkar. A few minutes into a conversation with the MD & Head of Investment Banking, J.P. Morgan India, are enough to wipe out those vivid images of fat-cat, short-sighted traders dancing in your head.
Bhandarkar has been in financial services for 14 years now, but you don't see too much of her in the media, pontificating about corporate prospects and fiscal well-being. Along with her penchant for the low profile, her candour too is refreshing. For instance, she'll tell you that when she went on maternity leave to deliver her second baby, it was pretty much a tumultuous period for the firm, which was being restructured to become J.P. Morgan Chase. "My fear was: Would I have my job when I returned? Fortunately, my firm surprised me positively."
It's not for nothing that J.P. Morgan surprised Bhandarkar positively. In the past six years, Bhandarkar has earned plenty of laurels for herself and the firm, the most recent and significant one being the $1.1-billion (Rs 5,060-crore) TCS public offering, where J.P. Morgan was the joint bookrunner. You won't find her taking individual credit for such deals, and that's largely because the "star" culture is pretty alien to J.P. Morgan. Yet, when it comes to executing and closing out deals, it's difficult to leave out Bhandarkar. Like, for instance, in ONGC's acquisition of MRPL from the A.V. Birla Group. Right from the outset-when ONGC Chairman Subir Raha called up Bhandarkar and evinced his interest-the odds were tipped against the deal. mrpl's balance sheet was a mess, loaded with $1.5 billion (Rs 6,900 crore) of high-interest debt. Bhandarkar and her team pulled off a minor miracle by convincing the 15 lenders to the project to take an average 25 per cent haircut. Today, MRPL has a comfortable capital structure, a healthy bottomline and a share price that's climbed over five-fold (in the Rs 40 range) since the restructuring.
Does that make Bhandarkar a star in Indian investment banking circles? She'll probably recoil with horror at such a suggestion. "It's a lot of grunt work. It's the visible results that add a touch of glamour-you either raise equity/debt or you don't; an M&A either works or it doesn't." In Bhandarkar's case, it invariably does.
-Brian Carvalho
Sheet Anchor
Shobhana Bhartia
47 I Vice Chairperson I The Hindustan Times Ltd
Bhartia is still making news and if it isn't the headlines, it is still on Page 1.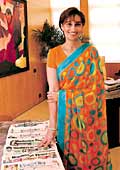 This time last year, Bhartia was making the news a lot: The Hindustan Times was set to launch a Mumbai edition; she had inked the first foreign direct investment deal in print media by selling a 20 per cent stake in Hindustan Times Media to Henderson Global Investors; and popular opinion was coming around to the view that the newspaper, once considered the parochial voice of Delhi, was good enough to be labelled a national daily (this was no doubt bolstered by its 10 editions).
Today, Bhartia is still making the news, and if it isn't always the headlines, it is still material good enough for a Page 1 anchor. Earlier this year The Hindustan Times challenged the findings of the National Readership Survey 2003 in a much-publicised battle fought in the courts and on the front pages of newspapers. "The reason we challenged the NRS findings was not because there was a minor difference, not because The Times of India came out ahead of us, but because those figures were ridiculous," she says. The Mumbai edition is yet to launch and the lady admits that "the infrastructure is time consuming" and sets 2005 as the deadline. Meanwhile, she has pulled out a series of innovations, some unique, others not so, to retain reader interest: 2-Minute HT, a headlines-only newspaper; Brunch, a large-format magazine that comes with the Sunday paper; HT Premiere, a supplement on movies; and HT Sports, a four-page-pullout upgrade of the newspaper's sports pages. Bhartia is candid enough to admit that the benefits have to kick in. "This kind of product (Brunch) has to catch on. Though reader response has been great, advertisers have still not found a slot for a magazine that comes with a newspaper."
As if that isn't enough, Bhartia, who burned her hands on a failed diversification into television (Home TV) in the 1990s, says, "We may possibly look at the television business, not in the immediate future, but more on a five-year horizon." That leaves her little time to pursue her interests, especially reading (areas of interest include public and international affairs). Still, she is manfully wading through Bill Clinton's 900-page autobiography. "I enjoy my work terribly," says Bhartia. "So, in a sense, I do not feel I am working (at all)."
-Shailesh Dobhal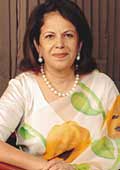 Lady Pluck
V.M. Chhabria
54 I Chairperson I Jumbo Group
Chhabria has consolidated the business she adventitiously inherited.
She's grown revenues of flagship Shaw Wallace by 20 per cent in 2003-2004. Pre-tax profits are 2.5 times higher than the previous year's. And Royal Challenge whisky has become a 1 million case brand. But easily the best thing Vidya Chhabria, Chairperson of the $2-billion (Rs 9,200 crore) Jumbo group, has done since taking over at the helm two years ago is to "mutually resolve all disputes" with liquor baron and arch rival Vijay Mallya after decades of seemingly never-ending combat. "A lot of time and effort was being spent in litigation by both parties. (The patch-up) augurs well for both Shaw Wallace and the liquor industry."
There's a lot more that keeps her busy in the endeavour to, in her words, "add definite value to (the late) Mr. (Manu) Chhabria's legacy". For instance, compensation structures have been aligned to boost productivity and motivation, aimed no doubt at helping Shaw Wallace meet its vision of doubling revenues and trebling profits in three years. And although tyre company Dunlop continues to be in the dog house, other group companies like Falcon Tyres and Hindustan Dorr-Oliver are making headway in competitive scenarios.
Helping her grow the Chhabria legacy are daughters Komal and Kiran, who, as the Chairperson points out, "have carved a niche for themselves...in the company of seasoned professionals". Along with Komal and Kiran, Chhabria treats every day as a "new learning experience. As a custodian of shareholders' interest, I feel morally obliged to maximise value". She's learnt the lingo for sure!
-Brian Carvalho
The Next Big Thing
Sulajja Firodia Motwani
34 I Joint Managing Director I Kinetic Engineering
Firodia Motwani is still the quintessential easy rider; only, this time it is scooters that have caught her fancy.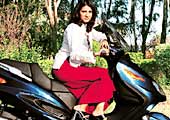 I am always looking forward to the next big thing," says Sulajja Firodia Motwani. "I am a restless, on-the-go kind of person." Well, she and her company have gone some distance in the past year. "We are in the middle of new and exciting opportunities that will transform the face of the group," gushes the lady. The first of these is outsourcing, where Kinetic will leverage its design, tooling and manufacturing expertise to supply engine components to companies in other parts of the world. The company has already bagged its first outsourcing order and it is for components for something even more exciting than motorcycles, speedboats. The second is the humble scooter. Kinetic recently acquired seven product lines from Italian scooter design firm Italjet. These, with engine capacities ranging from 50 cc to 250 cc, are, to quote Firodia Motwani, "kick-ass bikes that will transform scootering in India".
Kinetic wasn't in such great shape when Firodia Motwani, a scuba diving, kick boxing, motorcycle riding (she met husband Manish while gunning a Ducati down a Berkeley, California highway) MBA from Carnegie Mellon signed on with the family business after a brief stint with BARRA, a California-based portfolio management firm. This was in 1996 and the eldest daughter of Managing Director Arun Firodia has since transformed the company, strengthening its core business, steered it through a divorce with partner Honda, and diversified into profitable new areas such as motorcycles. With help from siblings Vismaya and Ajinkya, Firodia Motwani has turned an inward-looking family business into a wannabe-global-player. In the process, she has brought down the average age of the senior management team at Kinetic to under-40. No doubt, she skews the age distribution a bit.
-Abir Pal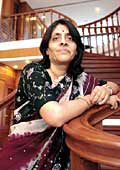 High Flyer
Lalita Gupte
55 I Joint Managing Director I ICICI Bank
ICICI Bank is going global, and Gupte is spearheading the charge.
In 1971, when Lalita Gupte signed on with what was then called ICICI (she came aboard straight from campus, Mumbai's Jamnalal Bajaj Institute of Management Studies), the company was a development finance institution, and her brief was to appraise projects. Today, ICICI Bank is a universal bank with global aspirations and it is Gupte who is in charge of the last. Since November last, she has presided over the launch of subsidiaries in the United Kingdom and Canada, branches in Singapore and Bahrain, and representative offices in Bangladesh, Shanghai, the US, and the United Arab Emirates. That's two subsidiaries, three branches, and four representative offices in eight countries, and the lady has been involved in the creation of almost every one of them.
That's meant a lot of flying for Gupte, who spends a minimum of 15 days a month outside India. Helping her is a cross-cultural team, 70 people from 17 cultural backgrounds. "It has been a tremendous learning experience," she says. "From setting up the international banking operations to getting ICICI OneSource up." The last is a reference to ICICI Bank's business process outsourcing arm. Gupte was the first woman to be named to ICICI's board (in 1984, and there are now three women on the bank's board) and she has featured in past editions of Fortune magazine's listing of the most powerful women in business. However, it is as a role model for all the women who came after her-there are five other executives from ICICI in this listing-that history will remember Gupte.
-Roshni Jayakar
A Woman of Balance
Kavita Hurry
42 I Managing Director I ING Vysya Mutual Fund
Hurry is the Indian mutual fund industry's first woman CEO.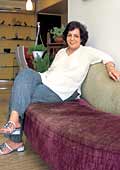 Contrary to her name, Kavita Hurry is not a woman given to extremes. For one, balance is important to her. "Life is about balance," she muses philosophically. It is a Monday, Hurry is in her 13th floor apartment in Cuffe Parade, a tony downtown Mumbai neighbourhood, having taken the day off after all the excitement of an initial public offering of an ING Vysya scheme that has just closed, and she is checking on the status of her children's homework over the phone (she has two, aged 13 and 10; they have been packed off to their grandmother's place for an uninterrupted homework session).
The lady's career is an embodiment of that balance. First, the class of 1984 MBA from Mumbai's Narsee Monjee Institute of Management Studies opted to join Bank of Credit and Commerce despite juggling offers from a hotel and an advertising agency because her parents weren't too comfortable with their daughter working in hospitality or advertising. Then, she opted to stay on in Mumbai when she signed on with ING (after a stint at ANZ Grindlays). "I can't really leave Mumbai," she admits. "My husband runs a business here and the kids are in school." "In several corporations that could be an issue, but I picked something like private banking where customers want long-term relationships and the business, therefore, requires that you be stationary."
That moderation extends to Hurry's work too. She would rather not set any targets for the quantum of funds she manages (she currently does Rs 1,800 crore). "I look at size very differently," she says. "It matters but what is the point of managing Rs 4,000 crore if you are not making money." Then, there's her articulated objective of transforming the mutual funds industry from being driven by large investors (wholesale) to being driven by retail (read: small) investors. And finally, there's her abhorrence for burning money on advertising. "I believe we need to talk to people, actually make eye contact, and talk," says Hurry who hasn't spent anything on advertising. "I have clenched my teeth and decided to do it my way, which means a lot more pr." This piece should help.
-Priya Srinivasan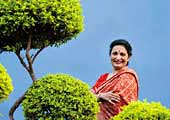 Queen in Waiting
Renu Karnad
52 I Executive Director I HDFC
The quiet Karnad may one day succeed Deepak Parekh.
Deepak Parekh is a tough act to follow. He is the man who built HDFC into the force it is (although the company has, like any market leader coming off a near-monopoly situation, recently lost share to arch rival ICICI Bank in the mortgages business). He is a respected manager who is on the board of 19 companies, a skilled networker who rarely misses power dos in Mumbai, and a preferred choice to head or be part of government-formed committees, irrespective of the political dispensation of the day. Now, the buzz in Mumbai and Delhi's corporate circles goes, Renu Karnad may one day succeed Parekh, at least as far his organisational role is concerned.
The lady herself is quick to scoff at such suggestions, pointing out that she is #3 in the organisation, and that she reports to Managing Director Keki Mistry. Still, Karnad isn't just in this listing because of some unsubstantiated rumours (60-year-old Parekh has just been given a three-year extension by the board). She is, because she heads HDFC's core business, retail and corporate lending; Mistry looks after treasury and funding operations.
Last year, Karnad's team disbursed loans of Rs 12,697 crore, 28 per cent more than they did the previous year. That translates into a marketshare of 40 per cent; and HDFC's non-performing assets (NPAs, or bad loans) stand at an industry-low of 0.89 per cent. "Our credit checks are very thorough," says Karnad whose biggest challenge has been transforming a near-monopoly into an aggressive marketer. Having done that, she now wants to go a step further and recently created a separate distribution arm, Home Loan Services to push mortgages and other financial products in small towns, even rural India. "Distribution is the key now; the way we do business has changed completely," says Karnad, who signed on with HDFC as an assistant (not an officer) in 1978.
The unassuming Karnad sits not in HDFC's Mumbai HQ, but in Delhi where husband Bharat Karnad, a strategic affairs expert, is based. That, though, isn't a handicap: she also serves as her company's chief interlocutor with the government and the regulator, the National Housing Bank.
-Sahad P.V.
The 'Third' Woman
Chanda Kochhar
42 I Executive Director I ICICI Bank
Kochhar is the person to watch at ICICI Bank.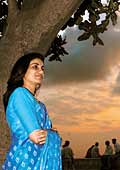 If Chanda Kochhar is one of the hottest execs in the bursting-at-the-seams-with-talent ICICI Bank, it is because the retail banking business, which she oversees, has carved out a third of the market. And not content with that dominant position, she is striving for improvements in processes, productivity and customer service. "Remaining a leader isn't just about marketshare," says Kochhar. And so, in the past year, the lady and her team have spent time on shop floors at the Hyundai and Ford factories studying assembly line operations, learnt about service orientation from Jet Airways, and benchmarked the bank's standard of customer service with that of some Australian banks. Kochhar has also tried to derive learnings on retail management from Wal-Mart and on how to push paper faster from a logistics company. And oh yes, last year, ICICI Bank implemented the Japanese manufacturing practice of 5S (Sort, Straighten, Shine, Standardise and Sustain) across all its branches, undertook Six Sigma initiatives (these reduce defects to about 3.4 in a million) for cash delivery processes, and rolled out several training programmes on customer service.
In short, since 2000, when Kochhar, an alum of the Jamnalal Bajaj Institute of Management Studies, and then a corporate banker, moved to ICICI Bank's retail business, she has stirred things up. The resultant market leadership position, she stresses, has its advantages. "We are able to drive the market, determine trends, and, in fact, change the landscape of consumer finance." And it could well decide whether she pips ICICI Bank's other executive director Nachiket Mor to the post in succeeding CEO K.V. Kamath.
-Roshni Jayakar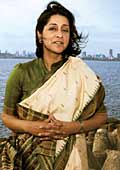 Tough Enoug
Naina Lal Kidwai
47 I Deputy CEO I HSBC
Simple, she is one of the country's best-known investment bankers.
As Naina Lal Kidwai sees it, power isn't gender-specific and it's all about impact, control and position. It's the individuals in that seat of power who make the difference, depending on how they exercise their power: For instance, they could be megalomaniacs, preferring to project the self. Or they could be those who prefer to leave a mark on the business they run, or on the environment around them. As Deputy CEO, HSBC, Kidwai clearly doesn't see herself in the self-projection category. "From my position I would like to make an impact on (HSBC's) performance, on the regulatory regime and within the social framework."
Kidwai has been able to align herself pretty much with HSBC's focus on education and environment, be it with initiatives like micro-lending to schools, adopting villages and promoting water harvesting there, or doing her bit for women's education and empowerment.
But if you think that Kidwai is getting soft, you couldn't be more wrong. A founder member of the Association of Merchant Bankers (formed way back in 1987-88 along with other capital market stalwarts like J.M. Morgan Stanley Chairman Nimesh Kampani and DSP Merrill Lynch Chairman Hemendra Kothari), Kidwai is still very much the hard-nosed, tough-talking deal maker. Her role at HSBC clearly is to sharpen the investment banking edge and "bring in that killer instinct". She's made her presence felt by helping some of India's biggest corporations-Tatas, Reliance, A.V. Birla and Wockhardt-fund offshore acquisitions, using the HSBC balance sheet. At the same time, she appreciates the safety that comes along with a prudent institution like HSBC. "We never piss away our money."
-Brian Carvalho
Biotech Billionairess
Kiran Mazumdar-Shaw
51 I Chairman and Managing Director I Biocon
She isn't there yet, but in five years, Mazumdar-Shaw and Biocon could be there.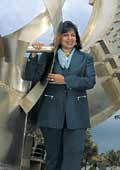 Kiran Mazumdar-Shaw will definitely not like the headline of this piece. She and her husband John Shaw own 65 per cent of Biocon; she herself does 39 per cent; and at the current market price of Rs 528 (on September 2, 2004, and the company went public in March 2004) that translates into Rs 2,059 crore. That makes Mazumdar-Shaw India's richest woman, a title she says she abhors (think how she will react to biotech billionairess then?). "Biocon is my baby," she concedes, "but all this is paper wealth and I am a mere custodian." We beg to differ, but will not press the point.
Mazumdar-Shaw would have figured in this listing (like she did last year) even had Biocon not gone in for an initial public offering (she is, like this magazine dubbed her last year, Biotech's first lady). The lady has, time and again, demonstrated the ability to spot an opportunity as it emerges: for instance, she recognised the potential of statins (drugs that help reduce cholesterol) in the early 1990s. "Remember, even traditional Indian pharmaceutical companies had not got onto this," she says. Biocon is also the first Indian company to receive the US Food and Drug Administration's (FDA) approval for fermentation-derived molecules for pharmaceutical use. Do not write Mazumdar-Shaw off as an R&D-diva, however; she is extremely business-oriented. Biocon may have 130 patents to its name, but as she points out, it is a "commercial organisation". Next step: to become a major player in the global bio-therapeutic segment, where its first product, recombiant human insulin, will soon compete with offerings from Novo Nordisk and Eli Lilly. These days, much of Mazumdar-Shaw's time goes in overseeing the development of a Rs 750-crore manufacturing facility on the outskirts of Bangalore. All these, she claims, will help Biocon become a company that boasts $1 billion in revenues. She won't say when, though. "We are listed now, you know," she laughs.
-Venkatesha Babu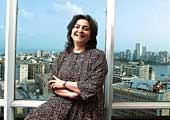 Behind-the-scenes Mover
Zia Mody
48 I Corporate Lawyer I AZB & Partners
Mody's firm has been involved in most big ticket M&A deals of recent times.
First, there is her pedigree. Zia Mody is the daughter of India's attorney general, and noted jurist, Soli Sorabjee. Then there is her education: Mody has law degrees from Cambridge, England, and Harvard (she started her career with a New York law firm, Baker and McKinsey). Finally, there's her firm's involvement in most cross-border M&As. For instance, AZB & Partners advised Tata Steel on its acquisition of the steel business of Singapore's NatSteel for $285 million; Rupert Murdoch's DirectTV Group on the disinvestment of its controlling stake in Hughes Software (to Flextronics); Tata Motors on the acquisition of Korea's Daewoo Commercial Vehicles; and Apollo Tyres regarding Michelin's investment in the company. If that isn't resume enough, the lady is also a legal consultant to investment banks such as J.P. Morgan, Merrill Lynch, and Goldman Sachs, advises transnational companies on joint venture strategies in India, and works with foreign institutional investors and venture funds. Phew!
Today, AZB boasts a presence in three cities, Delhi, Mumbai and Bangalore and has over 70 lawyers on its roster. Mody sees more work ahead in the areas of intellectual property rights and brand names. Chamber practice is a 365-day affair, and Mody, the mother of three, is hard-pressed to balance work, family and religion (she is a follower of the Bahai faith). She may not have read a good book in years or be able to fit in a regular exercise regimen in her schedule, but there are not too many lawyers in this country who wouldn't want to trade places with Mody.
-Roshni Jayakar
Woman of Substance
Kalpana Morparia
55 I Deputy Managing Director I ICICI Bank
Morparia is ICICI Bank's key troubleshooter.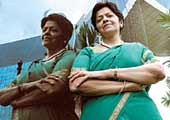 Kalpana Morparia is the second of the 16 women common to last year's listing of the most powerful women in Indian business and this year's whose designation has changed (Naina Lal Kidwai is the other). Early this year, the lady was promoted to Deputy Managing Director. Given the range of Morparia's responsibilities, that's only fitting. For instance, she was at the forefront of the ICICI Bank issue that raised around Rs 3,050 crore ("This was a big project," says Morparia. "It was in the first week of February that we decided to raise capital and by April 6, it was done."); earlier this year, when S. Mukherjee, an executive director with the bank moved to ICICI Securities as CEO, the special asset management group handling distressed assets was moved to Morparia's portfolio; and more recently, in August, when Nachiket Mor, an executive director with the bank went to Yale on a fellowship, his portfolio too was transferred to Morparia.
An ever-enlarging portfolio seems to be a constant in Morparia's career: In 1998, she was put in charge of human resource development, planning, the strategic support group, and the special projects department; and in 2001, she was named Executive Director (Corporate Centre), responsible for ensuring strategic consistency between all the bank's business units and the group's strategic initiatives. Today, in addition to everything else she does, Morparia is responsible for risk compliance, the bank's audit functions, corporate communications, and corporate legal services. That's a bit, but she isn't complaining.
-Roshni Jayakar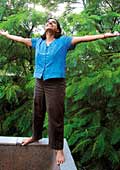 Mau-mau Mama
Sunita Narain
43 I Chairperson I Centre for Science and Environment
CSE may not have indicted any corporates last year, but it still casts a long shadow over India Inc.
In many ways 2003 was a stand out year for CSE: its reports on pollutants in bottled water and bottled beverages (think Coca-Cola and Pepsi) made the headlines, and industry woke up to the power activists could exert. Circa 2004, things are a little different. Companies continue to tread warily around CSE, not knowing when it could unveil its next explosive report (and there is no doubt Sunita Narain is planning something), but at the organisation itself, it is business as usual. And so, the centre's campaigns on air pollution, climate change, water management, and river pollution continue, although the emphasis seems more on making a point than making news. "You know, we carry umbrellas upside down to highlight the potential of water harvesting," says Narain who can quite understand the way India Inc. feels about her. "I am from a business family and know it is important to make money," she says. "All CSE is trying to do is to temper that progress, making sure there are checks and balances." That doesn't mean the lady, who started her career as a librarian at CSE, believes in old-fashioned socialism. "Protectionist policies end up damaging the country," she insists, pointing out that the artificially-low price of diesel in India is a travesty. "Who runs diesel engines?" she asks. "Not poor people." And so, Narain, whom this magazine termed Nemesis last year carries on, using, as she admits, everything from "legal resources to the media" to get her point of view across. "I love democracy," she gushes.
-Kushan Mitra
Queen of the Equity Cult
Dipti Neelakantan
46 I Chief Operating Officer I J.M. Morgan Stanley
Neelakantan's progress is the Indian capital market's.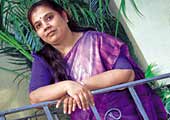 In the early eighties, when Dipti Neelakantan had just completed her chartered accountancy, she strode out confidently to join the motley world of company secretaries. She was in for a rude shock. Both the companies (both listed) that interviewed her for a posting in the company secretary department rejected her. The reason is predictable: Neelakantan was a woman, she wouldn't be able to do late nights, live out of her suitcase, deal with government departments, blah blah. "All things being equal, at both companies they preferred to select a male," grins Neelakantan, who subsequently has had the, well, pleasure of working with both those companies.
For Neelakantan there's little to regret. She applied for another job, with a firm called J.M. Financial & Investment Consultants, an investment bank, which wasn't considered the greatest of career opportunities two decades ago. One Nimesh Kampani, who was running the firm along with his uncle, uncle's son, and one professional director, was looking to build a team. Neelakantan was one of the first members on board.
Twenty-three years on, Neelakantan hasn't looked back. Currently Chief Operating Officer, she's grown along with J.M. (which Kampani eventually bought out from his uncle in 1989; a decade ago he formed a joint venture with Morgan Stanley). Neelakantan had plenty to learn, and so did Indian capital markets. Investment banking as we know it barely existed. "Not too many believed that there was money to be made without being speculative," says Neelakantan.
Neelakantan was instrumental in the launch of India's first retail non-convertible debenture, which basically ensured that an investor's Rs 100 would appreciate to Rs 270 in seven years. "It was hot," recollects Neelakantan, "and signalled the awareness and acceptance of fixed income paper.
Towards the mid-eighties, Neelakantan along with her husband (also from J.M.) moved to Delhi to set up J.M.'s Delhi office. The arrival of the Delhi operations was heralded a few years later when Neelakantan handled four IPOs of Rs 100 crore-plus-a major event in those days (when mutual funds and FIIs didn't exist, and retail selling was the priority).
By 1996 she was back in Mumbai in tragic circumstances after her husband passed away. Today, as coo, Neelakantan, whose experience spans everything from capital markets to corporate advisory, is #2 at a super-specialised investment bank. Ask her if she's reached the peak of a career, and she'll reply: "When I got back from Delhi, most people wondered if I could handle the trauma and move ahead from here. But there have always been opportunities and there will always be more opportunities going forward." Equal opportunities, if one need add.
-Brian Carvalho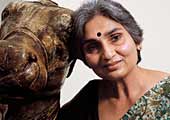 Holy Cow Killer
Amrita Patel
60 I Chairperson I National Dairy Development Board
Patel will do anything it takes to keep the co-operative movement alive, even change it.
In many ways, the past 12 months have not been as eventful as Amrita Patel would have liked them to be. True, the low-intensity fracas between her and her former mentor and the man behind the dairy co-operative movement in India Verghese Kurien (simple, he believes NDDB has no business in marketing, hitherto the domain of the parallel organisation GCMMF-Amul-that he created) continued, but the government dragged, and continues to drag its feet over passing the Infectious Diseases (Livestock) Control Act, which will address crucial issues related to livestock health and productivity. Not one to be deterred, the lady has kicked off an ambitious NDDB-led initiative in the southern state of Kerala to check the foot-and-mouth disease in cows that is rampant there. And she has launched a Clean Milk Production Programme at the village level to improve the quality of milk.
Nothing Patel has done, however, is as radical as what she plans to do. As the head of NDDB, Patel is, directly or indirectly, in charge of 96,000 dairy co-operatives, 170 milk producers' co-operative unions and 15 state co-operative milk marketing federations; put simply, she is responsible for the dairy co-operative in India and she would hate to see it grow inefficient and obsolete from inaction. "The share of private business in milk and milk products is growing rapidly," she says. "Co-operatives have to professionalise fast, (everything) from production to marketing." And so, the spinster by choice and veterinarian by education is mulling some radical alternatives. "Why cannot we have multi-state co-operatives that span two neighbouring states?" she asks. Patel is treading on dangerous terrain: apart from Gujarat, the post of managing director of all other state dairy co-operatives is a political appointment; and any attempt by her to change the co-operative structure is sure to invite the wrath of Kurien. Then, Patel has hardly taken the easy way out in her six years as the head of NDDB.
-Shailesh Dobhal
Ms Hospitality
Priya Paul
38 I Chairperson I Apeejay Surrendra Park Hotels
Paul is doing everything to ensure her hotel chain doesn't miss out on the Indian hospitality boom.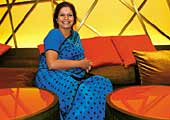 As one would expect of a year that was generous to the Indian hospitality industry-at the Park chain, for instance, occupancy rates remained in the high nineties for most part-Priya Paul has spent a hyperactive 12 months. She has overseen modifications at the chain's hotels in Delhi, Kolkata and Vishakapatnam as also at Flury's, a Kolkata institution renowned for its patties and pastries; "It has been an exciting time and the business has been amazing," gushes the lady who has somehow managed to make work fun in the exacting business of hospitality. She is contemplating expansion but is tempering her urge to go ahead with caution; "There are certainly not enough rooms to keep up (with the demand)," she says. And in between all this, she married Chennai-based businessman Sethu Vaidyanathan and now divides her month equally between Chennai and Delhi; "I have a very supportive husband and we do get some time together every weekend," she points out.
At Delhi's Park Hotel, where this writer met with Paul, the change the lady has effected is sweeping. The dull interiors are now awash with colour, bright fuchsia and reds, and complemented by beaded glass curtains. "We are a collection of luxury boutique hotels, high on creativity, and we try to make things more vibrant for our guests," says Paul as she goes through samples of fabric and glassware for the chain's restaurants. Fourteen years after the Wellesley college economics graduate was pitchforked into the hot-seat when her father Surrendra Paul was shot dead by terrorists, it is evident Paul, and the Park chain (aided by some good times) have come into their own.
-Kushan Mitra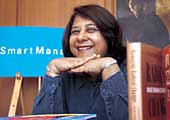 Corporate Chronicler
Gita Piramal
50 I Managing Editor I The Smart Manager
Piramal is India's best-known business historian and the editor of its only management magazine of note.
I am not sure I think of myself as a powerful businesswoman," starts off Gita Piramal. "Power seems to imply authority, even coercion, even money power possibly and I would like to think there is none of these in my case." The lady is right, of course, and her opening remarks to this writer (reproduced above) are indicative enough of the reason for her inclusion in this listing: not because she is Director (Corporate Communications), Blow Plast and VIP, but because she is India's best-known business historian. And because she founded and edits the country's only management magazine outside journals put out by various business schools.
Leveraging her position as the wife of Dilip Piramal, Chairman, Blow Plast and VIP Industries, Gita has parlayed her access to some of India's leading business houses into six books on business history and strategy, including two co-authored with the late management guru Sumantra Ghoshal, and contributions on the same subjects to a similar number of books authored by others.
Piramal's career as a corporate chronicler started with a four-page supplement titled Industrial Entrepreneurship Under The Raj (1854-1954) that she put together for The Economic Times in 1979 (that was the title of her doctoral thesis; she holds a PhD in Business History from Bombay University, 1989), meandered into occasional columns, and blossomed in 1988, when she became the Bombay correspondent for Financial Times, a post she held till 1992; 1994 saw the publication of her best-selling Business Maharajahs. Other books followed, and in 2002, she launched a quarterly journal titled The Smart Manager. "We carry articles that take up to three years to put together since they are based on empirical data," says Piramal. "Then, we have articles based on personal experience, nothing that is based merely on opinions." Today, she adds, "My books are used as text books by the nearly 200,000 MBAs India produces every year and I am in the process of helping the London Business School change its MBA curriculum." In the next three years, Piramal hopes to recruit a new editor for The Smart Manager, as the first step towards institutionalising the product. Maybe that will give her the time to fulfil her secret ambition: writing a potboiler.
-Priya Srinivasan
Director At Large
Swati Piramal
48 I Head Strategic Alliances and Communications I Nicholas Piramal
Piramal's influence outside the company is growing.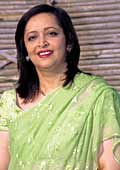 It was Swati Piramal's background as a doctor that tipped the scales in favour of the Piramal Group's 1988-decision to diversify into pharmaceuticals (it was a textiles major then). So, it isn't entirely surprising that the lady has been in the thick of the action for the past 12 months: as the head of strategic alliances, she has helped seal some 10 deals across the areas of licensing, cross-selling, and technology and been part of four to five acquisitions (of path labs); and she has been working towards the November opening of the company's largest research centre yet (it will house 400 scientists).
However, the year has also seen wider recognition of Piramal's stature. She is now on the board of the Council for Scientific and Industrial Research, and pretty excited at being so. "It is an opportunity to understand various streams of science and technology from space research to agricultural science," she gushes. "That is what I love most." She is on the economic advisory council of the state of Rajasthan (the Piramals hail from the state's Shekawati region) and will look at health and biotech initiatives. And she has been named to the board of SBI Life, the State Bank of India's life insurance company. "All appointments outside of Nicholas help me understand a whole host of related issues and businesses," says Piramal. "Everything is relevant to our business finally."
-Priya Srinivasan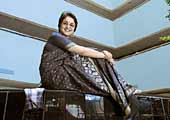 Fast Track Banker
Madhabi Puri Buch
38 I Country Head Operations & Service Delivery I ICICI Bank
At ICICI Bank, Puri Buch has steered several businesses to success since 1997. And she is only 38.
Circa September 2004, Madhabi Puri Buch is the head of ICICI Bank's brand management group, the head of the product and technology group for corporate banking, the country head of operations and service delivery, and the head of transaction banking and technology. One would have expected nothing less of the lady. Since 1997, she has donned several hats with distinction. She has mobilised resources through ICICI Bonds; headed the corporate brand management function and has served as CEO of ICICI Capital Services (it grew into the largest distributor of mutual funds during her tenure), ICICI Web Trade, and ICICI Home Finance (she grew the home loans portfolio seven times). And right now Puri Buch is working towards leveraging technology to improve efficiency and reach out to a greater number of people. ''We have leveraged technology to take world class products hitherto available only to the crème de la crème of the population that banked with foreign banks, to the middle class,'' she says.
There's more: Global Finance magazine recently named ICICI Bank Best Consumer Internet Bank and Best Corporate Internet Bank; and ICICI Bank has gone ahead and applied for a patent for its model to manage operational risk (developed by the technology group that Puri Buch heads, and this is part of the bank's efforts to adhere to BASEL II norms).
Now, the Indian Institute of Management, Ahmedabad alumnus who quit her job at ICICI Bank to move to the UK when Unilever transferred her husband there (she worked as a salesgirl in a small town called Chester and enjoyed the stint) only to rejoin it on her return to India, after a brief stint with a market research company, hopes to do one better. ''If we can use technology to further reduce the cost of delivery to the level where we can serve a bhajiwala (a roadside food vendor) at Dadar (a Mumbai borough) or a fisherman at Koliwada (another Mumbai borough), it would create a significant impact,'' she says. It would.
-Roshni Jayakar
Private Equity Diva
Renuka Ramnath
43 I CEO I ICICI Venture
Ramnath has shaken up the private equity business in India.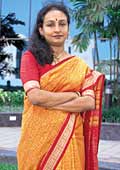 It isn't just her success at raising money for investment-ICICI Venture's India Advantage Fund raised $240 million, Rs 1,072 crore at the then exchange rate, and some 50 per cent above the target in May this year-but the kind of deals that she scripts with the $400 million (Rs 1,840 crore) she manages that sets Renuka Ramnath apart in the private equity business. There was something innovative about each of the eight deals ICICI Venture closed in the last one year. There were investments in mid-size companies such as Samtel for capacity expansion; there was the effort at mezzanine funding the Hyderabad-based Arch Pharma; and there was even the investment in real estate (by acquiring a large swathe of land in Mumbai's Worli from pharma major GSK Pharma, ICICI Venture got its foot into the real estate development segment). "By making the right investment and by nurturing these companies we gain the trust of investors," says Ramnath, who believes it is this goodwill, ICICI's institutional brand, and the company's demonstrated capabilities that bring in more deals.
In her 18 years at ICICI, Ramnath has had stints heading the corporate and equities business of ICICI Securities, the company's structured finance business, and its e-commerce arm (ICICI Eco-net and this was merged with ICICI Venture in early 2001). It is as the CEO of ICICI Venture, however, that the lady has really come into her own, making up the rules as the still nascent business evolves in India. That could explain why her firm's investment philosophy revolves around broad themes (there isn't enough depth in most sectors to warrant focussed funds, is her logic). "Each sapling has the potential to be a big banyan tree in the future," says Ramnath, confident that ICICI Venture will be around to reap the gains.
-Roshni Jayakar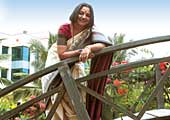 Head Hunter
Hema Ravichandar
43 I Senior Vice President and Group Head, HRD I Infosys Technologies
Ravichandar's team processed over a million applications last year and hired 10,000 people.
The numbers have been well aired, but they are mind-boggling enough to bear repetition. Last year, Infosys Technologies received over a million applications and recruited around 10,000 people. That's a hit-rate of less than 1 per cent (an applicant would have a better chance of securing admission to any of the Indian Institutes of Technology or Management, IITs and IIMs or qualifying for the Indian Administrative Service, IAS). Today, the company employs around 30,000 (including those employed by subsidiary Progeon); its workforce spans 33 nationalities; and over the past six months, it has added an average of 1,000 employees every month.
Since 1992, when it was a Rs 5-crore, 250-people organisation, Hema Ravichandar has managed the people function at Infosys (she took two years off between 1996 and 1998 to spend more time with her children, then four and eight years old, but was back to see the company through a period of accelerated growth). And the Indian Institute of Management, Ahmedabad alum's brief doesn't just end with recruitment: she is responsible for learning and development, compensation, employee relations, even visas and work permits. That's definitely more complex than the post she gave up (her peers were shocked when she did that) to sign on with Infosys; she was then heading the hr function at blue-chip mico, which employed around 2,500 people. It was a meeting with Infosys founders N.R. Narayana Murthy and Nandan Nilekani that helped her make up her mind. "There was this vision, an energy, a commitment that attracted me to the company." The lady signed on, and with a little help from Murthy, who she says, "believed in creating and sharing wealth", went on to create history of sorts with the first all-company employee stock option programme (ESOP) seen in India. Today, she says, "unlike the past when we just used to be leaders in India, we are setting global benchmarks in hr practices". Scalability is a challenge, as are retaining the organisational DNA and preventing key executives from moving on, but Ravichandar remains unfazed by the challenge. "I have always believed that if we do the small things consistently right, everything else will follow." Well, she has sure followed that tenet.
-Venkatesha Babu
Her Father's Daughter
Preetha Reddy
47 I Managing Director I Apollo Hospitals Group
Reddy is the first lady of India's organised healthcare boom.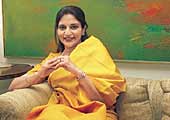 The family works as a team and my father continues to be the decision maker,'' says Preetha Reddy, but there is no denying the fact that the lady is a power to reckon with in the organised healthcare business. It may have been circumstances that forced the artistically inclined Reddy (she finished schooling from Chennai's Kalakshetra, the famous dance school founded by Rukmini Arundale) into entering the family business-her sister Sangeetha Reddy moved to Hyderabad after her marriage and someone had to fill in for her-but once in, she set out to learn the ropes with her characteristic doggedness and humility. ''I did not have the advantages of a B-school student,'' she recollects. ''I learnt hands on.''
Apollo Hospitals was India's first real organised healthcare company and its founder and Preetha's father, Dr Pratap C. Reddy, had to actually lobby government to allow banks to lend to corporate hospitals. Preetha has followed in his footsteps: she is working with JCI, an organisation that provided accreditation and consulting services to healthcare providers all over the world to create an accreditation process for all hospitals in India.
Today, Apollo Hospitals is a Rs 500-crore organisation that treats 10 million patients, boasts a presence in nine countries, manages 37 hospitals and 30 health and lifestyle clinics, and runs seven nursing colleges. Along the way it has diversified into related areas such as hospital networking, telemedicine, business process outsourcing (of hospital services), and pharmacies. As Managing Director, operations is Reddy's main responsibility, but she hasn't allowed that to obscure the need to return wealth to shareholders. ''Healthcare delivery is our vision,'' she says, ''but we run a business; our investors have displayed continued confidence in us. And we cannot afford to be careless.'' She can say that again.
-Nitya Varadarajan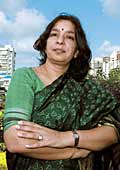 Safe Hands
Shikha Sharma
46 I CEO I ICICI Prudential Life Insurance
Sharma heads India's #1 private insurance firm.
It is now easy to see why Shikha Sharma acquired the reputation of a start-up specialist-she started up both ICICI Securities and ICICI Personal Financial Services-within ICICI. For the third consecutive year, ICICI Prudential is #1 in terms of premium income, among all private insurance firms in India. And having focussed on the retail segment in its first two years of operations, last year the company turned its attention to the corporate segment and signed on 100 clients. Along the way, it became the largest of Prudential's 23 life and mutual fund operations in this part of the world (it was #5 the year before). "To be the pride of both parents-that was our aspiration when we started off," says Sharma, an alumnus of Indian Institute of Management, Ahmedabad. "And we have already got there." To date, ICICI Pru has issued over 850,000 individual policies, with a sum assured of Rs 20,000 crore. Its marketshare: a healthy 34 per cent among the private firms. The lady who has always dreamed of running her own company is clearly proving her mettle at it. Now, she says, the challenges before the company are those related to talent management, scalability, and the unending quest for greater efficiency. That should be a cakewalk for Ms Start-up (as we dubbed her last year).
-Roshni Jayakar
Conservative Countess
Mallika Srinivasan
44 I Director I Tractors and Farm Equipment
The quiet Srinivasan still prefers to let her company's performance do the talking.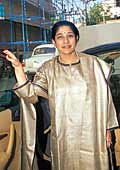 First, the numbers. TAFE closed 2003-04 with revenues of Rs 804 crore and it hopes to close this year with Rs 1,005 crore. Much of that growth can be attributed to an upturn in the agricultural economy, but credit must also be given to Mallika Srinivasan's efforts to use the preceding years (some of which were bad for business) to good effect, putting in order everything that needed to be within the company (for the record, the company never returned losses, even in bad years, preferring instead to cut production and absorb a hit to the topline). Among these are a Vision To Reality plan that the Warwick Manufacturing Group helped TAFE with and an organisation-wide effort to map competencies. It is on the strength of these that Srinivasan is confident of operating in a market that has, much like the market for motorcycles, moved to a three-variants-and-one-new-platform-a-year paradigm.
Srinivasan belongs to one of Indian industry's first families and is the scion of the closely held Amalgamations Group. The MBA from Wharton is also married to TVS Motor Company's Venu Srinivasan. However, it is a luncheon with the late Aditya Birla the lady chooses to recount to this writer. During the lunch, Birla keenly questioned her on a business TAFE had just entered, engineering plastics. He was convinced that the business was one with a future. Work the factory three shifts, he told Srinivasan. She followed his advice and today TAFE's engineering plastics division boasts one of the highest capacities in the business and is growing at a rapid clip. "One has to learn from the environment to succeed," says Srinivasan. She has.
-Nitya Varadarajan