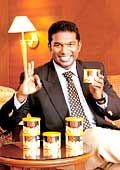 His late brother Rajan was known as India's cookie king, but Rajmohan Pillai seems determined to earn the title of Cashew King. Since 1987, when he took over his family's doddering Rs 4.5-crore cashews business, Pillai has turned Beta Group into a Rs 2,800-crore food processing giant, with interests in dry foods and juices. Now, the 42-year-old wants to turn his flagship Nut King cashews brand into a best-seller in India, which is said to be the world's largest consumer of cashews, spending Rs 4,500 crore on them a year. "After my brother (Rajan) passed away in 1995, there was no banker who wanted to invest in us, but now things are a lot better," says the Trivandrum-educated Pillai. His plan is to grow the Rs 80-crore Nut King brand by setting up factories near all the metros in India, besides one in Sharjah, to tap regional demand. What he is doing, says the native of Kollam, Kerala, is nothing more than what both his late father, who died of a heart attack in 1987, and brother would have wanted of him.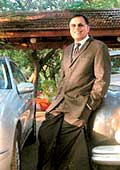 Buy Or Sell?
How many CEOs would go on the offensive when their own firm is in play? Not too many, which makes Ashwini Kakkar an exception. Even as Thomas Cook India's German parent is scouting for a buyer for this travel and forex company, Kakkar, 50, is said to be eyeing rival firm, P&O Travels India. When contacted, a weary Kakkar refused to comment, citing Sebi rules, but BT learns that Thomas Cook is already doing a due diligence at P&O, which has Rs 150 crore in revenues and strong English roots. But the question is, which will happen first: Thomas Cook's acquisition or acquisition of Thomas Cook?
Checking In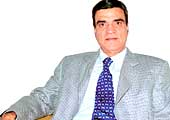 Finally, Delhi-based Suresh Nanda has managed to check into Mumbai's Sea Rock Hotel as the owner. Last fortnight, the Chairman of Claridges Group of Hotels and former seafarer bought out the 30 per cent he didn't own of the hotel, which has been near defunct since it was targeted in the city's 1993 bomb blasts. "We had been at this property for close to 18 months, and its acquisition is like adding a jewel in the crown," says Nanda, 63, who describes the erstwhile ITC-managed property in Bandra Bandstand as the finest hotel in the country. He now plans to spend Rs 150 crore on renovating the hotel and has shortlisted designers and architects from Europe for the work. He plans to open the 410-room, seaside hotel for business by July 2007.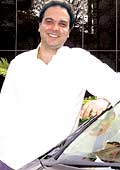 Corner Room Calls
In what is being perceived as a clear succession plan at Britannia Industries, Nusli Wadia's younger son Jeh was inducted into Britannia's board as an additional director earlier this month. (Emmanuel Faber, who is Groupe Danone's CFO, was also appointed to the Britannia board along with Jeh.) Speculation about Jeh's entry into Britannia had been in the air for a long while and gained ground when Sunil Alagh was ousted from the company about two years ago. Jeh, 32, is currently the Managing Director of the Wadia Group-promoted low-cost airline, Go Air, which is expected to launch its services by the end of this year. Jeh could not be reached for comment, but the buzz that he might take over as MD of Britannia at a later date has not died down. His brother, Ness, meanwhile, is Deputy Managing Director, Bombay Dyeing, the group's flagship.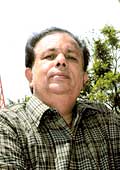 Launch Aborted
ISRO chairman G. Madhavan Nair's plans of getting a foothold in the American aerospace market with lightweight satellites (2-3 tonnes) have suffered a setback. A year after Boeing announced it would jointly build, and then buy, small satellites with ISRO, it has decided to pull out of the arrangement. Reason? Nair was not available for comment, but K.R. Sridhara Murthy, executive director of Antrix Corporation, ISRO's commercial arm that was to be the partner, says that it is due to Boeing's decision to focus solely on larger (5 tonnes-plus) defence variants. But all may not be lost yet. ISRO had signed a similar deal with European agency, EADS, this year. Besides, ISRO does make small satellites that are as good as any, but 30 per cent cheaper.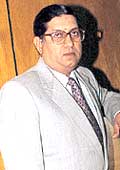 In Control
After pulling India Cements (ICL) back from the brink, the company's low-profile Vice Chairman and Managing Director, N. Srinivasan, 60, has strengthened his hold over the company. Middle of this month, Srinivasan bought another 11.91 per cent from co-promoters, led by N. Sankar of the Sanmar group, raising his stake to 31 per cent. While the Sanmar family will continue to own 13 per cent in ICL, it will not be the dominant partner. A fight between the two promoters during the early 80s had seen institutional investors (including IDBI) take over ICL's management until 1989, when the promoter families struck peace and got the management back. The deal, then, should do the company a world of good.