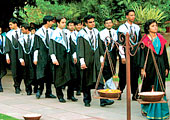 IIM-A
Deutsche Bank plonked down a cool Rs 1 crore to pick up a student from India's hottest B-school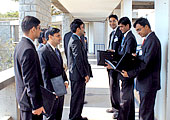 IIM-B


The dons of Banerghatta decided not to disclose any information about their placements this year
It wasn't very different this year, even with all the hoopla surrounding them, that is. It had its usual share of 'Crorepati Graduates' and 23-year-olds renouncing dollar dreams, a few IIM students turning entrepreneurs and the media doing what it does best, hyping all of it up. All was well with the world of placements. Or was it?
Placements 2007 at the top Indian B-schools took off from the year before on a marginally more upbeat note, despite a booming job market. The placement scenario was just as expected-the due rise in salaries, the usual companies making a beeline to campuses to recruit students with a few new national and international corporate names thrown in, some senior leadership roles offered, and a smattering of associate profiles in international I-Banks and consulting firms.
In other words, ho-hum. "The average salary hike across the top institutes this year was 15-20 per cent," reckons Santrupt Misra, Director, Aditya Birla Management Corporation. Misra's group has hired about 50 graduates from the IIMs and other top rung B-schools at packages between Rs 14.5 lakh and Rs 18.5 lakh per annum. While for the regular two-year MBA, Indian salaries across the top 20 B-schools averaged between Rs 7 lakh and Rs 14.2 lakh p.a., those accepting foreign offers took home anywhere between $31,200 and $115,300 p.a., with the highest offer a record $250,000 P.A at IIM Calcutta. On the other hand, the one-year executive MBA (PGPX) programme started by the IIM-A has done well. The average Indian salary at IIM-A (for PGPX) crossed the Rs 24-lakh mark and foreign offers fetched an average of $135,000.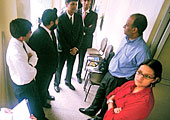 IIM-C
It was one of the 'Joka' grads that bagged the highest dollar offer of 250,000 this year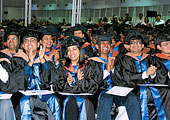 ISB


Class of 2007 made some unconventional career choices, including non-profit organizations
Some recruiters, however, point out that despite handsome pre-placement offers and eye-popping salaries on Days Zero and One, even some of the better-known B-schools had to work hard to place students on the third and fourth days. The stark difference between the highest rupee salary of Rs 1 crore and the average figure of Rs 13.6 lakh (for IIM-A) only lends credence to this notion. It suggests that up to 70 per cent of the class would have got placed at levels significantly below the average. One reason for the relatively meagre averages could be the fact that most mid-size companies, which may have on offer interesting job profiles, cannot always offer big-ticket payouts. Quips Ram Sarvepalli, Partner, Ernst & Young (E&Y): "Average salary figures were primarily ratcheted up by offshoring companies, as they had unexciting job profiles on the table."
This year, top Indian B-schools have been quite tight-lipped about divulging placement data to the media. In fact, the high decibel publicity given to placements and salaries may already be having its fallout, with several companies deciding to stay away from the placement process. "High salaries coupled with retention issues forced us to stay away from the IIMs this year," says S.Y. Siddiqui, Head (HR), Maruti.
The performance of most top institutes this year would at best be rated 'average.' The trend of opting for Indian locations, which started a couple of years ago, was again evident this year. Many students claim to have been inspired by the quality of work, range of opportunities and challenges available, and the variety that it offered to stay back in India. That's good news for companies in India.
THE ONE-YEAR MBAS


They are becoming more credible.
With a batch of 416 students, the Indian School of Business (ISB), Hyderabad attracted 584 job offers this year with the highest international CTC at $269,000 (with an average of $135,000). The highest domestic offer, at Rs 43.91 lakh, saw a 30 per cent increase over last year. Great Lakes Institute of Management (GLIM), Chennai, another school that offers a one-year MBA, has seen the average salary jump from Rs 7.4 lakh a couple of years ago to Rs 9.3 lakh. "Although we may not have the kind of branding major B-schools have, we are getting recognised for what we offer," says Swaminathan Murthy, the placement director at GLIM.

Numbers do not reveal the whole story. At ISB, for instance, it was career shifts that stood out this year. NIIT recruited two groups of students as core management teams to run standalone businesses. On the other end, at least five students chose to join microfinance institutions and NGOs. GLIM, which currently runs out of a makeshift facility (a new campus is coming up on the outskirts of Chennai), has already attracted some of the leading IT companies, which form the bulk of recruiters.

This was also the year when IIM Ahmedabad graduated its first batch of one-year MBA (PGPX) students. Apparently, the highest domestic salary offered was upwards of Rs 50 lakh (average offer was about half of it) and made by a private equity firm. The PGPX students BT spoke with seemed very happy with the programme, especially with the integration the institute had managed with its flagship PGP course.