Little miss Muffet is hardly the sort of icon with whom you'd identify building muscles but you surely remember that old rhyme where she "sat on a tuffet eating her curds and whey"? Well, whey, the liquid part of milk that remains after cheese is formed, is a wonder protein supplement that has many benefits. It's almost de rigeur for serious weight-trainers to glug whey daily in order to increase their protein consumption. Treadmill has been getting many queries from readers wanting to know what supplements they should use. In many gyms, trainers-often overtly, sometimes covertly-push an array of powders that are touted to have magical powers to bulk you up or help you torch your fat. And many readers wonder whether it's safe or useful to take supplements.
My opinion on supplements is simple: if you can get your nutrients from your normal diet-i.e., the food you eat regularly-then there is no reason why you should go for supplements. However, if you're serious about strengthening your muscles and making them bigger, then your diet alone may not be able to provide the adequate nutrients needed. Protein is essential for muscle growth and any form of exercise increases your body's requirement of protein and the lack of protein could result in loss of tone and strength of your muscles.
If you have been on a weight training regime for a while and aren't really registering any growth in your muscles, it could be because you aren't eating enough protein. You could either step up the consumption of whole food protein (meat, fish, eggs, etc.) or choose a protein supplement to boost your intake. Whey protein, which is low in lactose, offers a good and easily digestible source of protein. Research shows that whey is the highest quality of protein that is loaded with nutrients and amino acids, the building blocks for protein. Unlike other proteins like wheat or soya protein, whey has all the essential amino acids that are required for muscle tissue repair and maintenance. As you know, weight training ruptures muscle tissue and stimulates muscle cells to repair and strengthen themselves. You could think of the whey protein as a fuel to help this process.
In addition, whey has other benefits. It strengthens the immune system, improves hair, skin and nails and increases bone density as well as acts as an anti-oxidant. Besides, if you're vegetarian, whey is a good alternative to meat and fish as a source of protein. In short, there's more than one reason for you to mix up some whey in a milk-shake or with plain old water and slug it down after a workout. Many reputed brands of whey are available easily. My advice: choose one that has 100 per cent whey and little or no other ingredients.
-Muscles Mani
write to musclesmani@intoday.com
Caveat: The physical exercises & tips described in Treadmill are not recommendations. Readers should exercise caution and consult a physician before attempting to follow any of these.
---
Sure, go ahead make your trip. But before that take some expert advice on how to stay healthy during the holiday season.
Fruit Punch. Doctors are unanimous that eating fresh fruits and vegetables is the best way to ensure good health on holidays, and beyond. Says Dr Sanjay Gogia, Consultant, Max Hospital, Delhi: "Apples, bananas, unsalted peanuts, almonds, dried apricots and walnuts have nutrients necessary for your body and help keep you alert and active."
Call the Doc. Before travelling, visit your doctor to determine necessary vaccinations and regional health risks. Says Dr Gogia: "Keep in mind that most vaccinations need at least two weeks to take full effect. Consult a travel health specialist for up-to-date advice and preventive treatment before your trip."
Ear Care. "If your ears hurt when you fly, try taking a decongestant medicine before you get on the plane. You can also yawn or swallow often to open the eustachian tube and chew gum during the flight," says Dr Gogia. You may try earplugs, which seem to even out the air pressure on the eardrum by blocking the ear canal. Also, ensure that you use a pillow to support your neck.
Say no to Naps. It can be very tempting to head straight to the hotel after landing for a much-deserved nap. Says Dr Gogia: "Skip that nap and go to sleep early in the evening. The aim is to wake up the next day feeling relatively in sync with your new time zone and resetting your body clock."
Foot Gear. Wear the shoes you'll need for business and pack a pair of trainers for walking, jogging or informal occasions. Avoid high-heeled, narrow, and pointed-toe shoes. High-heeled shoes increase pressure on the front of the foot.
Pack a Goodie Bag. Include a small bag in your carry-on, filled with medicines, ear plugs, eye masks, adhesive bandages, sunglasses, contact lens solution and warm fuzzy socks.
---
DRIVE
The Mahindra-Renault Logan


The low-cost wonder-car. Or, is it really? We try to find out.
Few other cars have been launched with as much fanfare as the Logan was. 'Le Cost Cutter' Carlos Ghosn, CEO of Renault-Nissan, himself came down to Nashik to see the first cars roll off the line. But will this low-cost sedan developed by Dacia of Romania, a company owned by Renault, scintillate the sales charts?
Given the amount of positive press that it has received, it is difficult to say tough things about the Logan. But the vehicle is built to a price, and while it excels in space, and offers decent fuel economy, there are some issues with the car, not least of all the really tight clutch and notchy gearbox.
The vehicle BT tested was the Logan 1.5 DCi GLS, the top-of-the-line diesel model with power-steering, power-windows, driver-side airbag and an mp3 stereo as standard. It has an ex-showroom price of Rs 6.53 lakh in New Delhi. The Logan is also available with two petrol engines-1.4 litres and 1.6 litres-and has five trim levels in all. The price of the base model petrol car is Rs 4.36 lakh (ex-showroom Delhi) and that of the 1.6-litre car is Rs 4.81-5.78 lakh.
DRIVING POSITION
The Logan allows the driver to adjust the height of the driver's seat-great for shorter members of the species. The nice, high-seating position gives a fantastic view of the road.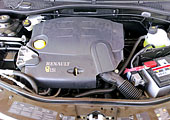 ENGINE
The 1,461 cc engine produces a healthy 65 horsepower, but delivery is hampered by a very notchy gearbox. However, 65 horses aren't enough to make this a happy-go-lucky vehicle.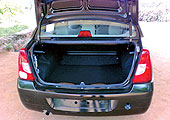 BOOT SPACE
Despite the Logan's not so impressive stance, the boot is huge-more than enough space to fit in quite a few suitcases. However, there is no remote opening lever.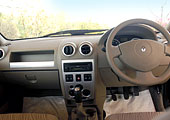 INSTRUMENT PANEL
The Logan is functional, as is the switchgear (though it does feel clunky), but the quality of interior plastics feels dubious. Some switches and levers are inconveniently located.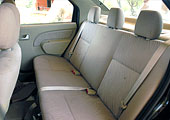 REAR LEGROOM
Even with the front seats all the way back, a large adult can easily sit at the back without crunching his/her knees. The rear seat is also quite wide, large enough to fit three large men.