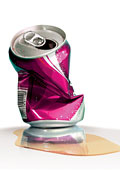 In early 2004, Mahesh Shah (not his real name) got married to a girl his parents picked. A month later, the executive with a Mumbai-based manufacturing company moved into a Rs 20 lakh, two-bedroom apartment in suburban Mumbai. April came, and Shah was cock-a-hoop: His salary would now be bumped up by 20 per cent, taking his annual earnings to Rs 12 lakh per annum. Shah promptly plumped for the latest mid-size car on the market, a Hyundai Elantra. The wife approved. Over the next few months, the 29-year-old salted away a considerable portion of his monthly savings into equity-after all, the benchmark index was hovering around the 5,600 levels, and experts were predicting levels of 15-16,000 in three-four years. Investing in initial public offerings (IPOs) was another must-do for Shah, who impressed his wife with the killing he made in the public offering of it services giant TCS. With a fair stash left on the table as disposable income, Shah and his wife did the rounds of multiplexes, malls and fine-dining joints on weekends, often taking along visibly envious friends along on such jaunts. A year later, Mr and Mrs Shah had a baby. Their cup of joy was overflowing.
Cut to April 2007. Shah is nervously anticipating his next pay hike. Will it be 20 per cent again? It isn't as if he's done badly for himself, it's just that he needs more money-lots of it. He's paying a few thousand rupees more per month for the home he'd bought three years ago, the outgo on the car is also up, and there are sundry instalments on a three-door refrigerator, a plasma television and a recent overseas vacation to take care of. What's worse, the stock markets are stagnating and Shah is wondering whether he should just consider dumping his portfolio, the long-term India story be damned. The family's disposable income has shrunk, the trips to the malls are less frequent, the friends are no longer envious, and Shah is pondering the merits of sending his daughter to such an expensive playschool. Life can be a bitch, mutters Shah, as his wife looks on disapprovingly.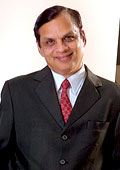 "The rising interest rates will impact the manufacturing sector the most. We expect the consumer durables industry to grow at 20 per cent in the next five years, down from the levels of 25 per cent that we have seen in the last 2-3 years"
Venugopal Dhoot

Chairman/ Videocon Group
Shah isn't alone. After three years of a wild ride, the average Joes, Janes and Jyotsnas aren't in high spirits any more. Their loans on their homes, cars and household gizmos have suddenly become more expensive, their full-grain leather wallets are significantly lighter, the stocks they had invested in for the long term have become cheaper, and the recent IPOs they subscribed to are quoting at half their offer price. This isn't quite how the long-term India story was supposed to pan out.
Let's dive straight into the harsh numbers. After a rapid growth phase, of over 8.5 per cent in the last 3-4 years (from 3.8 per cent in 2002-03), the fourth largest Asian economy is poised at the doorstep of a slowdown. The Asian Development Bank (ADB) has been quick to revise downward the GDP figures to 8.0 for 2007-08 from the targeted 9.2 per cent for 2007-08. So what's spoiling the growth party? Inflation, which is well above the projected 5-5.5 per cent, and interest rates, which have climbed by almost 3 per cent in the last 18 months. High interest rates, besides hitting consumers directly, are also adversely impacting sectors like banking, real estate, consumer durables, engineering and infrastructure. A flare-up in prices of key commodities is also hurting a clutch of industrial sectors, which could result in their earnings growth slowing down. "The cost and availability of credit is becoming a matter of concern," remarks P.K. Choudhury, Vice Chairman & Group CEO, ICRA. Not helping matters are oil prices, which are once again on the boil. Analysts are now predicting that prices will breach $85 per barrel by December 2007. Foreign investors appear to have taken note of the uncertain India picture, with inflows plunging by almost 50 per cent in 2006-07 over the previous fiscal.
So is the India story in danger? Not quite, although there's still some more pain ahead. A few more bouts of interest rate hikes are on the cards. Says Kishore Biyani, Chairman, Future Group: "There is always a lag effect of monetary measures and if the current stance continues, there could be some pressure on consumption." But the good news is that the country is hardly going to slip back to the Hindu rate of growth of under 3.5 per cent that the economy witnessed between 1950 and 1980. The not so good news is that the dream run of the last three years has been halted in its tracks. Read on to get the precise picture.