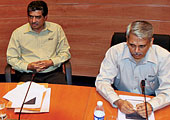 (From L to R) Infosys' Murthy, Nilekani & Gopalakrishnan: All's well, but...
The first flush of results this season looks good. Software bellwether Infosys Technologies reported a 69.98 per cent growth in net profit for the quarter ended March 31, 2007 to Rs 1,144 crore compared to Rs 673 crore in the previous corresponding quarter. The figure was boosted by an extraordinary income of Rs 124 crore from a reversal of tax provisions. Revenues for the quarter rose 43.75 per cent to Rs 3,772 crore from Rs 2,624 crore. For the full year ended March 31, 2007, its net sales and profits were up 45.92 per cent and 56.88 per cent, respectively, to Rs 13,893 crore and Rs 3,856 crore. The BSE it Index gained nearly 4 per cent on Friday (April 13, 2007), but this rise had more to do with the future outlook of the company, whose guidance is expected to be the benchmark for the overall it sector.
A report by Morgan Stanley says: "As feared, the rupee-denominated EPS growth guidance came in the low-20s, while the dollar guidance and overall commentary on the demand environment and margins were positive." Meanwhile, there are two key concerns-slowdown in demand in the US and an erosion of margins due to the appreciation of the rupee and a rise in wage costs.
Meanwhile, the 23 companies that have come out with their results (till April 13, 2007), have reported a 90 per cent rise in their combined net profit to Rs 1,421.09 crore compared to Rs 748.6 crore in the previous corresponding quarter. Revenues rose 37 per cent to Rs 5,347.7 crore from Rs 3,896 crore.
Among others, Ballarpur Industries, Mastek, iGate Global Solutions, Gujarat NRE Coke and Prism Cement also came out with their fourth quarter and annual results. Barring Gujarat NRE Coke, which reported a 220.5 per cent fall in net profit to Rs 51 crore, the others reported profits that were higher by 22 per cent to 375 per cent. (see The Results Look Good).
Says Sangeeta Purushottam, Head (Institutional Business), Religare Securities, an investment and research firm: "India Inc. will continue to roll out a strong performance for the fourth quarter of 2006-07 on the back of strong sales growth."
According to estimates by Motilal Oswal Securities, another stockbroking and research firm, the Sensex companies, on aggregate, will report a 33.3 per cent growth in net profits; it pegs the Sensex EPS at Rs 709 (FY 2006-07). The surge is expected to be on the back of a strong revenue growth of 22.3 per cent and the operating profit growth of 26.1 per cent. Rajat Rajgarhia, Head (Institutional Research), Motilal Oswal, says: "Companies in the cement and telecom industries will witness the highest growth in net profits and the largest jump in EBITDA, while retail, telecom and it companies will record impressive topline growth." Adds Purushottam: "Only the sugar sector is expected to put up a dismal show."
If the trend of the first flush of results holds, then India Inc. will give the markets lots to cheer about. Growth in top and bottom lines has so far been robust and largely in line with market expectations. But, the bulk of results are still to come out. And remember, these are last year's numbers; this year, high interest rates and the resultant price increases threaten to spoil the overall feel good mood (see Are the Good Times Over? page 66). And though Prime Minister Manmohan Singh and Finance Minister P. Chidambaram will be hoping otherwise, this year could well be different.
---
INSTAN TIP
The fortnight's burning question.
IS THE BOARD OF CONTROL FOR CRICKET IN INDIA (BCCI) JUSTIFIED IN PLACING A CAP ON PLAYER ENDORSEMENTS?
No. Latika Khaneja, Director, Collage Sports Management (she manages Virender Sehwag)
It is important to understand how the endorsement market evolved. The money comes from the public. Today, the endorsement market is dead. Advertisements are a by-product of successful cricket. If there is no successful cricket, there are no advertisements.
No. Syed Kirmani, former India wicketkeeper and member of the 1983 World Cup squad
I do not see this as a big problem. It is not an embargo; and the board has indicated that it is open to revisiting the issue. So it is not as if the decision has been set in stone. There has already been talk of a dialogue between the parties and I am sure that the issue can be resolved once that is done.
Yes. Venugopal Dhoot, Chairman, Videocon Group
It is a good decision for the moment. The man on the street is very unhappy after India's early exit from the World Cup. Everyone was looking forward to India's participation in the Super 8s. However, I think it is a temporary phase and the issue will be resolved.
---
Q&A
"Growth Alone is not Enough"
Duncan Campbell, director (Employment Strategy Department), ILO, was in Delhi in early April to attend a conference on the link between growth and employment in South Asia. He spoke to BT's Kapil Bajaj on a range of issues. Excerpts:
ILO has expressed concern over the growing disconnect between growth, investment and employment the world over. Why is this happening?
There's been a weakening of the link between growth and job creation. A 4 per cent growth in the world economy today doesn't create as many jobs as it did 25 years ago. The interdependence of economies has altered the traditional trade theory. The competition in the global markets is increasingly favouring higher-skilled labour, even in sectors like garments which have traditionally employed large numbers of low-skilled workers in the developing world.
Why is that so?
You cannot compromise on technology if you want to compete in the global markets. In the closed economies of the past, you could have hired more people instead of buying new machines, but not any more. And the best technologies are specifically designed to cut down labour costs.
What's happening in India?
India has seen an absolute decline in manufacturing jobs. So growth alone is not enough. You need the right labour policies at the right time.
---
Cars Galore
Three new cars were launched within two days of the start of the new financial year, and the year ahead will see a lot more cars roll out. So, what has already come and what is expected in the future? We take a look at the cars that have already come and some that are about to come.
By Kushan Mitra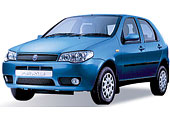 FIAT PALIO STILE
Make no mistake; this is the same old Palio with slightly updated interiors. The base model has a smaller 1100 cc engine, that promises to take care of the Fiat's bugbear, fuel economy.
USP: Still the same underpinnings, meaning drivability will remain excellent.
Price: Rs 3.5-4.3 lakh (ex-showroom New Delhi).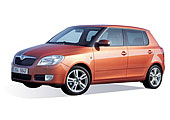 SKODA FABIA
Launch date: end-2007.
This is the most important car that Skoda will introduce in India; so important that the Czech division of Volkswagen has put off the launch for years. Honda City, watch out.
USP: Skoda plans to bring in a modern diesel engine that, along with fantastic build quality, should hold the car in great stead. And remember, in reality, what you're getting is a VW Polo.
Expected Price: Rs 6.5-7.5 lakh.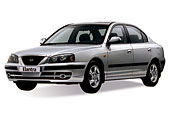 HYUNDAI ELANTRA
Launch date: mid-to-late 2007.
The old Elantra was one of those unfortunate vehicles that didn't do too well despite being a good car.
USP: Hyundai plans to give the new, much better looking Elantra an efficient diesel motor. It is the badge that is Hyundai's problem.
Expected Price: Rs 9-11 lakh.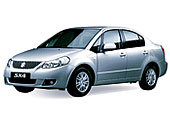 MARUTI SUZUKI SX4
Launch date: Early May.
Maruti is ruining its staid image-first the Swift and now this? This car might actually give the Honda City a run for its money.
USP: It is a Maruti, so reliability and economy should not be issues, but how will it be to drive? That is the 30,000-cars-a-year question.
EXPECTED PRICE: Rs 6.5-7.5 lakh.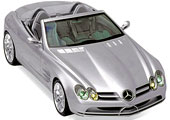 MERCEDES BENZ CL CLASS
So what if BMW and Audi are making inroads in India? Mercedes has fired a shot across their bows by launching the superfast CL class. This is no poor man's Mercedes and even though its delightful clean lines might seduce road users, you'll have to have an IPO to afford one of these babies.
USP: 0-100 kmph in five seconds! Need we say more?
Price: Rs 1.2-1.6 crore (ex-showroom Delhi).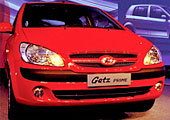 HYUNDAI GETZ PRIME
The Getz gets (pun unintended!) a makeover and a smaller 1100 cc engine; the production of the existing 1300 cc model will continue. And a diesel one is on its way before the end of the year.
USP: Fresher car, decent performance and better mileage as well. But the diesel will be worth the wait.
Price: Rs 3.9-5.2 lakh (ex-showroom New Delhi).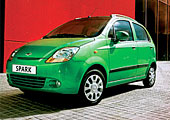 CHEVROLET SPARK
Launch date: April-May.
The old Daewoo Matiz reborn from General Motors. It certainly looks funkier, but one has to wait and see what engine, and most importantly, which gearbox GM India puts inside the car.
USP: GM claims that the car has been modified all over, so what if the bodyshell looks similar. The car will be slap-bang in Zen Estilo territory.
Expected Price: Rs 3.25-4 lakh.