TELECOM
Modicorp The E-Makeover

B.K. Modi is betting his company's future on infotech and telecom. Radical as the strategy is, it also pits him against global goliaths.

By Suveen K. Sinha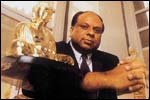 Walk into any of ModiCorp's offices in New Delhi's bustling Nehru Place, and the only remnant you'd find of the Bhupendra Kumar Modi-owned group's old-economy past are sundry tyre-shaped ashtrays on table tops. Otherwise, ModiCorp has pretty much completed its one-year old transformation into a digital corporation. The tyres and paper businesses have been transferred to Modi Holdings, and the Modis' 40 per cent stake in telecom equipment company, Modi Alcatel, sold to the French partner.
In its new avataar, ModiCorp consists of a clutch of companies that span cellular services and office automation (See The Modi e-Mpire). And it is now eyeing the newly privatised domestic long distance (DLD) telephony-a foray that could cost Rs 2,000 crore-and the booming Net data centre market. Spearheading ModiCorp's big push into new economy businesses is Chairman Modi's 26-year-old son, Dilip Modi, who's increasingly calling the shots at the company-an indication that Modi senior is preparing to pass on the baton. Says Modi senior: ''We are bullish on Spice becoming a lead player in cellular and Internet areas."
Bullish On Telecom
Just last month, the Modis bought out Australian telco Telstra's 49 per cent stake in their joint venture, Modi Telstra, which provides cellular services in Calcutta. Telstra's loss could be ModiCorp's gain because the cellular market is booming, with nearly two lakh subscribers being added nationally every month. In Calcutta, for instance, SpiceCell's (Modi Telstra's new name) subscriber base has soared to 66,089 from 35,312 in January this year. Similarly, in Karnataka and Punjab, where the company is called Spice Communications, the figures are up. In the southern state, Spice has 84,893 subscribers against 72,560 in the beginning of this year, and in Punjab the number is an impressive 1,12,512-a jump of 28,000 since January.
That's not all. Spice customers are spending more time on their mobile phones. In Karnataka and Punjab, for example, the respective revenue per subscriber is up from an average of Rs 1,590 and Rs 1,460 per month in July, 1999, to Rs 1,750 and Rs 1,490 in July this year. So is the case in Calcutta, where the average talk-time has risen from 255 minutes a month in July last year to 300 minutes in the same month this year. The result: the cellular business is already making cash profits. Points out Rajiv Burman, 48, Chief Marketing Officer, Escotel: ''Spice operates in circles where the per capita incomes are relatively high and hence the profits.''
ModiCorp's impressive performance is drawing the attention of international investors. Singapore Technologies Telemedia (STT), the telecom arm of the Singapore Technologies Group, has picked up a 20 per cent stake in ModiCorp for $27 million (Rs 124 crore). The two companies plan to form a $25-million joint venture to set up Net data centres, with STT taking the lead role. ''The STT alliance is the second good deal in the past 12 months after the Telstra buyout,'' says a Delhi-based investment banker. Then, there has been a marketing and business development agreement with the networking behemoth, Cisco Systems. Next on the cards? A listing on the Singapore Stock Exchange (SGX). Why not NASDAQ or the New York Stock Exchange? Explains the younger Modi: ''SGX is more stable, has a good appetite for telcos and Indian companies, and provides better valuations for holding companies.''
The Chinks
Modi's bullish confidence may soon get tested. For one, ModiCorp's competitors are changing. In Punjab, Spice has had a field day because the only other competitor-Essar's Evergrowth-is defunct due to non-payment of licence fee. Essar is now planning to revive the licence. In Karnataka, the ailing rival, JT Mobiles, has been bought over by Bharti Telecom. Quips Vineet Nigam, 32, an analyst with icra: ''The game changes with the entry of Bharti.''
That also goes for Calcutta, where the Jhawar-owned Usha Martin Telekom has passed into the hands of Li Ka-shing's Hutchison Whampoa Group. The Bharti-Hutchison combine will prove formidable, especially since ModiCorp's one equity partner, AIG, is merely an investor and the other, Distacom, is no telecom giant. To top it all, the Department of Telecommunications (DOT) plans to launch nation-wide cellular services next year. Given its scale of operations, the dot can bleed its competitors with deep price cuts.
Modi, by comparison, is not looking at a pan-India presence and, in fact, says that he would be happy with 500,000 subscribers. But most others believe that size will be critical to survival. Meanwhile, ModiCorp's DLD plans have received a minor setback, with Cisco saying no to an equity partnership. The Modis, however, could possibly convince STT to invest in telephony too. ''Money is available if you have a good business plan,'' says Modi.
At the moment, nobody is denying that Modi's plans are less than foolproof.