COMPETITION
Re-inventing LML

His company may be skidding, but Deepak Singhania isn't getting off the saddle yet. In fact, he's revving up for a bloody battle of the bikes.

By Seema Shukla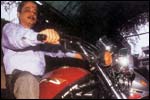 It's a Friday afternoon in September, and Deepak Kumar Singhania is outside LML's office in Greater Kailash, Delhi. Lined up alongside Hero Honda, TVS Suzuki, and Bajaj Auto motorbikes are two spanking new Daelim mobikes. His trademark tilak glistening on his forehead, the dimunitive CEO of the embattled scooter manufacturer waves his hand over the Korean mean machines. ''You tell me, which motorbikes are better?'' he asks this correspondent, for whom the show is meant.
If the otherwise placid Singhania is giving in to strong emotions, it is because what's riding on the back of the Korean bikes he's introduced in India is not just a few crores of rupees in product launch costs. Rather, it is his entire company. For a man fresh from a bitter dispute with his erstwhile partner, Piaggio of Italy, and all but finished by a steep fall in scooter sales, the new bikes are the last ace up his sleeve. Not surprisingly, he wants to play it right. Says he: ''Given the situation, there were only two choices: to stay in the game and fight, or go and hide my face. I believe that you have to have the will to fight it out.''
The New Wager
Singhania needs all the spunk he can muster. For one, the two-wheeler market is shifting away from scooters - LML's mainstay-to motorbikes. The negative 5.7 per cent growth in the scooter market has ravaged LML's fiscal health. Revenue was down to Rs 729 crore last year from Rs 1,246 crore in 1998-99; the bottomline took a bigger hit, plummeting from Rs 39.5 crore to Rs 6.2 crore in the period. And in the first quarter of 2000-01, lml turned in a loss of Rs 4.87 crore.
To make matters worse, the motorcycle launch is a year behind schedule. That's prompting some analysts (the stock is at Rs 28) to write off LML. Says Sachin Gupta, 26, Analyst, First Global: ''When you are entering a new category, you need money power to support the products. Money is something LML does not have today.''
Money is what Singhania believes will come riding on the backs of his dandy bikes. For starters, two bikes - of the five planned - are being launched: Energy, a 100-cc bike priced at Rs 44,000 and Adreno, a 100-cc machine with a tag of Rs 45,000. Points out auto critic Adil Jal Darukhanawala, 45: ''From the motorcyclist's point of view, the larger and stronger chassis and powerful engine make them good bikes for Indian conditions.''
The bikes have been priced aggressively. For instance, the Adreno is priced at a bare Rs 500 above Hero Honda's Splendor, while the Energy costs Rs 500 less. ''The idea is to offer more contemporary bikes with added features at an aggressive price,'' explains R.D. Jayal, 50, Senior Vice-President, LML.
The Killer Competition
Nevertheless, it's a tough race that LML is joining. Nearly half of the market is with Hero Honda and the rest is split between TVS Suzuki, Bajaj, and Escort Yamaha. That apart, global majors such as Honda and Piaggio will soon be joining the fray. Says R. Chandramouli, 41, Vice-President, TVS Suzuki: ''The current competitiveness of the market makes the entry of a new player very difficult.''
In some ways, LML's situation is similar to the one Bajaj faced when it tried to increase its motorcycle market share. The consumer perceived the company as a scooter manufacturer and could not immediately accept it as a mobike maker. What may make the going tougher for LML is its positioning strategy. For instance, to break its old perception, Bajaj had to price its 100-cc Boxer at a low Rs 35,000. TVS Suzuki toed a similar line when it introduced the 150-cc Fiero at Rs 13,000 lower than Hero Honda's 156-CC CBZ.
LML, on the other hand, is playing the value game. Hence, it has chosen a segment that likes frills and is willing to pay for it. There are two problems that LML could run into. One, it may risk confining itself to the urban market, which accounts for just four out of every 10 bikes sold; the other six are bought in the faster growing semi-urban and rural markets. Two, LML's chosen segment will likely be Honda's entry target. Incidentally, Daelim itself is an ex-Honda licencee. Says R.L. Ravichandran, 50, Vice-President, Bajaj Auto: ''LML has to do something very different in terms of fuel-efficiency or price for their models to succeed.'' Adds Taher Badhshah, 30, an analyst with Motilal Oswal: "I just hope it doesn't end up in a situation where it loses its identity as a scooter-maker and is not seen as a bike player either."
There are no doubts in Singhania's mind, though. According to his calculations, LML will sell 30,000 bikes by March, 2001, and also ratchet profits by the end of 2000. ''I have been through such fire-drills before,'' says Singhania, alluding to the similarly stiff competition he faced entering the scooters market 10 years ago.
Singhania may be in the slow lane, but he's very much in the race.