COVER STORY
Where Have All The Jobs Gone?

It's a ticking time bomb. The economy is growing, but hardly adding new jobs. If this continues, we'll add 70 million unemployed in ten years.

By Bharat Ahluwalia and Ashish Gupta

Fear in a handful of lines: emphasis on education kept the 160 million that the country added to its population in the second half of the seventies and the first half of the eighties in schools and colleges. This decade, they are going to be out in the market, demanding jobs. The agriculture sector has no room for them. Part of the manufacturing sector has discovered the advantages of outsourcing and people-free-productivity-gains through automation. The other part, especially small industries, is in no shape to create jobs. And the services sector will not, as is widely expected, create all the jobs the country needs. If the economy putters along at the six-plus per cent rate of growth over the next decade, India will, literally, burst at the seams with 70 million unemployed. Frightened? You should be. Now, read on...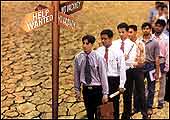 Forget, if only for a moment, those mind-numbing $100,000-plus salaries some fortuitous IIM-grads manage to command. Ignore, if you can, the spring in their presumptuous steps after they sign on the dotted line with New York-based investment banks.
Instead, let's keep our feet on the ground and go to Pune's very middle-class State Bank of India Colony. It's in the suburbs, quite near the new Mumbai-Pune expressway. But 30-year old Sameer Kulkarni isn't exactly on the fast track in life. ''Salary is not even an issue with me,'' he says. ''I have applied to companies who pay much less than Rs 10,000 a month.'' Don't dismiss him as an unemployed graduate. Kulkarni's got a degree in commerce, an MBA in finance from the Poona University, cleared his chartered accountancy intermediate exams, and got an Advanced Diploma in Computer Technology from C-DAC. But no job.
An unlucky exception? Not if you consider this. There are about 25 management institutes in Pune, which churn out around 1,000 MBAs every year. Most remain unemployed or work for salaries as low as Rs 4,000 a month.
Need a further rain check? Let's stay in Pune itself to find out what's par for the course. But this time the scene shifts to Rastapeth, in the heart of the city. Take a left from Babasaheb Bhim Rao Ambedkar Road on to a narrow, gently curving road. Suddenly you are hit by a sea of humanity. Probably around 3,000 people, all trying to crowd into an old, dilapidated bungalow which can accommodate only 150 at a time. It holds the key to their future. It's the city's largest employment exchange, euphemistically called the Employment and Self-employment Guidance Bureau. G.A. Sangde, Assistant Director of the Bureau, sees his workload increasing every year. ''We had 245,000 unemployed registered with us in 1998, now it's 260,000. If anything, it's going to get worse in the future, as all I see are companies shedding jobs; no one's hiring.''
Move on to a larger stage. This February, Andhra Pradesh had 31 lakh unemployed registered with exchanges in the state. This number increases by 3.5 lakh annually. At the end of 1999, 40 million job seekers were registered with employment exchanges countrywide. That was a little more than 10 per cent of the country's entire workforce at that time. Wonder what it is now?
Why not see what's in store for the future? Brace yourself and take in these statistics. Our workforce is growing by 2.5 per cent annually. But the average rate of growth of employment-in the organised sector-through the nineties, was a mere 0.8 per cent. If we turn these into absolute numbers and assume the same rate of growth in employment for the unorganised sector-data isn't available as yet, but things aren't expected to be any better-this is what we get: in the nineties, India added jobs at the rate of three million a year. But in this coming decade, 10 million people will get into the job market every year. In other words, all things remaining the same, this country will add 70-million unemployed over the next 10 years. That, incidentally, is a shade more than the population of Turkey.
Weren't the nineties all about unshackling the economy, freeing controls, and, consequently, attracting dollops of private sector investment, leaving the Hindu rate of growth far behind and making the Indian elephant dance? Well, they were. But somewhere along the way, the country seems to have missed a few crucial steps, and just might topple over in a imminent wave of (we are not kidding) anarchy.
Wake up and smell the coffee. India is witnessing, what is called 'jobless growth'. In the nineties, our economy grew by an average of 6.4 per cent every year, the highest ever. But the largest contributors to our economy either shed jobs or showed only a marginal increase.
Let's look at agriculture first. According to the 55th National Sample Survey, analysed by India's pre-eminent scholar on employment, K. Sundaram of the Delhi School of Economics, for the first time since independence, agriculture actually witnessed a reduction in jobs. In 1993-94, agriculture employed 239 million people. In 1999-00, the figure came down by three million to 236 million. That's not surprising, considering that agriculture grew at 2.5 per cent in the nineties. A trip to any farming belt will make it easy to figure out why agriculture is going to keep shedding jobs.
Maswasi is a village of around 100 houses-some concrete, while most have mud walls and thatched roofs-on the Haryana-Rajasthan border. In one of those two-room thatched houses, with a makeshift kitchen and of course, no electricity, sits 35-year old Ram Pratap. Pencil thin, with a weather-beaten face, wearing a tattered and dirty kurta-pyjama, the farmer seems resigned to his fate. He owns half-an-acre of land, from which he has to provide for his wife, two children, and ageing parents. Five days of unseasonal rains in April have destroyed a fair amount of his produce. The rest is rotting in the field. ''The government's own stock is rotting, so why should they buy more,'' he says. ''And if I sell in the wholesale market, I won't even be able to recover my costs.''
All this while debts are mounting. So, he's decided to work for others on daily wages. But there isn't enough work for him. ''I work two, maybe three days a week for Rs 45 a day. The rest of the days, I gaze at my rotting stock,'' says Pratap. He's seriously considering selling his land and moving to the city. It's obvious even to the likes of Pratap, that with fragmented land holdings and static yields, agriculture can't provide for them anymore.
Another traditional employment generator, the government, didn't add jobs either (See Sorry Your Govt. Doesn't Need You...). Right from the mid-nineties, its mantra has been rightsizing and public sector VRS schemes. It has made it clear, that creating jobs is the private sector's responsibility.
Other sectors did record growth, but only marginally. Over the past 10 years, jobs in the manufacturing sector increased by a meagre 3.7 million to touch 44 million. ''Our relatively low-skilled labour is more suited to manufacturing activities,'' says Subir Gokarn, Chief Economist, National Council of Applied Economic Research (NCAER). ''Manufacturing has to be the key to increase employment.''
Labour Force Projections
By Age Groups

Age Group
1997 (Million)
2002 (Million)
Growth
(% p.a.)
15-19
40.31
45.03
2.24
20-24
55.45
62.91
2.55
25-29
56.89
58.88
2.26
35-39
46.60
52.80
2.53
40-44
39.56
46.04
3.08
45-49
32.90
38.13
2.99
50-54
25.86
30.27
3.20
55-59
18.86
22.45
3.55
60+
28.15
31.64
2.37
15+
397.22
449.62
2.51
While the manufacturing sector's output grew by about 5.5 per cent annually, over the past decade, employment grew by a shade over one per cent. Economists believe that the primary reasons for this are our archaic labour laws. ''India's labour laws need change,'' says S.P. Gupta, Member, Planning Commission. ''Businessmen want to hire as little staff as possible, since they don't want to get stuck with unwanted labour.'' You can hire someone, but labour laws ensure that you can't sack him. Ergo, people don't hire even if business is growing. They'd rather mechanise, even if it's more capital-intensive. Look at the auto components business, which has been in healthy shape over the last few years. ''Direct employment has been static at about 250,000 over the last three years,'' says Vishnu Mathur, Executive Director, Automobile Component Manufacturers Association. The only way to solve this, is labour law reforms. But no government has yet shown the courage to bite this bullet.
Another reason is the removal of licensing and reduction in import tariffs, which has forced companies to become more competitive. Through the nineties, many companies focussed on cutting the slack in the system. Asian Paints, among the healthiest old economy companies in the business, saw an average 11 per cent growth in domestic sales, but workforce increased by three per cent annually. Little wonder, its wage bill is the lowest in the industry at six per cent of turnover.
Apart from stringent labour laws, poor infrastructure like the quality of roads, power, and ports have made it tough for Indian manufacturers to stay competitive, yet increase employment. Till some time ago, the Rajkot-based Ajanta Clocks had a staff of 15,000. Today, the watch-maker has stopped manufacturing in India, and has shifted its plant lock, stock, and barrel to China.
What of small businesses, they aren't subject to stringent labour laws? Well, small businesses are languishing at death's door. Says Gokarn: ''Small businesses are on artificial life support. The WTO is the hand that'll switch it off.'' Adds Gupta: ''In any case, economists didn't expect large scale companies to be huge employment creators. But the sad state of the unorganised sector has made the employment scenario scary.''
The biggest growth has come in trade, hotels, and restaurants, whose share in the country's workforce is now 10.4 per cent, up from 7.6 per cent in 1993-94. It is now the country's largest employer after agriculture and manufacturing, showing a compounded annual growth of 6.2 per cent. But don't expect services to be the panacea for all ills. By general consensus, it-enabled services are India's hottest business opportunity. So, how much can they help. ''At best, we can employ up to 1-1.5 million people over the next 10 years,'' says Raman Roy, President and CEO, Spectramind, and who was previously involved with the setting up of two of India's largest it-enabled facilities. That's like pulling out a bucket of water from a pool.
At a more basic level, consider the case of 29-year-old Siby Thomas, a commerce graduate. After graduation, he worked in Abu Dhabi for two-and-a-half years with a catering company as a supervisor. ''Instead of the promised Rs 20,000, I was paid only Rs 15,000 a month,'' recalls Thomas. ''We stayed seven to a room and despite that I needed to spend Rs 10,000 a month on myself.''
Thomas came back to Chennai and stayed jobless for a while. He applied for both catering and accountancy related jobs. No luck. He finally joined his brother, who runs a small catering business. ''But my brother can only pay me Rs 1,500 a month. And I get to stay with him,'' says Thomas.
Despite the slow employment growth, our unemployment rate didn't exactly shoot up in the last decade. That's because our workforce didn't increase in the nineties. Atleast, that's what the 55th National Sample Survey results show. In fact, the number of female workers in our country didn't increase at all over the last seven years. This was despite the country showing high population growth of over 2.1 per cent in the eighties. Ideally, this population should have started joining the workforce in the mid- and late-nineties. But that hasn't happened (and now finally, some good news) because people are actually studying beyond their mid-teens. So, we've got away so far, by ensuring that our kids stay in school and college.
In this decade, though, our luck has run out. ''High population growth of the eighties is going to translate into labour force growth now,'' says NCAER's Gokarn. ''Our labour force will grow at two-and-a-half times the pace of job creation. This is a time bomb.''
We are going to end up with millions and millions-back of the envelope calculations indicate 70 million-unemployed filling our cities. Yes, our cities. They've all been getting themselves an education, remember? And there's no way agriculture can absorb them; nor would they wish to stick to agriculture, considering they are educated. ''By the end of this decade, 50 per cent of our population is expected to be in the cities,'' says Gokarn. That's 10 per cent, or over 100 million more than it is today. Can our cities accommodate so many?
Even if they do, how do we get them jobs? If we can't, what we are staring at is social anarchy. Ideally, a growing labour force should be a strength. ''A lot of East Asia's growth was due to population growth,'' says Gokarn. But that was because they created conditions in which the labour force bulge could be used to the optimum. Till labour labour laws don't change, we can't solve this problem. And that's a political holy cow.
Flexibility in labour laws is only the first step. Ideally, this should provide an inducement to invest and increase investment efficiency. This, combined with sustained 7-8 per cent GDP growth is the only way to extract ourselves from this quicksand. The elephant can either waltz or fall with a thud. Now, what would our lawmakers rather have?
-Additional reporting by E. Kumar Sharma, Rakhi Mazumdar, Venkatesha Babu, Nitya Varadarajan, Roop Karnani, & R. Chandrasekhar
1 2