People
Arboreal Agenda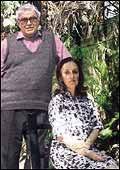 J.J. IRANI & PHEROZA GODREJ
The Green Champions
There's more in common between the Tatas and the Godrejs than the fact that they share the same faith. Both are front-rankers when it comes to being good corporate citizens. So when the low-profile Pheroza Godrej, conservationist and wife of Godrej & Boyce Chairman Jamshyd Godrej, and Tata Steel's Managing Director J.J. Irani, teamed up to create a green belt in and around Mumbai, it didn't come as a surprise. What did is the scale of operations. Before the coming monsoon (just around the corner), Friends of Trees, a Mumbai-based NGO overseen by Godrej, will plant 100,000 saplings. What do the Tatas bring to the table, sorry, ground? The saplings, of course. Irani, a self-confessed environmentalist and avid gardener, will provide the saplings from Tata Steel. Says Godrej, 52, who has been involved in preservation of heritage buildings in Mumbai: ''The idea is not to confine it to the elite environs of South Mumbai.'' Tata Steel, which planted a million trees in Jamshedpur over two years, as part of its Green Millennium project, will also lend its expertise. Adds Irani, 65, ''We can provide support to other responsible organisations in cities, other than just Mumbai and Jamshedpur.'' Remember the old slogan that went ''We also make steel''?
Netting .Net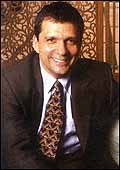 ORLANDO AYALA
Group V-P, Microsoft
In US-tech circles Orlando Ayala is called the Larry Ellison among Microsofters, a description that pushes the edge of the definition of the term oxymoron. But Ellisonesque the Group Vice-President of Microsoft Corporation is. When this writer's mini-recorder stuttered before starting up, he was quick to ask something that would have done Oracle's boss proud: ''Does that thing work on Windows?'' To set the record straight, it doesn't. Wisecracks apart, Ayala is the man who convinced Microsoft to leverage India's fabled people-resources and was instrumental in the creation of the Microsoft India Development Centre at Hyderabad. ''The centre has played a key role in Microsoft's .Net initiative,'' boasts Ayala, 44. Now, he'd like it to create innovative applications around the platform. Maybe, he'd like to see everything work on .Net
Karma Chameleon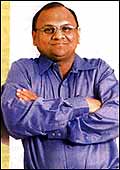 VIJAY GOPAL JINDAL
Promoter-Director, Karma Networks
From a successful innings in print media to an even more successful stint in television and then a foray into the internet, former Zee TV CEO and Times of India Group honcho Vijay Gopal Jindal's career graph is marked by steep rises and, well, a few other things too. But now in a brand new avatar, Jindal's karma may have good things in store for him. The feisty manager-turned-entrepreneur has just set up Karma Networks Ltd, with an initial corpus of Rs 8 crore, to make feature films in a 'corporatised' manner. The action at Karma, in which Jindal has an 80 per cent stake as promoter-director and Zee a strategic 20 per cent, will begin this June when shooting for a musical thriller is flagged off. But Jindal's plans don't end there. Later, he wants to float a news agency to supply content to various TV channels in India and abroad. Says Jindal, 43: ''I will bring forth my management expertise to films and news, which are two key drivers of content creation today.'' True, but will that make for good karma? Watch this space...